type: Student Insights topic: Society and Public Policy program: Global Health
Local Learning, Global Service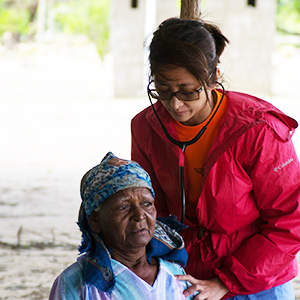 As part of the first graduating class of students in Northwestern's online Master of Science in Global Health (MSGH) program, Heidi Sampang is driven by her passion for public service and preparing to complete her degree in just under two years.
Sampang was born and raised in the Philippines but practiced medicine in the United States for many years, and wanted to give back by committing to short term medical outreach programs every year. "I treasured the international experiences I had and really enjoyed learning about the different cultures, but I wanted to learn more on how to address their health needs," she said.  
She started searching for public health courses offered in Washington D.C. and Virginia, but because of her busy schedule she was unable to find the time to go to class after work. After almost giving up on finding the right program for her, her husband discovered the newly created Northwestern program, offered in partnership with the School of Professional Studies (SPS) and Feinberg School of Medicine.
"The program was perfect because the teachers were very well respected and learning was completely asynchronous, which worked well with my schedule," she said.
Before beginning her coursework in the fall of 2014, Sampang never expected that she would enjoy online learning.
"I thought online learning detached you from your peers and instructors but I was wrong," she said. "I had great virtual interactions with my classmates — some of them I met in person and even travelled to Mozambique with for a health project." 
Sampang has always been committed to a life of serving others with her medical expertise. In 2010 she was featured on an episode of NBC's Dateline, when a volunteer medical team she was part of responded to the cholera epidemic in the isolated mountain village of Medor, Haiti, following a sudden earthquake.
She recently moved back to the Philippines and has continued to dedicate her life to service work. As the program manager for Remote Area Medical Philippines, she organizes medical teams that deploy every day and during times of disaster.
"There are still lots of people living in geographically isolated and displaced areas and we want to reach out these people," Sampang said.
She is also working to establish a community health program in Nwadjahane, a remote town in Mozambique. Sampang credits her Northwestern education for giving her the tools to think and act globally.
"With my SPS experience, I was able to express my ideas clearly and implement programs effectively to achieve maximum results," she said. "My professors discussed the importance of cultural sensitivity and I always try to be respectful of the local authorities while making them aware of the best practices in the world that they can use in their own setting."
In the MSGH, Sampang was finally able to merge her medical career and her love of service.  "My education at SPS gave me more confidence because I now have a solid academic background reinforcing my personal field experiences."
Article by Danielle Susi
---
May 12, 2022 update -- Dr. Heidi Sampang is managing director of Philippines Flying Labs, a nonprofit and technical hub creating innovative solutions to critical health, environmental, and humanitarian problems. In 2022, the organization directed the first drone delivery of COVID-19 vaccines in the Philippines. "This is a really impactful and important contribution to improving access to care in [remote areas like] Tawi Tawi," Heidi writes to SPS staff.
tags:
May 12, 2016