type: Student Insights topic: Society and Public Policy program: Public Policy
Northwestern SPS Alum Enters the Public Policy Arena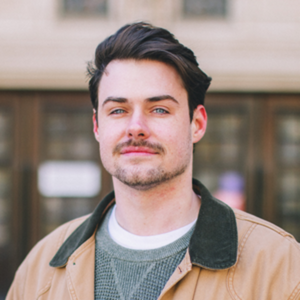 Alexander Lundrigan, MPPA '21, originally planned on a career in marketing, but the 2016 presidential election made the then-Elmhurst University undergrad rethink his casual interest in politics.
"I remember going back to my room and all of my good friends sitting on the couch stone-faced," he says. "Some were crying, completely devastated. And I was like, 'I don't want to live in a place where someone is so fearful for their way of life that the election of one person feels like the end of the world for them.'"
He decided to change his career path. "I felt like I can take my skills and work to see a country where everyone I care for to be safe and feel safe and supported in their government." The next day, he changed his major, began taking political science classes, and began interning at a congressional office two months later.
Alex worked on political campaigns before realizing the lifestyle was not sustainable for the long haul. "I was a press secretary on a congressional campaign, and that was go, go, go, go, go. It was working 60 to 70 hour weeks." He considered his future and realized he didn't want to live out of a suitcase while shadowing a candidate. He had enjoyed learning about policy work during his campaign work and decided to return to school to get an accelerated Master's in Public Policy and Administration at Northwestern University.
"I didn't want to take two years to get a master's degree. What attracted me to Northwestern's program was it was a year long. I could put my professional work on a back burner." Alex's baseline experience in policy—as well as his busy work schedule—prepared him for a rigorous program. "Because I was already used to working 60-hour work weeks because of campaign work , I could dedicate my time to completing the accelerated program at Northwestern."
Alex admits to dreading one of his first courses—fiscal administration. "I remember thinking, 'I am going to hate this class.' Financial accounting was my least favorite class in undergrad." The first week, the class discussed public goods, the relationship between the taxpayer and the government, and how it operates. "I was like, 'Wait, this is actually what I want to be talking about. How should we be using taxpayer money to provide them the goods they need to thrive and live?'" He realized the course was a form of policy analysis and that the class he dreaded was what he most wanted to do with his career.
Now Alex works as the regional media coordinator for Young Invincibles, a Chicago advocacy organization that focuses on young adult healthcare, economic opportunity and high education issues, including COVID-19 vaccine outreach. "A lot of my work has been heavily involved with CDC policy changes," he says, work where he often draws upon the knowledge he learned while getting his MPPA. "Skills like knowing the specifics of virology, holistically reading research papers, understanding why organizations do certain things for certain reasons and being able to communicate policy changes to the team were built from the work I was doing at Northwestern." He says that the ability to comprehend the statistical terms and the motivations behind policy change has been helpful in his current role in communicating those changes to his team and the public.
Alex speculates that he could see himself working at a federal agency or providing policy consulting later in his career, but he knows he has options. The depth of understanding he gained about American policymaking and analysis, he says, opens the door to a wide variety of job opportunities. "I have the technical knowledge and the work experience to work in the public sector in a federal agency, a state agency, or an advocacy organization with this new or technical knowledge of the policy environment, policy making and policy analysis."
When it comes to encouraging other young people to get involved in politics, even if they feel intimidated or burned out, he thinks of Theodore Roosevelt's 1910 Citizenship in a Republic "Man in the Arena" speech. "It's hard to get people motivated, but the tagline I return to Teddy Roosevelt: 'If you're not going to be willing to enter the arena and fight for these rights, who is? Who will?'"
Check out the SPS website to learn more about Northwestern's full-time or part-time Master's in Public Policy and Administration program.
---
Northwestern University School of Professional Studies offers many degree and certificate programs, with evening and online options available. To learn more about how Northwestern University's Master's in Public Policy and Administration program prepares graduates to advance their public policy and administration careers, fill out the form below and we will contact you soon.
tags:
March 1, 2022