type: Student Insights topic: Society and Public Policy program: Public Policy
Creating her own path to social justice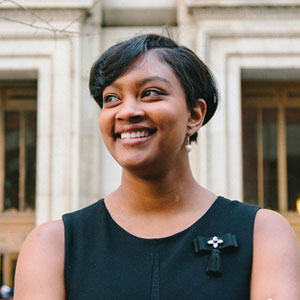 Growing up in Peoria, Illinois, Haleigh Hoskins experienced first hand how race and class can affect how you're treated and the path you might take. Raised by her single African-American mother, Hoskins had to navigate her largely white environment with determination. The experience cultivated her passion for social justice, which would eventually lead her to the Chicago Mayor's Office and the Northwestern School of Professional Studies accelerated Masters in Public Policy Administration program (MPPA).
"I saw how kids were treated differently just because of how they looked or who their parents were, while other families could navigate things so smoothly," she says. "I knew that I wanted my career to involve leveling the playing field."
Seeing the power of policy
Hoskins earned a bachelor's degree in international studies from the prestigious, historically black Spelman College in Atlanta. As a student, she also worked for the NAACP after the fatal police shooting of Michael Brown in Ferguson, Missouri — the spark behind the "Black Lives Matter" movement and a pivotal experience for Hoskins.
"I went with the NAACP to Ferguson, and saw that every aspect of the situation was impacted by public policy," she recalls. "From police misconduct and local governance, to urban poverty and the underperforming schools Brown attended, I understood that while change happens by putting yourself out in front, it also requires important work behind the scenes."
Finding the "perfect" program
Returning to Illinois after graduation, the desire for real change stayed with her. She knew she could make a difference for an individual, but she wanted the bigger social impact of policy, lobbying and advocacy. She also began working for the Chicago mayor's office as a intern in the correspondence office supporting the Chief Equity Officer's team. So she needed flexibility, too.
I researched a lot of programs here in Chicago, and the accelerated MPPA had the perfect combination of online and on-campus classes," she says. "More importantly, it was one of the few with faculty who work in the field. Other programs have full-time professors who have been out of their practice areas. But at SPS, for example, my microeconomics instructor actually works in the Federal Reserve during the day."
Ready for what's next
Hoskins also considers the accelerated program's cohort model and the research and analytic focus key to her future opportunities, whether that's a full-time position in the Mayor's equity office or as a policy analyst in a different diversity-oriented role.
"I strongly recommend the cohort," she says. "The support and relationships really help, and you discover a huge range policy interests. The take away for me has been that I have all the tools I need, whether it's quantitative analysis or research methods or administration. I can say, 'Hey, I've done this. I'm well prepared.'"
tags:
May 20, 2020