type: Student Insights topic: Society and Public Policy program: Public Policy
Becoming a young entrepreneur while pursuing MPPA at Northwestern University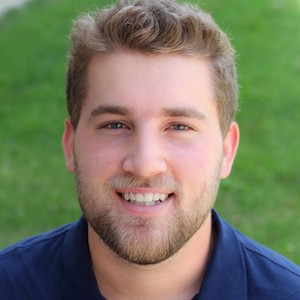 Jacob Jordan is only in his early twenties and already an entrepreneur. In March 2020, while juggling his studies as an undergraduate student at Northwestern University, he started the company, The Equal Opportunity Book Box. The Equal Opportunity Book Box is a monthly subscription service company for children's books that feature diverse characters. Every month, their subscribers receive a box of three books. And for every book sold, the team donates one book to an underserved child in the Chicagoland area through their partnership with Bernie's Book Bank. Currently, Jacob splits his days working toward building his company and obtaining his Master's in Public Policy and Administration (MPPA) degree at Northwestern's School of Professional Studies.
What sparked the start-up
Before joining the accelerated Master's in Public Policy and Administration program, Jacob was an undergraduate student at Northwestern University in the School of Education and Social Policy. Early in the program, he took a class that discussed problems with the children's book industry, which first got his wheels turning.  One year later, on vacation with his young cousins, Jacob was reading children's books to them when he realized "every single book they had was about a pig or a porcupine. While they had great stories and they were entertaining to read, there's a lot of research that shows that what kids are exposed to at a very young age has a big impact on their unconscious and conscious biases." And that's how The Equal Opportunity Book Box was born.
How the Public Policy program at Northwestern has influenced Jacob as a young entrepreneur
Developing a company while taking master's courses is not the easiest task. But for Jacob, it's been worth it. "Something the MPPA program has really instilled in me is an attention to detail. Because it's a professional program, the professors want you to perform in their class like you would in the professional world. That level of attention and detail—not that undergrad didn't teach me that—but it's really enhanced." In addition, the Public Policy program at Northwestern allowed Jacob the opportunity to dig deeper and conduct research that has influenced the way he looks at children's books. "In the research methods class, I conducted a research project that looked into the problems of lack of access to books and unrepresentative books in low-income communities, which is something that the Equal Opportunity Book Box hopes to help solve."
Taking advantage of Northwestern University start-up support resources
In the fall of 2020, Jacob became involved with The Garage, a community, space, and network of resources for Northwestern University students with start-up ideas. He started as a tinkerer and then became a full resident in winter of 2020, which allowed him "full access to the Garage facilities and all other resources, including their network of mentors, which has been invaluable for growth." From there, Jacob and his Equal Opportunity Book Box team applied for the VentureCat competition, Northwestern's annual student startup competition for more than $300K in non-dilutive capital. In April 2021, Jacob's team was chosen as semifinalists. And then in May 2021 at the finals, he won first place within the Social Impact and Nonprofit track and second place in the general competition. His team was awarded $60K toward The Equal Opportunity Book Box.  
Advice for new entrepreneurs
Jacob's advice for new entrepreneurs is simple. "Just do it. If you have an idea, just make some crappy version of it. Put it out there and see if some people will buy it, if some people will interact with it. In my opinion, the best learning is doing. Worst thing that happens is it fails, but you always learn something from failure more than you learn something from just sitting around and thinking about 'what if.'"
And for new entrepreneurs at Northwestern University? "The Garage is an incredible resource. They have a really good network of mentors, of people who you can bounce ideas off of, who have been entrepreneurs several times over and have a wealth of knowledge. And that guidance is completely free. Most of these mentors, you don't even need to be involved with The Garage for a conversation. You can just sign up for office hours with these people; they love to help young people guide their ideas."
What's next for Jacob after the Master's in Public Policy program
Jacob finishes his coursework for the Master's in Public Policy and Administration program at Northwestern University this August. After, he plans to continue working on the Equal Opportunity Book Box and when it's safe, traveling and becoming a digital nomad.
The program has been invaluable for him. He shared, "the MPPA program's focus on more than public policy, but organization and management as well, is invaluable for whatever you do. There's a lot of talk about organizational culture. How do we effectively and efficiently manage people, organizations, ethics, etc. That will be applicable whether you do public policy or you're leading a business."
Check out the SPS website to learn more about Northwestern's full-time or part-time Master's in Public Policy and Administration program.
---
Northwestern University School of Professional Studies offers many degree and certificate programs, with evening and online options available. To learn more about how Northwestern University's Master's in Public Policy and Administration program prepares graduates to advance their public policy and administration careers, fill out the form below and we will contact you soon.
tags:
June 15, 2021