type: Student Insights topic: Society and Public Policy program: Public Policy
Empowering others, supporting cities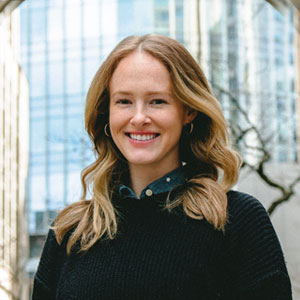 Growing up in the suburbs of Detroit, Lauren Evasic always wanted to be a writer. She also loves her home state, so it seemed a natural fit to attend Michigan State University and major in journalism. But the journey after her undergraduate study revealed that a master's in Public Policy and Administration (MPPA) from Northwestern University School of Professional Studies (SPS) could not only offer new professional options — it would open up the possibility of giving back to her home town.
Starting off in journalism
Evasic performed well as an undergraduate in journalism, and once-in-a-lifetime opportunities followed. She was offered an internship with a major fashion magazine in New York, taking on demanding work in an exciting new city. She then accepted an editorial position with the Chicago Tribune, moving to another new city and becoming immersed in the historic paper's fast-paced environment.
But in the background, she was hearing about what was happening in her own city: Detroit was experiencing revitalization, but also persistent challenges with poverty, infrastructure, housing and other public services.
Choosing a new, accelerated path
She decided it was time to move back home and began working for General Motors handling their social media. She then took on a role with a local, government-sponsored health insurance organization — and that's when the idea of public policy took hold.
"These programs provide a lifeline," she says. "The policies have to meet a wide range of needs for very diverse groups of people. The challenge interested me, and I saw that I could make a real difference working directly in public policy."
Evasic was soon promoted, but made the tough decision to leave her job—and the idea of writing professionally —for the one-year accelerated MPPA program offered by SPS. 
"It was a tough decision, but I knew that with the accelerated program I could jumpstart a new career and return to the job market sooner," she says. "I researched other programs, but two years for those programs was too long. For many reasons, including the chance to study in Chicago, Northwestern was the right choice."
Finding the right experience
With both online and onsite classes and a small cohort of students who stay together, the Northwestern MPPA model matched Evasic's needs well. She became close to the other students, and they planned get togethers and even virtual study sessions during the COVID-19 pandemic.
"It was great to make connections during the program with people from so many different backgrounds—everyone brought something unique," she says. "As a visual and social learner, I also benefited from having some onsite classes and events such as homecoming."
Other key experiences for Evasic were her statistics class and the policy lab course, which allowed her to present a proposal to the Chicago Department of Housing.
"These were great introductions to real-life policy and seeing the need for fact-based evidence and research," she says. "After graduation, I'm hoping to return to Detroit and give back to a city I love. There's a strong need for better policy in housing, the environment, and many other areas."
tags:
June 11, 2020