type: Student Insights topic: Society and Public Policy program: Public Policy
Discovering the power of policy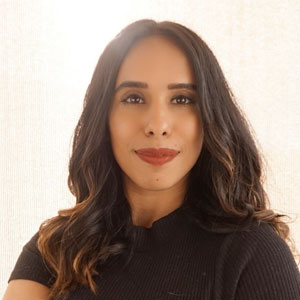 When she was still in high school, California native Navdeep Dhaliwal had a goal: attend Northwestern University's pre-med program and become a doctor. Then she discovered politics and policy, and the picture changed. Now, several years later, Dhaliwal has earned a master's degree from Northwestern in Public Policy and Administration.
From following interests to finding passion
Although her heart was set on Northwestern, Dhaliwal enrolled in a bachelor's program at Dominican University of California, a private liberal arts university in the Bay area with a strong health professional focus—in part because her close-knit family was uncomfortable with her moving as far away as Chicago. Still following her original plan, Dhaliwal then began a pre-med program. Then she discovered comparative politics.
"I had a genuine interest in healthcare and biomedical science," she says. "But it lacked a strong emotional connection for me. In my comparative politics class, I was learning about China, India, economic development, and inequities between systems. The human element fascinated me."
Later, on a random spring break trip to Washington D.C., Dhaliwal was surprised at the impression the experience had on her.
"We literally put our finger on a map, and ended up in D.C.," she says. "I was thrilled by the rich history and being so close to where change actually happens. The potential, to me, seemed more tangible than in a hospital or doctor's office. Amazing things happen in those settings too, but I wanted to find personal meaning on a bigger, possibly global scale. I returned to school and changed majors almost immediately."
Policy experience—then Northwestern
Dhaliwal's instinct's proved correct, and prestigious honors soon followed. She became a McCarthy Fellow, completing a 12-week internship through the University of San Francisco that places select students in legislative positions throughout local government offices and agencies. Dhaliwal worked directly with Senator Jerry Hill on legislation for technology and agriculture policy. She also was elected student body president her senior year and worked on outdoor campus lighting to improve student safety after dark. In between, she participated on the debate team and was invited to a one-week intensive leadership and policy certificate program at the Leon Panetta Institute for Public Policy.
After graduating with a B.A. in political science, Dhaliwal landed a position with a California public relations firm and worked for several years supporting client engagement strategy. While she enjoyed interacting with the public and getting involved in grass-roots campaigns, it wasn't the experience of "pulling the levers" of change she had discovered as an undergraduate. She decided that earning her Master's degree in public policy was the next step in turning her passion into a career.
"Northwestern's accelerated program gives you the opportunity to embody skills from two amazing programs in one year," she says. "They're one of the only programs that cover both the administrative and analytical sides. There's a great lineup of professors who are active in the field— and they inspire students to reach for their goals. I'm really looking forward to bringing my knowledge into the workforce to help implement change. I hope to find a position that allows me to dive into important issues, ideally in civic engagement, consulting, or policy analyst work."
tags:
July 14, 2020