type: Alumni topic: Arts and Humanities program: Creative Writing
MFA alumnus longlisted for the PEN/Robert W. Bingham Prize for Debut Fiction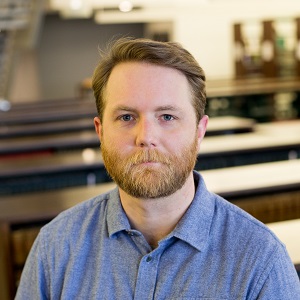 SPS recently interviewed MFA in Creative Writing alumnus Alex Higley about his new novel, writing short fiction, and his time at Northwestern. His stories have appeared in New World Writing, PANK, Hobart,  Fanzine, Paper Darts, The Adroit Journal, and elsewhere. 
Your short story collection, Cardinal and Other Stories, published by Tailwinds Press, recently made the longlist for the PEN/Robert W. Bingham Prize for Debut Fiction. Congratulations! How does it feel to see your short fiction receive such an accolade?
Completely bizarre. My publisher and I were both shocked. It's heartening that PEN is so inclusive. Small presses clearly get a fair shake and that's unique. Publishing is not a meritocracy and neither are most awards, so, it's all very surprising.
In writing the collection, how far back do those stories date? Were you working on any of the stories in Cardinal while you were in the MFA program here at Northwestern? 
Maybe four of the stories in Cardinal are ones that date back to my time in the program and were in my thesis collection. Most of those four are pretty close to the versions in the book.
You also have a debut novel, Old Open, which was recently published. Do you approach your longer work differently than your short fiction? What challenges—structural, intellectual, or otherwise—came up when writing something larger in scope? 
The approach is mostly the same. Think sentence by sentence, paragraph by paragraph. I am working on my second novel now, and with longer work momentum is a daily concern. Momentum in all sorts of ways: in the work itself, the narrative, my characters, in getting to the desk, staying at the desk, refilling the mug, endless ways. I said "desk" but I am currently without a desk chair and have been writing sitting on the floor with my computer on the coffee table lately.
The challenge with longer work is having patience. Even when most people are writing very quickly, they are only getting several hundred words a day a few days a week. Let's say five hundred or seven hundred. Five hundred words a day for a hundred days, that's a draft right there. But, that's not how it works often. Life. Work. Make dinner, walk the dog, drank too much, watch TV, finally stop flaking on your friend, more dog-time, more drinks, more TV, work, work, work. All that. Patience is necessary. Many writers I know are too hard on themselves and many are too easy on themselves as well. I'm both, often. Finding a balance in your life that allows for a writing life to exist, that's tough, and it takes patience and real effort.
Returning to your time as a graduate student, what did you find most valuable about the MFA program? Do you remain in contact with former classmates and professors? 
The most valuable part of the program was getting a sense of what it takes to actually write and publish. Seeing what my peers and professors were doing was motivating and helped me to understand what I was up against. Christine Sneed is a friend, she read with me at my launch for Old Open. I'll send Stuart Dybek an email every now and then. He gave us great advice restaurant-wise before we went to Prague last summer. I'm in touch with some of my former classmates, sure. Adam Kovac has a book coming out next year and Marina Mularz does too. I'm thrilled for them. Lots of former classmates will be publishing books in the future. Plenty of good writers.
During your time in the MFA, when did you find time to write? What helps you remain productive? Give us some insight into your writing habits. Any advice for writers considering applying to the MFA program?
I wrote after work and/or before work while I was in the program, same as I do now. I write because I love to write. It's what I like to do. That's why I'm productive. When I see people complain about writing, how hard it is, or whatever, I always wonder what they do for a living. If it's a chore for you, keep it to yourself.
I am a big believer in no notes and not outlining, but I know this strategy doesn't necessarily work for everyone. For longer work I will keep a notebook with very basic things I need to keep track of, daily word count, maybe a couple words or a sentence. With longer work when I stop writing for the day/night I like to know where I am going to start the next day. Even if it's just something like, "He walks in from the pool." A vague starting place. That helps me to have the work present in my thoughts but also not fully formed so the writing is alive when I return to it.
If you are considering applying to the MFA program, or any MFA program, I would say, take the decision seriously, and have realistic expectations for yourself and your work. Think about what "failure" and "success" as a writer means to you. Think about what your writing life looks like in the present and what your ideal writing life would look like. Think about if your ideal writing life is actually possible. It might not be. Are you currently doing everything you can to make yourself a better writer? Are you reading in a way that is helping your writing? Are you reading too widely? Too narrowly? Are you honest about the state of your work?
Tell us a little about your thesis. What did you work on and which faculty members served as your advisers?
My thesis was a story collection that at the time I was calling Some Liars. Like I mentioned it had four or so of the stories that ended up in Cardinal and then several overwrought garbage stories with a few good sentences. Shauna Seliy and Christine Sneed were my advisors. Both are absolutely knock-out writers. And different from each other on the page in a tremendous way.
What are you working on now? More stories? A second novel?
Working on another novel.
What are you reading right now? Are there any writers whose work you're particularly enjoying lately?

Right now I am reading Reservoir 13 by Jon McGregor. It is very strange and I admire it enormously so far. As far as writers I've been enjoying lately, I'll name several I thought about lots last year: Lindsay Hunter, Gabe Habash, Cristina Rivera Garza, Ed Skoog, Nicholson Baker, Hernan Diaz, Wright Morris.
tags:
January 31, 2018