type: Student Insights topic: Alumni News program: Data Science
JR Runez ('16) Combines Knowledge and Experience to Customize His Career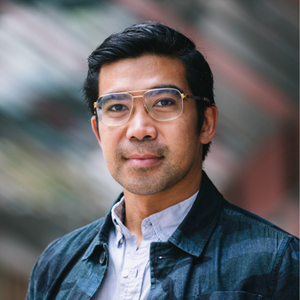 Bonifacio "JR" Runez's path to his first Chicago Marathon is along lake Michigan. During his long runs, he keeps his mind engaged with novels like The Black Count or books on stoic philosophy. His career path, meanwhile, went straight through Northwestern's MS in Data Science program.
Born in the Philippines, JR studied finance and statistics as an undergraduate although he almost went into medicine. While "everyone in my family is in the health field," he says, he sensed something missing as he made his way through organic chemistry. He realized, "'Oh, I just like math.' I love the calculus progression. I loved the beauty of it. Math is the language of nature."
Finding his professional path with Northwestern's MS in Data Science Program
JR considered pursuing his doctorate after graduation but felt he wanted a more flexible option with real-life experience in the field, so he decided to pursue his master's at Northwestern while working at the same time, first in quantitative research and then in corporate finance. "That was my path," he says. "It was the most technical I could get that allowed me to still be in the industry."
The school's brand and the curriculum's practical aspects made Northwestern's Master's in Data Science (formerly known as Predictive Analytics) program stand out. "I knew it's what I would need, regardless of whether I stayed in the industry or went into a doctorate later on," JR says. "It would give me the more hardcore applied math that I needed."
Learning from fellow Northwestern University Data Science students
JR learned not just from the curriculum but his cohort as well. "The marketing analytics course taught me how to think about market and data science. Within that class, somebody was working in marketing at Walt Disney." He appreciated learning from those in the program with more professional experience. "I got a lot of perspectives on how to not only technically solve a problem, but how to frame it and think about things from a whole different angle."
JR leverages his network for his data science career
After graduation, JR wanted to see if he could apply his passion and skills to fields other than finance. His philosophy was, "I want to see what other fields and other things people are solving out there within the data science realm, but just applied in a different industry."
He leveraged his network in finance and is now a marketing science lead at Google. In his role, he tackles the question of how to target relevant consumers in an age when more users are concerned about protecting online privacy.
These are challenging problem, but in the program, JR learned how to balance independence with teamwork. "You have to learn how to research on your own, especially within Google. You have to figure out things for which there's no clear answer. You have this issue, and your task is to figure out how to solve that," he says. "There aren't really other people that you can fully count on to provide you the full picture. Maybe they have pieces to the puzzle, but the research is up to you. Northwestern's program made it easy to do that. The curriculum was set up for you to learn on your own, but help was there when needed."
JR uses data science skills to collaborate on family healthcare business
When not at Google or pounding the lake path, JR also puts his skills to work by engaging in the family business of healthcare, after all. "My sister has been a nurse for decades. We have a home healthcare business that provides primary physician care to homebound patients," he says. After years of helping her friends build their health care businesses, JR says, his sister decided to go out on her own. "She was like, 'Hey, what do you think about it?' I was like, 'Yeah, I'll do it. I'll build the thing around you, you focus on operations, and we'll figure it out.'"
The insights JR learned about visualization and communication in the SPS program are helpful in his side work and at Google. "It's telling stories with data and getting everyone on board. It's as simple as creating a dashboard to give everyone goals of where we're at and where we're going."
His advice for others considering their customized career paths is to remain humble and curious. "Having a complete beginner's mind is one of my strongest suits as I get older. It's being completely vulnerable and confident to say when you don't know something because people love teaching what they're good at. When you're open to learning, you trigger that in people. It's a connection, and you get to learn a lot, too." And his goal for his journey to the marathon finish line? "Not passing out—that's pretty much it."
---
Northwestern University School of Professional Studies offers many degree and certificate programs, with evening and online options available. To learn more about how Northwestern University's Master's in Data Science prepares graduates to advance their careers, fill out the form below and we will be in touch with you soon. 
tags:
October 3, 2022