type: Academic topic: Science and Technology program: Data Science
Predicting the 2020 Presidential Election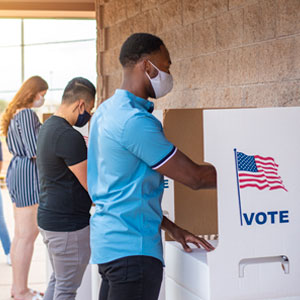 Every four years, we face a deluge of color-coded U.S. maps, endless results from opinion polls, and pundits imparting their analysis and descriptions of what-if scenarios: "It looks like Florida could go red again. But if Texas turns blue, the election will be over for the Republicans." "Rasmussen has the Democratic challenger up by eight points over the Republican incumbent. The NBC poll has the Democratic candidate up by 10, but the Fox poll shows only a five-point advantage."
Modern U.S. presidential election cycles include an overwhelming array of poll results and punditry that often lacks timeliness and objectivity. Whose interpretations should we believe? Does polling data, which take time to collect and analyze, really give us an up-to-date picture? And with so many Electoral College variables, who can keep track of the many possibilities?
Thomas W. Miller, faculty director of Northwestern University's graduate program in data science, has created a computer model for the Electoral College that removes polls and pundits from the equation by relying on prediction market prices. Miller's The Virtual Tout® uses prices from 56 prediction markets, aligned with the Electoral College, to execute hypothetical elections that estimate the probability of victory in the winner-take-all vote in each of those markets. The model then uses these probabilities to generate one million hypothetical Electoral College elections that are the basis for the election forecasts.
Miller's model uses data from the prediction market PredictIt, which serves more than 100,000 active investors and describes itself as a "political stock market" where investors buy shares of contracts, with share prices continuously changing with demand. For example, if you have $120 to invest in the winner-take-all national election and a share of Joe Biden costs 60 cents, while a share of Donald Trump costs 40 cents, you could purchase 200 shares of Joe Biden or 300 shares of Donald Trump. If you bet on Joe Biden and he wins, those 200 shares would be worth $1 each, generating a profit of $80 ($200 - $120). If you bet on Joe Biden and he loses, the shares would be worth nothing and the loss would be $120.
How do investors or bettors decide on candidates to invest in? Prediction markets are also called information markets. To predict what will happen in the future, investors draw on the information they have today. If shares of Joe Biden are going for 60 cents and you believe that he has a greater than 60 percent chance of winning the election, then you would buy Joe Biden shares for 60 cents rather than Donald Trump shares for 40 cents.
Using prediction market prices, Miller's model updates election forecasts every hour, detecting election trends about five days before they are reported in the media. Using this model, the effect of campaign activity, breaking news, world events—anything that impacts the election—can be evaluated shortly after it occurs.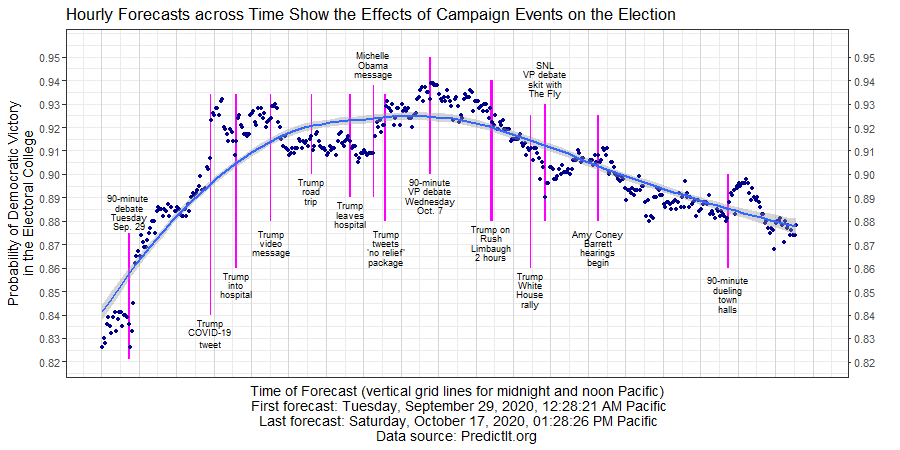 The results have been at times surprising and contrary to the interpretations of many media outlets. At the beginning of September, political pundits may have been surprised to learn that the model showed the Biden-Harris ticket was well on its way to victory. Shortly after the first presidential debate, many would have been surprised to hear that Joe Biden was the decisive winner. In the weeks following the VP debate, while those in the media were talking about a Democratic landslide, few detected a general trend in the direction of Donald Trump leading up to the second presidential debate.
In the shifting, often-tumultuous political environment of today, a novel, data-focused tool like The Virtual Tout® can provide fresh perspectives and clear, up-to-date election predictions. It's yet another example of the value that innovative and expert use of advanced data analytics can provide.
Thomas W. Miller is faculty director of the

data science program

in the School of Professional Studies at Northwestern University. Miller developed The Virtual Tout, a model driven by prediction market prices, providing forecasts of victory in the Electoral College. From September 27 until hours before the election on November 3, hourly forecasts from this model will be reported on Twitter @virtualtout and on the Data Science Quarterly website.
Predicting the 2020 Presidential Election Webinar
To learn more, join Thomas W. Miller on November 5 for a post-election review of forecasting from The Virtual Tout®: What data science strategies and techniques were used to create the model? Which events most impacted the forecast? How well did Virtual Tout predict the election outcome?   
The webinar explains how the model works and reviews results from the 2020 presidential election. There is no cost for the webinar but space is limited — make your reservation today.
---
New to SPS and interested in learning more about Northwestern's MS in Data Science program

?

Complete the form below and a Northwestern admission adviser will follow up with you to provide more information and to answer your questions.
tags:
October 27, 2020