type: Student Insights topic: SPS News program: Global Health
NGO Founder Begins New Career Battling COVID-19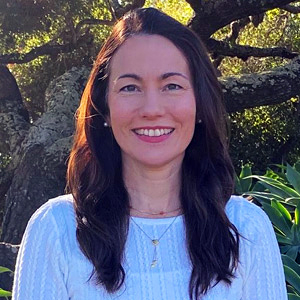 Before she enrolled in the Northwestern University School of Professional Studies master's in Global Health (MSGH) program, Renata Valladares had already spent years helping people in rural Brazil live healthier lives. But it was MSGH's unique opportunities that led to a new career — and the chance to use her skills to fight the COVID-19 pandemic.
Building an NGO in Brazil
Valladares graduated from the University of California, Berkeley, with a degree in mechanical engineering and a passion for bringing renewable energy to rural corners of the world still dependent on solid fuels. She moved to the rural Reconcavo region in Brazil, where cooking over a smoky wood fire is the norm for most villages. There she co-founded the nonprofit, non-governmental organization (NGO) Institute Perene, with her husband Guilherme Valladares, a sustainable development expert and native of Brazil.
The NGO brings cleaner-burning cookstoves to thousands of families in the area, reducing household pollution, forest degradation and climate change. In fact, the Institute's cookstove program has cut harmful emissions by half, about 80,000 tons, since it began in 2006.
Investing in herself
While Valladares started the Institute as an environmental and engineering project, what struck her most was the profound effect the stoves had on the well being of the local people. She became more interested in healthcare and felt ready for a change.
"I realized that health is central to any development work, and I was ready to invest in myself and build on what I had done as an engineer," she says. "But despite 15 years of experience in Brazil, I didn't have all the right skills to transition to a global health career."
Valladares chose Northwestern's MS in Global Health program for its name recognition, flexible format and the option to take electives offered outside the program. The MSGH degree and curriculum also requires a real-world practicum experience, which proved critical to Valladares' new career.
From practicum to new position
Her original practicum plan, to launch an air pollution measurement project for Institute Perene, was upended by the 2020 pandemic. Valladares returned home to California, and her practicum supervisor connected her with an opportunity in the Joint Information Center of Santa Barbara County, an entity dedicated to public health incident research and education. After her volunteer practicum hours were complete, Valladares was offered a position as a public health educator working on COVID-19 data analytics.
"I'd never worked in the States before, but some Latinx areas in California present the same social and economic challenges of the developing world," she says. "I feel right in the center of the issue of our time, which disproportionately affects these communities, and I'm thrilled to be part of the solution."
Valladares believes her engineering and NGO experience helped with the transition, but the MSGH courses and practicum made the real difference.
"Classes like biostatistics and research methods, and the opportunity to take an elective in data science, equipped me with essential statistical skills," she says. "Instructors like Leslie Cordes and Arda Güçler make the classes as rigorous and engaging as in-person education. And I learn so much from other students. There's an incredible mix of backgrounds and professions— it adds so much depth to the experience."
Valladares remains on the board of Institute Perene and will graduate from the MSGH program in spring of 2021.
tags:
January 19, 2021