type: Alumni topic: Student News program: Health Analytics
MS in Health Analytics Online: Niccole Diaz Is Changing Clinical Research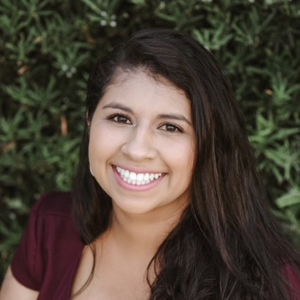 With her Master's in Health Analytics from Northwestern University School of Professional Studies, Niccole Diaz ('22) is changing medicine, one clinical trial at a time.
Niccole saw the importance of clinical trials early in life as she watched her grandmother battle ovarian cancer for eight years. "The same year that she passed away, I enrolled in a vaccine trial for Gardasil, which prevents ovarian cancer," Diaz says. "I was one of the initial people to receive the vaccine in Peru. [Since the introduction of Gardasil], rates of this type of cancer are going down significantly."
Her passion for clinical research grew from there. Niccole decided to pursue her MS in Health Analytics online at Northwestern SPS while working as a research coordinator at MicroGenDX, an Orlando-based molecular laboratory that conducts next-generation DNA sequencing (NGS) for microbial identification.
"NGS is a molecular technology that identifies the DNA of the microbe, just like the FBI can identify a person using their fingerprint. Identifying the organism that's causing the infection can quickly lead to a targeted treatment," she explains.
Her team runs studies for orthopedics, urology, ENT, and wounds, for which she oversees protocol development, budget review, and IRB approval. She also creates the databases in order to monitor the data that comes in. "I retrieve the data and give that to our biostatistics team. Then I make sure that our clinical projects are aligned to our company goals."
Niccole decided to pursue her Master's in Health Analytics when she realized she wanted to become better equipped to set-up data and develop better protocols from the beginning of a study. "I started seeing issues with internal data and how difficult it is to handle data from studies that were not set-up correctly. Not many biostatisticians have dealt with NGS data."
Developing new skills for health analytics career
Her Feature Engineering and Text Mining course gave Niccole an advantage at work, teaching her the skills to write complex code in Structured Query Language (SQL) for analytic modeling. "I was able to put that in practice right away," she says. "Being able to do complex SQL queries allows me to quickly retrieve clinical data from different tables for a specific trial or mine our database to look for emergent pathogens."
Data Visualization and Storytelling was another valuable experience, teaching students to visually portray findings to both technical and non-technical audiences. "A picture is better than a thousand words if you can reduce data to just one or two simple graphs to explain what you're trying to convey."
Niccole was also surprised by how much she gained from her Health Analytics Leadership course, even though it was less focused on the technical aspects of her work. "It comes in handy now that I am in a director position. I can better communicate with stakeholders and explain timelines and risk mitigation plans." In meetings with investigators, she says, "I can not only talk about the logistics of the study, but I can also speak to what our final product will look like."
What's next for Niccole after Northwestern University MS in Health Analytics online
Looking toward the future of her health analytics career, Niccole is considering a PhD in clinical research to leverage her education and work experience to develop trials. It will be another leg of her lifelong learning journey. Niccole was born in New York, raised in Peru, and returned to the United States on her own to pursue her education. "I worked three jobs while going to school full-time to support myself. I did the same through grad school."
Niccole plans to travel to Italy after graduation and, not content to rest on her laurels, simultaneously studied Italian while finishing her degree.
Niccole is hopeful about the implications of analytics' influence on clinical trials and healthcare. "Physicians need data to learn how to use new technology on patients. Medicine is difficult to change and being part of that change is exciting."
---
Northwestern University School of Professional Studies offers many degree and certificate programs, with evening and online options available. To learn more about how Northwestern University's Master's in Health Analytics prepares graduates to advance their careers in health analytics, fill out the form below and we will contact you soon.  
tags:
July 19, 2022