type: Alumni topic: Student News program: Data Science
The Data-Focused Doctor: Health Analytics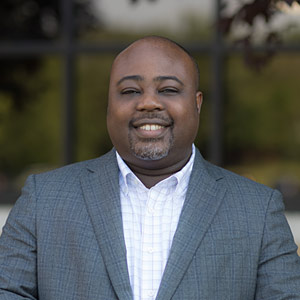 As a child growing up in the Washington DC area, Timothy Owolabi realized he wanted to be a doctor as he watched fictional doctor Cliff Huxtable deliver babies on The Cosby Show. While acknowledging actor Bill Cosby's fall from grace, Owolabi says, "His character was one of the few Black physician role models that I saw. I was fascinated by the profession."
Owolabi's career path mirrors the ever-evolving nature of medicine. He became interested in analytics in medicine during a multi-year internship at the National Cancer Institute, which gave him a foundation in looking at data and manipulating data.
"One of the things that I know about myself is that I'm a fixer," Owolabi, who now lives in Greencastle, PA, says. He realized that, aside from surgery, there aren't many opportunities in clinical medicine to "fix" patients. After graduating from medical school, he worked as a physician in clinics and hospitals and then as the medical director at a Maryland Volvo plant in a new onsite clinic, which involved delivering care and performance guarantees.
From there, Owolabi fully transitioned into the nonclinical side of medicine as a physician advisor, a role that combined his passions for fixing, medicine, and data. Broadly, physician advisors help hospitals stay compliant with operations and Medicare rules and support care management departments.
"When you're put into the hospital, you have to get categorized into different levels, which determine how much the insurance companies will pay the hospitals for caring for that patient," Owolabi explains. Physician advisors help support the utilization processes using a computer algorithm and review cases and insurance denials as needed.
In April 2021, Owolabi began working for Humana as part of a new team to focus on how analytics can predict clinical outcomes as an indirect way to reduce costs. "My job description is to help bring the clinical perspective to the analysis of data, and when assumptions are made about that data, to be the one to test those assumptions using my clinical knowledge."
Owolabi knew he wanted to boost his ability to work with large data sets and other skills in this new position, so he enrolled in the School of Professional Studies' online Master of Science in Health Analytics program. "Northwestern stuck out because it blends informatics and data science. I knew that I would come out of the program with skills that I probably wouldn't be able to acquire any other way," he says. He particularly found the course Data Security, Ethics and Governance, with Eytan Dallal, applicable to real-world situations. "I learned details about things that I'd only been exposed to, like learning about the history and the details of the HIPAA law were very helpful and reading the original paper about the triple aim," he says, referring to an initiative optimizing health system performance.
Owolabi is also looking forward to taking Practical Machine Learning and Artificial Intelligence. "I'm going to be working with data scientists to do the investigations that we'll be doing with our data and it would be helpful to be more conversant with that technology than I am right now. "
Owolabi, who now enjoys taking in fan science fiction movies with his family when he's not working and in school, has his eye on the future of data and healthcare. "The Googles, the Facebooks, the Amazons — these companies that have revolutionized how data is used are now eyeing the healthcare space to bring those sorts of tools here," Owolabi says. Companies like Humana know it's essential to keep up, which is why they bring on experts like Owolabi. "Currently it's possible to identify patients who either have diabetes or are at risk of diabetes, but the future is identifying the patient who is at risk of diabetes and knowing what you can do that will prevent him from being a diabetic," Owolabi says. "That's the promise of analytics."
tags:
July 7, 2021