type: Alumni topic: SPS News program: Health Informatics
The Path to Helping Cancer Patients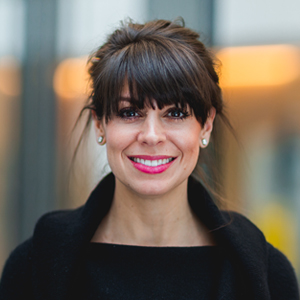 Not many business majors find themselves working in tissue banks. But then again, Regina Schwind is not your typical student. The recent graduate of Northwestern's Master of Science in Health Informatics (MHI) program hasn't always followed the predictable path. However, her drive, passion and real-world experience are not uncommon for MHI students.
As an undergrad at The Ohio State University, Schwind worked in the Comprehensive Cancer Center's Leukemia Tissue Bank and, upon graduation, moved into a new IT role helping to design, capture, and analyze cancer clinical trial data.
"It really piqued my interest in the power of quality data in healthcare," she says. "Here was a way to contribute to the cancer center's innovative research and ultimately help more patients — which is a passion of mine."
Connecting radiologists with researchers
When Regina and her husband relocated to Chicago, she landed a new position as the Cancer Center's Director of Administrative Operations for the University of Illinois at Chicago, overseeing cancer research activity across three Illinois campuses. A natural connector, Schwind again looked beyond the "typical" approach. She formed a unique collaboration among faculty members in animal sciences, genomics, hematology/oncology, and radiology who use a novel porcine model, "the oncopig," to conduct clinical trials studying human cancer mutations (most of the pigs stayed downstate).
Even as Regina accumulated more healthcare management experience, she knew that formal education in informatics might prove to be the career tipping point.
"I chose Northwestern's MHI program because it has a reputation for high quality education, but also because it's very authentic — instructors work in clinical, pharmaceutical, and healthcare administration settings, applying what they teach and keeping coursework relevant as the field evolves," she says.
Designing a powerful Capstone Project
When it came time for her Capstone class—the program's final, real-world project — Schwind again went off the beaten path.

"I wanted to work on something new to me and help patients who need the most support," she says. "I have a longstanding interest in the intersection of informatics and medication adherence, particular in the oncology setting, and was fortunate to find Northwestern researchers who were funded by the NCI for a project on this exact topic."
Schwind reached out to Dr. David Cella, an award-winning researcher and Chair of the Department of Medical Social Sciences in The Northwestern Memorial Feinberg School of Medicine, an entity that often partners with the MHI program. Schwind offered to volunteer on Dr. Cella's team, which has an ongoing project: Engaging High-Need Patients to Produce Scalable High-Value Healthcare.
This team is developing a dynamic dashboard to facilitate increased communication transparency and shared decision making between patients and clinicians during clinical visits. It will help cancer patients ask the right questions and raise concerns in ways that might help them adhere to their treatment plan. After securing Dr. Cella's support, Schwind made it the focus of her Capstone project.
"Dr. Cella and his team could not have been more welcoming and generous with their time, " she says. "My faculty advisor, John Peipert, PhD and MHI instructors Ray Robinson, MD and Imran Khan, MS, MBA added invaluable guidance as well. It was a wonderful experience that I don't think would have been possible elsewhere."
A new path
While Schwind's experience on Dr. Cella's research team led to additional opportunities, ultimately she chose to move on to a new role at Tempus, a technology company that enables physicians to deliver on the promise of precision medicine using a data-driven approach.
Did her MHI degree help her take that next step?
"Absolutely. The MHI program provided a strong foundation and was the right pathway for me to make an impact in the field of cancer informatics," she says. "Regardless of what the future holds, I feel well prepared to find solutions to current gaps in cancer care. I want to help bridge those gaps, and that's what healthcare informatics can do."
tags:
February 3, 2020