type: Student Insights topic: Alumni News program: Information Design
Building a More Equitable World With Information Design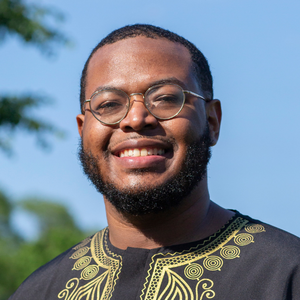 Greg Barber (MS in Information Design and Strategy '22) has been interested in technology since he was young. Whenever there was a technology issue at home, his parents and grandparents considered him their personal IT department, calling him to troubleshoot any problems.
When he was 16, Greg's mother died from lupus. As an undergraduate at Morehouse College, he majored in psychology to find a way to support others whose parents had died young. He studied abroad in Rwanda and Uganda, learning about genocide restoration and peace building to understand positive coping strategies used by those who lost loved ones.
Supporting communities through information design and strategy
After graduation, he worked in tech and consulting, attracted to the concept of using data to gather human insights. Then, COVID-19 changed everything. "My vice president asked me to help develop an online society where people are able to still stay connected despite what we were going through," he says.
Greg's team conducted design thinking, agile methodology, and focus groups, and he realized, "I'm interested in this kind of stuff." That's when he applied to the Northwestern University Master's Information Design and Strategy (IDS) program.
"I like people. The IDS program was aligned to who I am in terms of being extrovert, as well as how the world is changing, making sure that we're curating information that can be easily understood for different kinds of people."
Each course in the online master's program helped him develop a different skill, from effective communication and human-centered design to social media and content curation, and predictive analytics. "I learned how we can use social media to support different markets and communities," he says. "I'm glad to have been in the program because it's given me so many tools to do all these different things and think critically about information and think critically about design and accessibility."
Harnessing technology's data and storytelling power
The MS in Information Design and Strategy program bolstered Greg's passion for both data and storytelling.
In his visual communications class, he created a series of infographics that illustrated health topics in the Black community, including maternal mortality, PrEP and HIV.
"Growing up on the south side of Atlanta, many members of my community didn't have access to many resources," he says. His work showed him how to create and express compelling, informative content to reach various populations more effectively.
His capstone project brought his personal and professional selves full circle. "I created an online healing community called #yourrosegarden for those who lost loved ones during COVID. I was able to tap into the death research [I did in Africa], looking at it through the lens of user research and accessibility. I wanted to create a product that supports people who are dealing with one of the hardest experiences that we've seen in American history."
Advocating for inclusive design and accessibility
Greg was initially concerned that he'd struggle to find a community in an online master's program, but he had the opposite experience.
"One of the projects that impacted me the most was my social media content curation project," he says. His cohort helped develop a digital marketing strategy for a local Latina small business owner promoting her makeup line. "We gave her insights about what to do, social media trends, and what kind of content she should create and curate. It was amazing to have the opportunity to work with not only another person of color but also supporting a business of color," he says.
He also applied what he learned at Northwestern University to his own small business, Curated by Greg, which helps companies utilize inclusive design to head off issues like when Dyson hand dryers neglected to include people of color in their test subjects. Apple encountered similar issues with facial recognition and Asian users.
"Inclusive design focuses on digital products that are inclusive of marginalized groups, saying, 'Hey, regardless of how you identify, this product will be accessible for you,'" he says.
What's next for Greg after Master's in Information Design and Strategy program
Now, Greg, a senior user experience strategist at the Atlanta firm UserTesting, is focused on eventually becoming a thought leader in inclusive design accessibility and helping build his community as a tech hub.
"Atlanta is starting to become the new Silicon Valley. I want to use my lived experiences and my abilities, especially from what I learned in Northwestern's program, to transform how we see the world, as well as how we see people."
---
Northwestern University School of Professional Studies offers many degree and certificate programs, with evening and online options available. To learn more about how Northwestern University's Master's in Information Design and Strategy prepares graduates to advance their careers, fill out the form below and we will be in touch with you soon. 
tags:
July 1, 2022