type: Student Insights topic: Science and Technology program: Information Design
IDS Student Helps Employees Connect and Collaborate Using Digital Communications at Illumina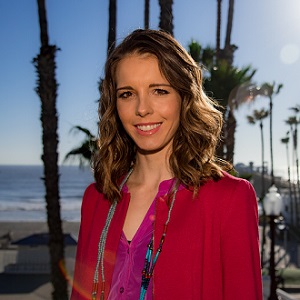 Like many young professionals, Tori Bell decided to return to grad school while holding down a full-time job. She was accepted into a traditional MBA program, but it didn't take long for Tori to realize it wasn't the right fit. As a senior communications specialist at the San Diego headquarters of global biotech company Illumina, she wanted coursework that more closely aligned with her long-term professional goals. Serendipitously, while attending a Digital Workplace conference in Chicago, she saw an ad for the Northwestern Master of Science in Information Design and Strategy (IDS) online program.
"I wasn't considering an online program before," said Bell. "But I saw the IDS program and it lined up with what I'm doing professionally and where I was looking to grow. The courses listed were specific to digital communication, targeted content, mobile and measurement and that really jumped out at me. It's such a modern and forward-looking curriculum."
Now a year and a half in, Tori is surprised by how connected she feels with the students and faculty even though her coursework is online. Many of her classmates are also based on the West Coast, working in tech hubs in San Francisco and Seattle. Since they share a time zone, Tori has had a chance to collaborate with the same group of students from quarter to quarter.
Tori also appreciates that the IDS program emphasizes real-world practice. "The faculty is incredible," she said. "My professors are running businesses, working for consulting firms and agencies and navigating today's workplace just like I am. Hearing about their experiences and creative solutions to work challenges many of us face is not only really interesting but applicable."
The online component also complements Tori's plans at Illumina. Starting as an intern, she worked her way up the ladder to her current role — and now she's becoming more involved in the company's global communication strategy. Illumina has offices in Europe, South America, and Asia, and Tori is interested in visiting different regions to improve internal communications processes to help facilitate cross-site communication. The flexibility of an online program makes international travel manageable.
All in all, Tori's objective is to help employees at Illumina get the information they need in the easiest way possible so they can spend more time on value-added work. For Tori, the IDS program's focus on innovation, technology, and user experience plays a major role in helping her create that employee experience vision and plan.
tags:
March 13, 2017