type: Faculty topic: Science and Technology program: Information Design
Welcoming Tanya Norwood, the New Information Design & Strategy Faculty Director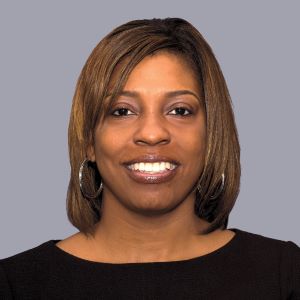 Tanya Norwood is the new Faculty Director for the Information Design & Strategy master's program and instructor for IDS 453: Introduction to Techniques of Predictive Analytics at Northwestern University School of Professional Studies (SPS). She's also an alum of the Predictive Analytics (now Data Science) program at SPS, the Chief Marketing and Membership Officer at the American Society for Clinical Pathology (ASCP), and the Chief Diversity Officer at ASCP. Her background in marketing and passion for learning and teaching is what drew Tanya to the Faculty Director position at the School of Professional Studies.
Reflecting on her time as a Predictive Analytics prospective student, Tanya shared that "one of the things I do is always try to understand the landscape in terms of what employers are looking for. If I was to choose to pack up my bags and want to do something different, how marketable am I? What skills are employers looking for?" In asking herself these questions, she found that a lot of organizations were looking for marketers who had an analytic background as well. At the time, Tanya was already doing analytical work in her position but didn't have the formal training. So, she researched programs and eventually choose Northwestern's predictive analytics program to help her get up to date on the latest and greatest methodologies and best practices.  Not only did her educational background expand, she was able to apply learnings which enabled her to provide incremental value to the organization by increasing revenue, margin and the member/customer base.  Tanya explained that "upon completion of the master's program and delivering enhanced value, I was then promoted to Chief Marketing and Membership Officer at my organization."
Now as an instructor at the School of Professional Studies, Tanya finds herself imparting knowledge from her recent experience as a student and her decades long career as a marketer into her course, Introduction to Techniques of Predictive Analytics. Tanya shared, "as I was redesigning the course, I really tried to tap into what I thought was successful and helpful for me as a student and coupled that with the fundamental techniques needed to understand predictive analytics." Her goal for all her students is that they really grasp the content and walk away with knowledge that they can apply to the work they do in their careers.
Her advice for prospective Information Design & Strategy students? "The landscape is currently changing in terms of companies leveraging their digital platforms, media, to connect and engage with customers, drive their e-commerce, etc. This is a growing industry and there's tons of opportunity. This program helps you prepare for those particular opportunities, inclusive of user experience, design,  writing/communications, and strategy." Students have a chance to learn theory and practice in all these areas and graduate with well-rounded experience in a variety of areas in information design.
"The Information Design and Strategy program is going to prepare, teach you, and provide you with the tools necessary to deliver in this growing space."
tags:
October 26, 2020