type: Alumni topic: Science and Technology program: Information Systems
From the UK to San Francisco Bay: One CTO's Story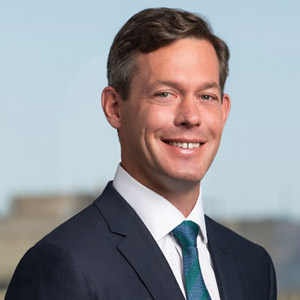 When Northampton, England native Gabriel Schofield landed a full-time position in financial services, he considered himself lucky. He was still an undergraduate pursuing an unrelated field of study, a BA (Hons) in War Studies at Kings College, University of London. In that position, and while still studying full time, he was delighted to find a fascinating new world in finance.
It was a choice that would lead him to the Northwestern University School of Professional Studies Master of Science in Information Systems (MSIS) program and a position as Chief Technology Officer for Symphony Asset Management in San Francisco.
A firm believer in lifelong learning, Schofield's educational focus on financial services began when he earned his MBA and CFA charter while working full time. He started seeing that traditional financial services were increasingly overlapping with technology. It was clear that he needed more targeted IT skills to maintain his momentum — and that's where Northwestern's MSIS program came in. 
"Early in my career I saw that the lines between technical and business roles and consumer and enterprise technologies were blurring," he says. "I chose the Northwestern MSIS because it was one of the only online programs that delivered foundational technical knowledge, tailored specializations, and faculty who worked in the field. And of course, there's the excellent Northwestern reputation."
Finding opportunities to grow
Schofield believes his own attitude about being a non-traditional student—that it's about what you put in to the experience — was key to maximizing his professional growth. He worked as an SPS teaching assistant, co-authored a book with MSIS director Faisal Akkawi (MCSA Guide to Microsoft SQL Server) and later joined the MSIS staff as an adjunct professor. 
Schofield now lives in San Francisco where he currently leads technology strategy and other initiatives for Symphony Asset Management — an investment management firm with over $17 billion in assets under management. He also credits the student body for enriching his learning experience.
"As both a student and a faculty member, I can say that one of the most fulfilling aspects of the MSIS program is the diversity of students who view challenges and solutions through different prisms," he says. "Combined with the program's unique leadership module, exposure to different problem solving approaches helps develop "T-shaped" skills, which are qualities I look for when hiring: the ability to collaborate across disciplines, combine deep technical expertise with broader business skills, and adapt as the environment changes."
Identifying and adapting to trends
Schofield chose to concentrate on Database and Internet Technologies from the program's eight specializations. These specializations differentiate the program from standard IT instruction, helping students address knowledge gaps with precision and ensuring the program aligns with industry changes.
According to Schofield, recent technology innovations have led to "hype cycles" but are now reaching maturity. He believes today's growth areas are in cloud-based platforms, cybersecurity, AI, robotics and machine learning — and he's making sure MSIS keeps up.
"As an instructor and a member of the advisory board, I try to make sure the program evolves to keep abreast of the trends," he says. "That may mean adding new specializations or redesigning courses, as we did recently. Our goal is to help students move beyond the core subject area and succeed."
tags:
September 30, 2020