type: Student Insights topic: Science and Technology program: Information Systems
Making Interplanetary Travel A Reality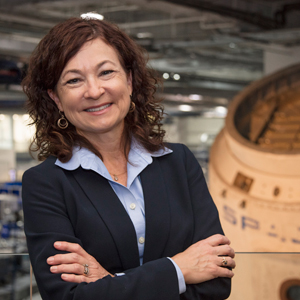 If accountants get a bad rap for being bland, Nancy Dandridge is the exception to the rule. Having started her career as a CPA, she quickly became interested in how software can improve business processes – now she's manager of information systems at rocket and spacecraft manufacturer SpaceX.
As an integral part of one of the world's most innovative companies, Dandridge was eager to enhance her technical skills, but she also needed a program that accommodated her 10 to 12 hour workdays. After much research, she knew a Master of Science in Information Systems from Northwestern University School of Professional Studies was the right fit for her demanding career.
"I was really interested in an online program because of my work responsibilities. I checked out USC which is right down the street from me and a few other schools, but I kept coming back to Northwestern," says Dandridge. "I did a deep dive into the curriculum and found I really liked the hands-on approach."
SpaceX, Dandridge notes, is the good kind of challenge. It's the type of environment where her hands-on knowledge is constantly in use. Known for designing reusable rockets and spearheading multi-planetary travel, SpaceX is filled with brilliant thinkers always striving to advance their mission.
"There's never a dull moment at SpaceX. I learn something new every day," says Dandridge. "I work with a lot of bright people and it keeps me on my toes. Everyone has great ideas."
With that type of energy, Dandridge finds she is always impressed with how fast the days whiz by. That's when flexibility becomes key, especially with the two hour time change from Chicago.
"I could not be earning my degree if I had to go to set classes due to my work schedule. My company is really supportive, but I do my work on my own time and the online flexibility has been awesome."
Dandridge says her online studies at Northwestern are already paying off. She's found her program's coursework aligns closely with many of the projects she deals with at SpaceX regularly. She's also been able to connect with and bounce ideas off classmates in other parts of the country. Working with students in different regions is a key part of learning in today's global economy, and, who knows, with the work of SpaceX, collaboration could someday become interplanetary. 
tags:
November 30, 2016