type: Student Insights topic: Arts and Humanities program: Literature
Finding the road to academia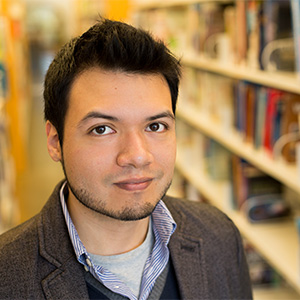 After braving dozens of Chicago winters, you can't blame Jeshua Enriquez for looking forward to some California sunshine. Enriquez, who is completing his Master's in Literature from Northwestern University School of Professional Studies (SPS) this spring, will soon be heading west to the University of California (UC), Riverside to embark on a PhD in English.
At both Northwestern and UC, Enriquez has found a nurturing home for his interest in a growing field of literary study: science fiction and technoculture, which he will specialize in for his doctorate. The field has captivated him since he was a child reading sci-fi novels, and he is excited to delve into the ways science and technology drive culture, and vice versa.  
"Unlike some literary fields, technoculture is relevant in everybody's modern life," says Enriquez, who points out current news stories ranging from military drones to genetic research for curing diseases.
Enriquez attributes his success in getting into UC's competitive doctorate program to the preparation he received from Northwestern's professors. "At SPS the professors are all really experts," says Enriquez. "In academia, you need someone who is an expert in their field in order to give you grounding."
His focus on science fiction as an area of study has its roots at Northwestern, where students are encouraged to pursue their individual interests.
"One of the most important things is finding your research niche," says Enriquez. "When a lot of people are first thinking about going to graduate school, they don't really have an idea; they're just thinking broadly about studying English. Northwestern's program exposes you to a wide variety of topics and also gives you the opportunity to go in depth with your particular interest. It's important if you apply to PhD programs that you have a clear idea of the specific topic you're interested in."
When he's not studying, Enriquez can be found writing — he has a short story appearing in the journal Newtown Literary this spring — and riding motorcycles, something he looks forward to doing more of in California. He's also experienced in front of a classroom. He incorporated his passion for science fiction into his curriculum during the three years he spent teaching high-needs students on Chicago's South Side and West Side through the city's Academy for Urban School Leadership.
Enriquez hopes to head a classroom again in the future, eventually in a university setting. If so, he'll be taking inspiration from the professors who have championed him toward this next step of his academic journey. 
tags:
April 26, 2014