type: SPS in the world topic: Society and Public Policy program: Public Policy
Northwestern Global Policy Lab Cohort Swims Through International Waters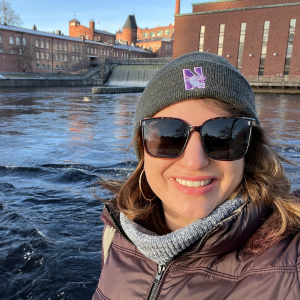 Northwestern University and Åbo Akademi University in Turku, Finland share a few things in common. Both universities see their fair share of snow. Both campuses contain a mix of old brick buildings and contemporary glass facilities. And both universities are on the water; Lake Michigan in Evanston, the Gulf of Bothnia in Turku.
A shared concern over waterfront systems tied the Northwestern Master's in Public Policy and Administration program (MPPA) with Åbo Akademi's Sea program for their shared Global Policy Lab in the 2022/2023 winter term.
MPPA Global Policy Lab collaborates with international university
In Scott Goldstein's lab, MPPA students work for a client organization on a commissioned project supervised by a MA in Public Policy & Administration faculty member. In the past, public policy students have worked for more domestic clients, like Main Street America or the Red Cross.
For 2023's MPPA Global Policy Lab, Goldstein reached out to Anna Lisa Castle '20, to ask if she would be interested in being the Lab's client. A former student of Goldstein's whose thesis explored water policy and affordability, Castle had pivoted from communications work at a community-based organization to policy director at the Alliance for the Great Lakes. Goldstein had followed her career since Castle published work she would done in his course with her client at the time, the Urban Institute Initiative.
Castle agreed, went a step further and suggested a lab linked with Åbo Akademi University, where she was connected through her professional network. She saw Åbo Akademi as a natural partner for the MPPA Global Policy Lab, especially as it has a research program dedicated to tackling sea issues. "I worked very closely with their political science and the public administration staff to understand if and how the water policy challenges I see in the Great Lakes basin are present in the Baltic Sea region, and what solutions are being advanced globally."
"Anna-Lisa's been on all sides of this, and it was just really exciting when she came with this idea of saying, 'Can we explore essentially a co-taught course across two universities and time zones in different types of water policy issues?'" Goldstein says.
Developing a cross-continental lab for public policy students 
To coordinate the MPPA Global Policy Lab across universities, Castle connected with Nina Tynkkynen, professor of Social Sciences, Business and Economics, and Law, Social Sciences The Sea at Åbo Akademi . For nearly a year, the two plotted with Goldstein how to hold a cross-continental lab that would take place over email, Google, and Zoom.
"These watersheds are an ocean apart, spanning different management cultures, political landscapes, and languages. And yet a lot of the same policy challenges and threat to the Great Lakes are easy to see in the Baltic Sea region as well," Castle says. "My role was to frame up what those issues are and build a syllabus around them." She recorded interviews with subject matter experts from both the Baltic Sea and the Great Lakes regions, so the students had a multimedia component in addition to their reading.
She was pleased with how the Finnish and American students, which included several PhDs with science background, a water systems engineer, plus Brazilian and Canadian students, collaborated and discussed week to week. "I was surprised at how easy it was to get people excited about this exchange even though it doesn't necessarily feel intuitive to compare the Great Lakes region to the Baltic Sea region."
Creating a public policy course for international cohort of students
In weekly "chunks," the students surveyed introductions to the Great Lakes, to the Baltic Sea, agriculture, clean water and environmental justice. Over 11 weeks, they discussed the material and applied it to two different written pieces. "There was no lecture in the class," says Goldstein. "They were researchers. I was there as their coach, not as their professor. It was really based on a professional experience where no one's teaching you the material; you have to go out and learn it."
Goldstein says the face-paced public policy course is modeled on real life consultant and policymaking work. "You need to work in a collaborative way to address a policy issue that has imperfect information, develop recommendations for improvements and where those recommendations should be placed at the local level, state level, national level, the private level." The collaborative, discussion-based model of the class was designed to reflect challenges in real time. "They're really getting real-world experience in needing to learn a topic, apply it, and not only just research the topic, but develop recommendations in the context of an imperfect world of data."
Global Policy Lab course instructors about the collaboration with Åbo Akademi University and the Alliance for the Great Lakes in the 2022/23 winter term.
Cultural complications
Russia's complicated relationship with Finland loomed again during the lab during its invasion of Ukraine. Finland was safe but the Baltic Sea was not, says Castle. "Russia is a Baltic Sea State, and through the Helsinki Commission and other venues had been a partner in some of the pollution reduction work in the Baltic Sea region." Such cooperation ceased when the war started. "That felt very present in the conversation around international cooperation."
Tynkkynen says that her work in Finland continues to be affected by the conflict, sanctions ceasing her cooperation with Russian colleagues. "We had some projects with them and we had to just cut off all relations and stop all the cooperation. We were coming to some interesting things and we were writing together some applications, and all that had to be stopped."
The cohorts encountered other cultural and environmental differences between the Baltic and Great Lakes. Since the Baltic Sea is salt water, for instance, it's not a drinking water source. "We don't have any shortage," says Tynkkynen. "We got to think about it quite a lot. It was really good for our students and for us teachers to realize these are really good points to learn."
The Finnish students, who generally had more science background compared to the Americans, reported feeling challenged and enriched by Castle's dialogue style, says Tynkkynen. "The students are not as used to discussions, and not with people who have totally different backgrounds. They appreciated that kind of multicultural engagement a lot. You realize, it's always beneficial that you come a little bit outside out of your own box and learn to think differently, or at least learn how people think."
Local policies and enriched global perspectives
Despite the cultural and environmental differences, the group found much to learn from each other.
"When I was talking with Northwestern SPS students, there was a lot of curiosity about how the Baltic Sea region was able to make the progress that it made," says Castle. "Likewise, I was hearing from the folks in the Baltic Sea region that they were surprised to learn that some of the soil science and ecosystem challenges in the Great Lakes are familiar to the Finnish context."
Both regions struggle with local vs. national policies as well. "I had thought the EU was more unified than perhaps it is," says Goldstein. "The thing about water is, it does not respect political boundaries. Competition and fragmentation of government at different levels was a major issue and barrier in both areas."
At the end of the course, the Finnish and American cohorts shared presentations in Goldstein's real-world style. "You have 20 minutes with the policy chief for the governor. What is your pitch?" The students presented ways to improve public policies covering issues like water affordability and rural pollution runoff. Students made their case based on research, what partners would need to be involved and what opposition there would be to promote that policy change, all in about 10 pages, which Goldstein says mirrors the everyday experiences of policy-advisors.
The lab proposals covered topics like new watershed approaches for the Calumet River in Illinois; how to incorporate environmental NGOs to overcome water governance challenges; how to work more closely with indigenous tribes to inform water policies; and how the twin towns of Sault Ste. Marie in Michigan and Ontario in Canada could collaborate better on protecting its shared Ontario Bay.
Castle says that international exchange and collaborations to address shared issues will be valuable for future Global Policy Lab cohorts and policy professionals alike. "There should be opportunities to understand public policy and administration in our context compared to the policy solutions and governance structures that other places around the world use," she says. "These questions were really fun to explore and I am grateful that I got the chance to do that with smart, curious, and motivated folks."
She sees it as a valuable experience for both students and professionals. "It's not often that you get to look around the world and figure out how are other people trying to address these problems."
---
Northwestern University School of Professional Studies offers many degree and certificate programs, with evening and online options available. To learn more about how Northwestern University's Master's in Public Policy and Administration program prepares graduates to advance their public policy and administration careers, fill out the form below and we will contact you soon.
tags:
July 27, 2023