type: Student Insights topic: Society and Public Policy program: Public Policy
SPS Alum Heads up Duckworth's Senate Office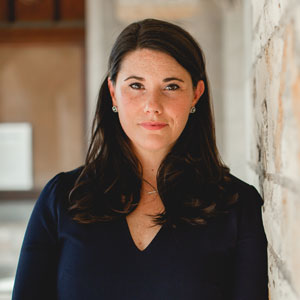 Northwestern University School of Professional Studies (SPS) MPPA graduate Kaitlin Fahey does not consider herself much of a "social butterfly." So it was with some reluctance that at age 22, recently graduated from Georgetown University and working as a legislative staffer on Capitol Hill, she randomly decided to attend a large D.C. fundraiser.
It was there, after listening to the passionate words of a recently returned combat veteran named Tammy Duckworth, that Fahey glimpsed a different future for herself.
Fast forward several years — during which she got married, had two kids and earned her MA in Public Policy and Administration (MPPA) degree — and Fahey now serves as Chief of Staff for Duckworth, Illinois' junior U.S. Senator and a potential running mate for Joe Biden in the 2020 presidential election.
Rolling up her sleeves
After that first fundraiser meeting, in 2006, Fahey left her staff position and immediately returned to her native Illinois to join Duckworth's campaign. Duckworth was hoping to win the 6th U.S. House District seat being vacated by retiring longtime Rep. Henry Hyde.
"I was willing to do anything— make coffee, run errands, and go door to door as a volunteer," Fahey says. "I was eventually hired full time as a scheduler and driver. My mother was horrified — I'm not known for my navigational skills, and this was before GPS."
Duckworth lost to Peter Roskam, but by then Fahey and Duckworth had formed a strong bond.
Embracing public policy
After Duckworth's loss, Fahey's experience led to an appointment with the Illinois Department of Commerce and Economic Opportunity. Before moving to Chicago, she lived with her parents and commuted — and began to think about graduate school.
"The position really opened my eyes to the role government can play in people's lives," Fahey says. "I wanted to stay in the field, but I missed school. I needed to stretch my brain and develop deeper skills in policy and administration. The MPPA program was one of the few that offered both and didn't ask me to sacrifice my career. Add in Northwestern's reputation, and there was no reason to apply anywhere else."
Meanwhile, Duckworth was building a national profile and was appointed by President Barack Obama to the post of Assistant Secretary of Public and Intergovernmental Affairs for the U.S. Department of Veterans Affairs.
Finding the B.H.A.G.
In the MPPA program, Fahey studied with a small cohort of peers with diverse backgrounds — police officers, nurses, teachers and a range of other professionals. While she didn't always agree with their opinions, she found the exposure to people directly impacted by government policy invaluable. She also picked up new skill sets such as budgeting, management, and data analytics.
But the real turning point for Fahey came with instructor Debra Loftus's leadership course, which helps students find their B.H.A.G. — a Big Hairy Audacious Goal.
"Imagine an idea you have that's so big you can barely say it out loud," says Fahey. "That's what this project is, and it was the first time I gave real thought and intention to my career goals. Deb was also an incredibly challenging teacher and great mentor, so I came out of the course with new confidence. I believe a real benefit of the program is the chance to assess your skills, gaps, and strengths and develop a leadership plan to meet your goals."
Back to Washington
Fahey was still pursuing her MPPA degree when Duckworth asked her to return to Washington and join her staff in the Obama Administration. Luckily, the MPAA program was flexible enough to allow her to make another career change. Fahey was awarded her degree in 2011, and she worked as a Campaign Manager for Duckworth's second attempt to win a U.S. House seat representing the Chicago suburbs. This time Duckworth won, becoming the first Asian-American from Illinois and the first woman with a disability elected to Congress. Fahey helped Duckworth retain the seat in the 2014 election. And in 2016, she again served as Campaign Manager and led the team to Duckworth's historic victory in an election for the U.S. Senate.
But it wasn't easy. During graduate school, Fahey and her partner Scott Waddle — a firefighter she met in an MPPA class — managed a long-distance relationship, eventually marrying. She also started a family, all while leading Duckworth's team and running tough, high-profile campaigns. And the pace hasn't slowed. Now Chief of Staff, Fahey helps lead Duckworth's busy Senate office, managing a range of challenging issues during a time of uncertainty and sharply partisan national politics.
Her own "true north"
"I find a certain kind of calm in chaos," she says. "Politics and campaigns can be all consuming, and I love that part of my job. But building and leading teams that are doing meaningful public policy work that I believe in — that's my true north."
She says that her career might look like it was well planned, but there were big risks, disappointments and stresses along the way. 
"I've learned that where there's a job to do and it aligns with your passion and talent, work doesn't seem like work," she says. "I know I'm incredibly privileged to have that kind of career."
tags:
July 31, 2020