type: Alumni topic: Student News program: Public Policy
Sara Jump-Starts Her Public Policy Career With Accelerated MPPA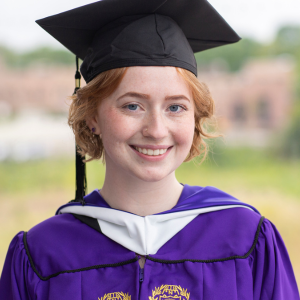 A life-changing internship in Senator Tammy Duckworth's office led Sara Killackey to decide she wanted a career in policy work. "I saw how policies have major impacts and implications on regular people," she says of the 2019 experience. "Working with case workers and helping the constituents inspired me — that's what I want to do. I really want to help make policies and help people."
After working for a few years post-graduation at the U.S. Attorney's office, Sara came to what she saw as a career crossroads: law school or policy work? The decision to go all in on policy led her to Northwestern's accelerated Master's in Public Policy and Administration (MPPA) program.
Northwestern's accelerated MPPA program was ideal for Sara because she preferred to get her master's degree in a year rather than spend several years working full-time and in school part-time. "The Northwestern program is perfect; I knew there probably wouldn't be another time in my life to quit a full-time job and go back to school."
When Sara wasn't in class on the Chicago campus or tackling coursework, she tended bar at the Streeterville watering hole Timothy O'Toole's (often populated by Northwestern University students and faculty). Juggling her bartending shifts with the 10-week courses was "a lot" but "not impossible," she says, thanks in part to supportive Public Policy and Administration faculty. "All the professors have experience in the field, and they want you to learn, they want you to succeed," she says.
Gaining new policy analysis skills in Northwestern University MPPA courses
Sara took statistics, economics, and intergovernmental relations from faculty member Dr. Andrew Crosby, who she says was especially influential. Before the Master's in Public Policy and Administration program, Sara was concerned about how she'd do in accelerated statistics and economics courses. She says Dr. Crosby worked to ensure she and her classmates didn't miss a step. "He took the time to work with all of us, in or outside the classroom. I would meet with him in his office hours for econ and stats, and he would work with me through any topics that I had an issue on."
Now, she has new confidence in her statistical abilities. "Analysis is important in the policy world because you must show, 'Are these programs and policies successful? Who are they impacting? Are you achieving what you want to achieve?'"
Sara was raised in the south Chicago suburbs in a blue-collar family. As a first-generation college student, attending a four-year university to earn her B.A. was never guaranteed, "I was only able to do so through federal aid and Federal Pell Grants. I know the benefits that social welfare programs provide to countless families like my own," she says.
What's next for Sara after the accelerated Master's in Public Policy and Administration program
After completing her degree in summer 2023, Sara hopes to find a job in the policy world, possibly in federal or local government, in the vein of the time she spent in Senator Duckworth's office. "I saw how policies have major impacts on everyday people. Working with the caseworkers and the constituents and helping them inspired me to realize that's what I want to do."
She plans to look for work in policy analyst and policy research roles. With her accelerated Master's in Public Policy degree, Sara feels more confident about the positions she can take on. "Before entering this program, I never would've considered these roles. But with the background that Northwestern University has given me in quantitative research and research methods, I think it would be interesting to go into policy analyst roles as well."
Thanks to the program, she says, "You learn so much in a short amount of time; and it also helps jump-start your public policy career in a meaningful way."
---
Northwestern University School of Professional Studies offers many degree and certificate programs, with evening and online options available. To learn more about how Northwestern University's Master's in Public Policy and Administration program prepares graduates to advance their public policy careers, fill out the form below and we will be in touch with you soon. 
tags:
August 9, 2023