type: Alumni topic: Science and Technology program: Post-baccalaureate
Taking Research to the Next Level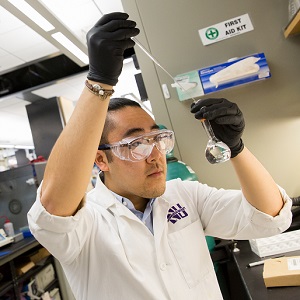 After graduating from The Ohio State University with a bachelor's degree in physics and chemistry, Samuel Sung served as a research assistant at both university and naval research laboratories. Yet, it was during his time as a radiological intern that he realized he wanted to work more directly with people. He recognized that he could make a positive difference by applying his scientific acumen to the larger population.
However, Sung also knew he needed a stronger background in biology to make a professional transition. He went on to earn his MS in Biomedical Engineering, as well as a post-baccalaureate certificate in Advanced Studies in Biology for the Health Professions, at Northwestern, where he now works as a research technician and teaching assistant. 
Sung explained, "Even after finishing my master's, I felt like one year wasn't enough to learn all the biology I possibly could. So the post-bacc certificate was a good match."
Being a student and researcher at Northwestern helped bring Sung's skills to the next level. He now works on the development of drug delivery devices for HIV/AIDS and improving access to healthcare for women. What's more, he serves as a research coordinator responsible for reviewing proposals at Advocate Healthcare and tutors students outside of his office hours.
Sung noted the faculty is an important part of the Northwestern culture as well. While he studied at the University, the professors he worked with were always willing to provide feedback on individual student projects. Sung could harness their expertise to advance his own research.
"The faculty are all working professionals running their own labs," Sung said. "They had a wealth of knowledge and could explain how it applied to the real world. They were able to give strong perspectives on where the technology is going."
Despite his full schedule, Sung still finds time to pursue his creative interests. An avid photographer, Sung recently traveled to Cuba, photographed the trip, and wrote about the current healthcare system there. As for what's next, Sung eventually plans to go on to pursue his doctorate. Sung still isn't sure where he'll ultimately earn his PhD, but does credit Northwestern for enhancing his vigor as a scientist.
"I love it here," Sung said. "I was able to grow professionally and develop myself as a teacher and a researcher. The responsibilities have made it so I need to be at my best. My coworkers and students constantly push each other to keep going and be better." He added, "I believe the student population here is exceptional. It's a different learning environment, but that's what makes it so inspirational and motivating." 
tags:
February 15, 2017