type: Alumni topic: Science and Technology program: Post-baccalaureate
Turning a Passion into a Career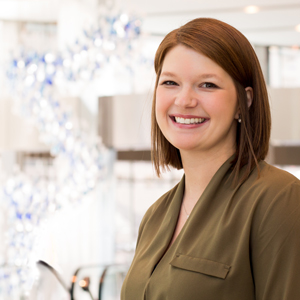 When Lauren East was working at Starcom Mediavest Group, a media buying and planning agency in Chicago, she occasionally visited college campuses to recruit upcoming graduates to the company. She soon found that recruiting was one of her favorite job roles — so much so, that she decided to take the leap and pursue a career change to human resources.
To make the transition, East enrolled in Northwestern University School of Professional Studies's Fundamentals of Human Resources post-baccalaureate program. "I basically turned the fun piece of my job into a full-time role," says East, who now works as a campus recruiter at DRW Trading.
In her current role, East coordinates recruiting trips every fall to her alma mater, Purdue University, as well as other campuses, interviewing and recruiting students for entry-level roles and coordinating office visits. She's even found opportunities to incorporate her lifelong love of travel — some of her campus visits are to universities in the United Kingdom.
At Northwestern, East appreciated the wide variety of classes offered. "I was able to really tailor the classes to my specific interests," says East. "I really enjoyed the opportunities that came from the flexibility to pick and choose what interested me."
When she began applying for jobs, having the HR Management certificate boosted East's confidence in interviews. "I took advantage of visiting the academic advisor, which every student gets even in the certificate program. He helped me review my resume and gave me some tips on applying for jobs. I feel like I was really able to speak intelligently about human resources, and now apply the knowledge in my full-time role."
Outside of the office, East can often be found on the basketball court. She played throughout her school years and continues to play on work leagues. It may be on the court where she first learned the importance of a cohesive team — a principle that guides her as she matches students with job positions.
"My favorite part about recruiting is just talking to students and getting them excited about the jobs that I have and the company that I work for," says East. "The interactions with all the students are really enjoyable, and being able to talk highly about the company I work for is a lot of fun."
SPS, in partnership with the Society of Human Resource Management, also offers human resource certificate programs in HR management and SHRM CP and SCP certification prep.
Article by Kelsey Rexroat
tags:
April 12, 2016