type: Student Insights topic: Science and Technology program: Post-baccalaureate
The Study of the Body: A Dancer Transitions into Physical Therapy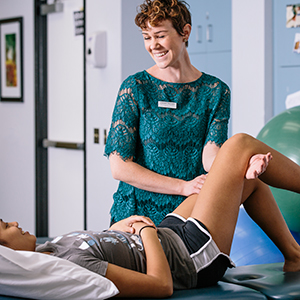 Lindsay Backiev has always been fascinated with the human body's strength, coordination, and range of motion. It's a passion she has pursued down separate but complementary paths: first as a professional dancer, and then as a student completing pre-physical therapy requirements at Northwestern University School of Professional Studies.
After earning a BFA in modern dance performance, Backiev knew she wanted to eventually study physical therapy. But with the relatively short career spans of professional dancers in mind, she decided to first commit herself to that. She danced professionally with several modern dance troupes, touring and performing at venues around the country.
When she decided to return to school, Backiev chose Northwestern for its stellar academic reputation. "Coming from a performing arts background and going into science-based studies, I knew that having Northwestern in my education was going to give me more of an advantage in preparation for the rigors of physical therapy school," says Backiev.
Backiev completed her pre-physical therapy requirements while earning a post-baccalaureate certificate in biological sciences. While taking the program's evening classes, she continued contracting as a professional dancer — even dancing on stage with Beyoncé and on The Oprah Winfrey Show. She also taught dance to adults at Intrigue Dance and Performing Arts Center and to children through the nonprofit Chicago Arts Partnerships in Education (CAPE).
Backiev is now pursuing her Doctorate of Physical Therapy after being accepted to the University of Southern California's competitive program. Having a background as a dancer has given her a unique perspective when it comes to her studies. "I focus on movement analysis more," she says. "Being so attuned to your own body, and teaching across the lifespan of a dancer, has really been advantageous as a physical therapy student."
After graduating, Backiev hopes to keep her connection to the dance community by specializing in performing arts physical therapy. "I'm really passionate about the performing arts community, and I think there's been a disconnect between the medical side and the performance side of dance medicine." Armed with her background in both, she says, "I'm hoping to bridge that gap."
Article by Kelsey Rexroat
tags:
April 29, 2016