type: Student Insights topic: Science and Technology program: Data Science
Predictive Analytics Student Wins Top Prize at Veterans Business Battle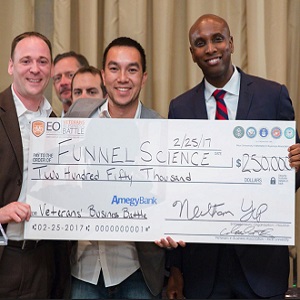 Master of Science in Predictive Analytics (MSPA) student Alex Fender (pictured left) recently won $250,000 in the Veterans Business Battle to scale up Funnel Science, the company he founded that designs marketing and sales predictive analytics software. To earn the funding, Funnel Science competed against hundreds of other veteran-owned businesses nationwide, and was announced as 1 of 16 finalists before ultimately winning the award for best business plan.
"The class I'm in currently, an entrepreneurship course, came with excellent timing" said Fender. "I was competing in this business plan competition at the same time and the coursework directly applied."
Of course, this modest assertion neglects to mention the years of work Fender already invested in growing his business and becoming a successful entrepreneur. Having founded Funnel Science in a bedroom office in 2011, Fender now oversees ten employees and has served clients such as Jewel Osco and Dyson. In 2012, Fender won a Veteran Entrepreneur of the Year Award. While it took about another year for Funnel Science to really takeoff, the company has rapidly grown much due to Fender's go-getter attitude.
Fender credits much of his discipline and academic rigor to the eight years he served in the U.S. Marines out of high school. Growing up, he knew he wanted to be a soldier.
"The Marines taught me to be a student," Fender said. "Unless you're deployed, you're always either being trained or training someone else."
After exiting the Marines, Fender earned his bachelor's degree in business management at Columbia College on Veterans Affairs Vocational Rehabilitation & Employment, which provides similar educational benefits as the GI Bill. Once he finished his undergrad, Fender taught himself Google Analytics and Adwords, and soon built up a robust portfolio of certifications. Fender wanted to continue to be challenged on an intellectual and professional level, so he researched several top graduate programs in predictive analytics.
He chose Northwestern because he found the coursework directly applied to his work at Funnel Science. Moreover, he was impressed by the faculty and the program's prestige.
"The professors are very experienced and they're using analytics in their own professional work," Fender explained. "The other reason I chose Northwestern is because it has global recognition. It was important for me to get into a top school. I wanted those opportunities"
He's also found his classmates are a big benefit of the MSPA program. "I think you gain more out of this program from your peers than anything else," he added. "They're able to share their challenges and how they're solving business problems, and you get to learn from that. Nothing is the same as that one-on-one connecting and networking."
As for running a business and taking classes simultaneously, along with making time for his family, Fender is unfazed by what some would consider a daunting schedule. When asked about what it's like to be an online student, he replied:
"If you put your mind to it, it doesn't matter how far away you are or how tough the workload is, you can get it done. I feel connected to the graduate community and working professionals, which is naturally different from an undergrad campus experience."
Fender is expected to graduate in fall of 2018 and plans to eventually earn his PhD. In the meantime, his funding from the Veterans Business Battle will help Fender take Funnel Science to new heights while he continues to work toward his master's degree. 
tags:
March 9, 2017