type: Student Insights topic: Science and Technology program: Data Science
Taking on Work, School, and Big Data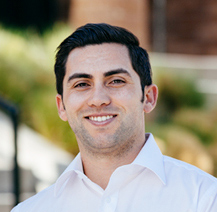 California native Raymond Anden has found ample educational opportunities in-state: from high school in Santa Ana to college at the University of California, Irvine, where he majored in business economics; to an in-process PhD in computational and data sciences at Chapman University in Orange County; where Anden completed an MBA in 2010. After his MBA, Anden earned a Master of Science in Predictive Analytics (MSPA) at Northwestern University School of Professional Studies's (SPS) sunny West Coast campus — which was wherever his computer happened to be.
The fully online MSPA program, which Anden completed in 2013, focuses on harnessing the power of "big data" to enhance organizational effectiveness, customer service and other business goals. "Everything I learned at SPS, like how to better forecast sales and analyze the customer experience, helped me at work," says Anden, who is a marketing analyst at Extron Electronics, a manufacturer of professional audiovisual systems. At Extron, Anden has become the go-to guy for his knowledge about analytics and leveraging data more effectively. "I implemented changes at work, and it's made an impact. My role at work has grown, with a substantial increase in salary. It's made my job more satisfying."
The MSPA was Anden's first time in the virtual classroom, a format that provided him with the flexibility his schedule demanded as well as with some unanticipated benefits. "You automatically interact more with students on discussion boards, and you do research on your own, as in the real world." Anden met some of his classmates in person at his graduation, one of three trips he made to Chicago, visits that included rocking out at Lollapalooza and taking in a Cubs game.
Among Anden's favorite MSPA classes were marketing analytics and advanced modeling techniques, both taught by Thomas Miller, and classes with Donald Wedding, who asked Anden to become a teaching assistant after he completed the program. "Dr. Wedding has been a great resource, and I continue to learn from him as a TA," says Anden. "Teaching lets me dig deeper into the material." It was Wedding who encouraged Anden to apply to PhD programs — he's currently well into a PhD program in computational and data sciences at Chapman University. Says Anden, "I'm basically a lifelong learner now."
tags:
May 26, 2016