type: Student Insights topic: Society and Public Policy program: Public Policy
Rethinking the Criminal Justice System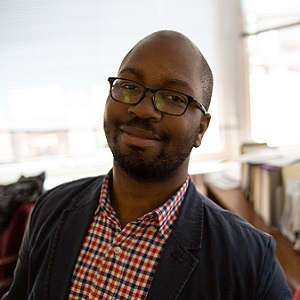 While MA in Public Policy and Administration student Bryant Jackson-Green served as a project coordinator and analyst for the office of the Cook County Circuit Court Chief Judge, he was also enrolled in three courses per quarter at Northwestern, working diligently to earn his degree. Now, as he works to complete his thesis and approaches graduation, Jackson-Green is grateful that he never had to hit pause on the work for which he is so passionate.
"A major benefit of the program was that I didn't have to give up my career," said Jackson-Green. "From day one, I could immediately take the skills I learned in the classroom and use them in my job."
Jackson-Green, who began his research career at the Illinois Policy Institute after earning his BA in Political Science at the University of Chicago, did exactly that. In a course on research methods, he designed a survey on criminal justice opinions, which was commissioned by his workplace and distributed less than a year later.
Now, Jackson-Green works as a strategic policy advisor for the Illinois Criminal Justice Information Authority. His current thesis work is focused on criminal justice reform. In his own words, his research asks the question, "What would happen to the finances and jail populations in every Illinois county if the state were to end money bail?"
Jackson-Green has worked closely on his thesis with faculty members Gregory Kuhn and Angela Fontes. When deciding where to continue his education, he selected Northwestern for the flexibility, reputation, and opportunity to work with industry leaders.
He explained, "The really unique thing about the program is that the faculty are not only great as academics, but also are real-world practitioners with a variety of experience that they can apply and teach in class."
He also recommends the program because the coursework and faculty are flexible to a wide range of interests. For example, Jackson-Green found he enjoyed research enough that he now plans to pursue his PhD next fall. "I'll add this," he concluded, "no matter what stage you're at in your career or what career path you have in mind, this program allows you to work toward those goals."
tags:
April 3, 2018