type: Alumni topic: Society and Public Policy program: Public Policy
Brewing Up Public Policy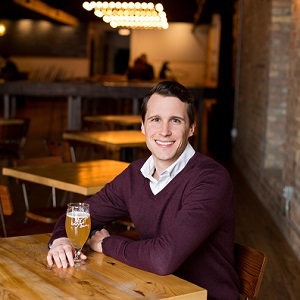 Anyone who's spent time in Chicago has likely noticed the rise in the city's craft beer scene. According to The Hop Review, Chicago proper is home to 71 breweries, with an additional 126 located in the surrounding suburbs. Unsurprisingly, the beer industry can help drive neighborhood economies and affect local real estate vacancies. That's where JLL senior research analyst David Barnett comes in.
Barnett, who is an alumnus of the SPS MA in Public Policy and Administration (MPPA) program, initiated his research in breweries and interest group influence on policy outcomes as part of his thesis at Northwestern. Now, Barnett has published a high level report through JLL, a commercial real estate firm, which expands on his research and focuses on the impact the industry has on real estate. Titled "The Craft Beer Guidebook to Real Estate," the report has been cited by outlets such as The New York Times and San Diego Union Tribune.
While JLL is based in Chicago, Barnett's research explores trends about how breweries launch and operate across the U.S. The report includes statistics production, breweries per capita, consumer demographics, geographical concentrations of breweries, and other helpful information for brewers who are thinking about setting up shop.
After completing his BA in Political Science at California State University San Marcos, Barnett worked at a brewpub in San Diego while also interning at the National University System Institute for Policy Research. He was tasked with preparing data around local specialty markets and events such a craft beer festivals and endurance races like marathons and triathlons. He developed a passion for research and decided to pursue his master's degree.
However, Barnett didn't want to place his professional research experience on hold. That's one reason he chose Northwestern. "I looked at several schools," Barnett said, "but Northwestern had the flexibility to let me get my career started. The faculty are amazing and regularly apply their academic skills to their careers as well. I think that's key."
The flexible course schedule allowed Barnett to work as a research assistant at the Illinois Consortium on Drug Policy before he moved to an internship and climbed the ladder at JLL. Barnett notes his courses "provided flexibility without compromising quality," and helped him think about public policy in new ways.
"The program offers an incredible opportunity to boost your analytical skills from multiple perspectives," Barnett said, "which in turn helps you understand the elements involved in shaping public policy. That includes disciplines such as economics, sociology, political science, and others. You get both the academic side and the applicable side of public policy. Along with all the theory, you also see how it plays out in the real world. There's a real need for that."
In considering the MPPA program's five tracks, Barnett selected the public policy specialization so that he could learn more about how his research would turn into action. He explained, "The public policy specialization specifically was invaluable in understanding that the policy environment is fluid due to shifts in access to information, public and private stakeholders involved, and socio-economic conditions."
Besides his research on craft beer, Barnett also contributes research to local, national, and global reports at JLL and analyzes economic trends and policy changes related to real estate for clients. He credits the MPPA program with helping him learn how to navigate these complex, interconnected webs. He said, "The intergovernmental relations course really opened my eyes to the multiple layers of government involved in policy formulation. I still use that same perspective in my professional work to understand how different municipalities, counties, and states intertwine and affect real estate markets and conditions."
tags:
April 6, 2018