type: Alumni topic: Society and Public Policy program: Public Policy
MPPA Alum's Passion for Public Policy Propels Change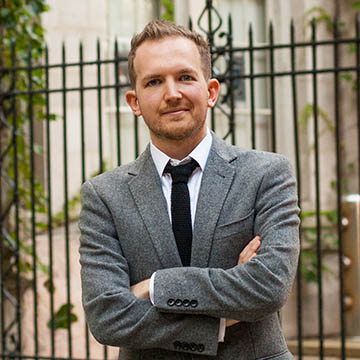 You could say that activism and policy work are in JC Kibbey's blood. The son of activist parents, he accompanied them to neighborhood and city council meetings so often that his first two-syllable word was "downtown," where city hall and the state capital were.

That early enthusiasm has only bloomed since — he interned at the Michigan governor's office as a high school senior and then earned a B.A. in political theory at Michigan State University, where he contributed to President Obama's 2008 campaign. As a student in the Master of Arts in Public Policy and Administration program, he dove deeper into the academic and theoretical sides of the discipline, taking a particular interest in behavioral economics, which explores the psychological factors behind people's economic decisions.

"Not only was that class interesting to me academically, but those ideas have helped inform my professional work," said Kibbey, who currently does public policy research and political strategy at SEIU Local 1, a union representing nearly 50,000 service employees. "In the world of politics, a lot of the questions are about how people are going to react to situations."

While at SPS, Kibbey took the principles of behavioral economics and applied them to climate change policy to probe why climate advocacy often meets resistance. He built his findings into a thesis that earned one of the school's 2014 Distinguished Thesis awards.
Changing the conversation around climate change continues to be a driving motivator in his career and his activism work. He represents Local 1 in a coalition of labor and environmental groups called BlueGreen Alliance. "When you hear climate change discussed in the media, a lot of times it's presented as this dichotomy between creating a good economy and addressing the problem of climate change," said Kibbey. His goal is to show that what's good for the environment can be good for the economy as well.
To spread that message, Kibbey has trained about 150 Sierra Club volunteers across the country on talking about climate change in an accessible, compelling way. "That was exciting because it was an opportunity to take the lessons I learned writing my thesis and put them into action," said Kibbey.
Now, Kibbey has an even larger platform for his climate advocacy — he was recently elected to a seat on the Illinois Sierra Club board. Despite his loaded schedule, he doesn't complain about the additional work.
"One thing about working in public policy is that a lot of us are here because we're so passionate about it," said Kibbey. "The line between what you do for fun and what you do for work blurs."
Article by Kelsey Rexroat
tags:
October 28, 2015