type: Student Insights topic: Alumni News program: Regulatory Compliance
Bensheng Advances His Regulatory Compliance Career at Pfizer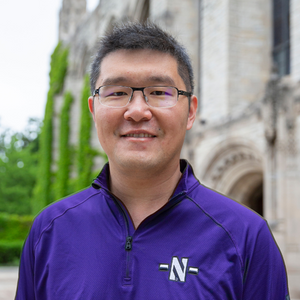 Bensheng Liu ('22) knew that he wanted to push himself professionally. But a pandemic, first-time fatherhood, and a full-time regulatory affairs job at Pfizer made it challenging to schedule the time to find and finish a robust professional program. In Northwestern University's Master's in Regulatory Compliance (MSRC) program, he could get the education he wanted at the pace he needed to expand his scope of work.
Regulatory compliance work makes an immediate impact on patients
With a background in research science and a PhD in biochemistry and molecular biology, Bensheng began working in global regulatory affairs at Pfizer, where he worked alongside colleagues who helped develop the COVID-19 vaccine and the antiviral product. "I saw my colleagues work on these and feel good for them. It's not easy to work on something that can make such huge impact. I do hope at some point I can work on something like that in my career."
Bensheng serves as a liaison between the company and regulatory agencies like the FDA, focusing on hospital products like heparin injections to prevent blood clots or Metronidazole for infections. He describes regulatory as the interface between a company or research organization with government agencies such as FDA, to ensure the products meet the standards and laws and to bring the products faster to patients and consumers.
"My work can make an immediate impact on patients," he says. "I feel I'm part of the chain that contributes to that. You feel good about bringing the product to the market to the patient faster."
He wanted to find ways to advance new technology at work, and he decided it would help to expand his regulatory knowledge so he could work on products in clinical development stages in addition to his focus of post-approval marketed products. "I had the idea that in regulatory, I would need to see the bigger picture, more scope. That drove me to see all of the programs available at that point." Northwestern University's academic reputation stood out. He thought, "I also want to have a degree from Northwestern; that means something to me."
Developing broader skill sets in MS in Regulatory Compliance program
Bensheng took the MS in Regulatory Compliance program at a manageable pace, focusing on three courses per year. "I finished the program in three and a half years. Baby steps," he says. Then he could give more attention to his favorite courses like Clinical Research 400. "That was spring 2020, and that's the start of COVID. Sheri Jacobsen walked us through the ongoing clinical studies for the COVID vaccines. I found that intriguing. It is also very timely knowledge." He says that Jacobsen, who worked for AbbVie at the time, invited colleagues to provide guest lectures. "That was really helpful for us to learn about what people there are thinking about this topic and to know about how their work happens."
He was also surprised by how much he got out of his statistics course, despite it not being his area of expertise and using RStudio statistical software for the first time. "I learned a lot from that course and the challenge of that bit of exposure to data science. That has opened the door for me if I want to explore that area in the future."
And despite being separated by the pandemic, Bensheng also learned from his classmates. "I think that the beauty of this program is that in Northwestern SPS, my cohorts have a very different background from me. Some of them are very senior, or manage a big group, or are in a different stage of their career than me. I learned a lot from their discussions and their personal experience."
Bensheng advances his regulatory compliance career
Now that he's completed the program, Bensheng looks forward to spending more time with his wife and baby daughter, just three months old by the time of his summer 2022 graduation and starting to smile. "Now you start to get more responses from her, and you just feel like the effort is worthwhile."
Bensheng says the efforts he applied towards his degree paid off in terms of better helping him with his goal to better understand regulatory strategy, particularly risk management. "When there is a foreseeable challenge, I learned the best way to address the challenge and mitigate the risk in Northwestern's program."
Promoted to manager at Pfizer in 2022, he says, "I think my education helped me change my role within the company to my current role in regulatory." Now, he's working towards managing additional programs and activities at Pfizer, including both marketed products and developmental programs. "The knowledge I learned from Northwestern, especially in the clinical research track, has helped me prepare myself well."
---
Northwestern University School of Professional Studies offers many degree and certificate programs, with evening and online options available. To learn more about how Northwestern University's Master's in Regulatory Compliance prepares graduates to advance their careers, fill out the form below and we will be in touch with you soon. 
tags:
August 15, 2022