type: News topic: SPS News program: All (or General SPS)
2022 Symposium Welcomes Students and Alumni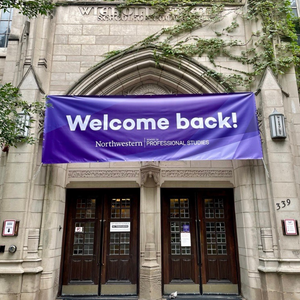 October 8, 2022 -- Students and alumni returned to campus for the 11th Annual Northwestern School of Professional Studies (SPS) Symposium for Graduate Programs (Oct. 6-8, 2022). The three-day event is an opportunity for current and former students to reconnect with classmates and faculty, and the larger University community.
The Symposium kicked off with a welcome reception held inside the Potocsnak Family Atrium. The evening included remarks from Thomas Gibbons, Dean of Northwestern School of Professional Studies, and alumni speaker Ashley Kang (MA, Public Policy & Administration '18), CEO and founder of AHK Business Management.
"Getting to share my Northwestern SPS story with current/new students was an honor – but also a wonderful reflective exercise. I've come a long way, and there's still more to come," Kang shares on social media.
The next morning, Wieboldt Hall was abuzz with activity for the Symposium conference. It was a full day of networking and engaging presentations. The keynote was delivered by Randy Hlavac, faculty member at SPS, and Dr. W. Douglas Jackson, CEO of Project C.U.R.E..
This year's conference furthered networking opportunities for all. For some graduates, particularly those who earned an online master's degree, it was their first-time meeting classmates and instructors in-person.
At the conference career roundtable, industry leaders (all of whom are actively hiring) discussed the future of data science and analytics. They also answered questions from the audience about how to navigate working and job hunting during the pandemic.
"As you're looking for jobs, look more for where you want to go, what the culture is, and what problems you're solving. The technology comes and goes," says Ivana Donevska, Vice President of Data and Analytics at Adtalem Global Education.
Other roundtable speakers included representatives from Big Chalk Analytics, Chicago Bulls, New York Life Insurance Company, Qventus, and Southwest Airlines. Afterwards, students met with speakers to talk about career opportunities at their respective companies over an informal networking lunch.
The conference closed with the presentation of the first SPS Alumni Award. The 2022 award recipient is Rodrigo Sierra, BPhil '96, MBA '08, Chief Communications Officer and Senior Vice President at the American Medical Association.
To cap off the weekend, students joined a sea of purple at Ryan Field for the Homecoming tailgate and Northwestern vs. Wisconsin football game. Go 'Cats!
tags:
October 8, 2022