type: Faculty topic: SPS News program: Undergraduate
Explore Undergrad at SPS — Associate Professor Elena Lanza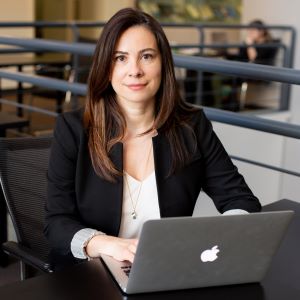 For award-winning School of Professional Studies (SPS) Spanish professor Elena Lanza, Monday evening isn't just a class — it's a community. The adult students who come to her weekly undergraduate Spanish class are typically together for a full year. By the last quarter, they've really gotten to know each other and are able to share personal stories in Spanish. They come to rely on her — and each other — to sustain attention and stay motivated after a full day of other responsibilities. 
 "Learning a world language for the first time isn't like studying other subjects because there's no point of reference and you really have to engage," says Lanza. "But the benefits are so rewarding. Aside from actual new language skills, you go outside your comfort zone and explore a new way of learning."
 Lanza, who also teaches Spanish in Northwestern's Weinberg College of Arts and Sciences, does everything she can to help alleviate some of the student anxiety that might come up in learning a language by offering flexibility with assignments and making the course content accessible and enjoyable.
 A task-based approach
Students also benefit from Lanza's research in student assessment and task-based methodology. In 2014, she co-authored a digital textbook that has proven to be a successful tool to help students achieve their learning goals.
 "I bring to the classroom real-life, task-based assignments," she explains. "By the end of the first year, students can read newspaper articles, write compositions, understand authentic audio materials and discuss personal experiences. Like all SPS professors, I know students don't have time to spare for work that isn't practical or valuable."
 Lanza herself is no stranger to the challenges of balancing work and family or making big life changes. Her career began in the University of Salamanca, Spain, where she majored in English and Spanish Philology. She later moved to the United States, where she earned an MA in Hispanic Studies at the University of Illinois at Chicago. She came to Northwestern in 2003 where she later served as Assistant Director of the Spanish Language Program for five years. She has won several awards for teaching excellence throughout the years. Along the way, she has also been raising a family and teaching full time — and learning French, a third language.
 When asked about going to college as a working adult, she says: "Why not go for it? The professors at SPS are on your side. There may be some sacrifices, but they'll be temporary. SPS gives you a chance to meet new personal and professional goals, and we are here to help you achieve them."
tags:
March 22, 2019