type: Student Insights topic: SPS News program: Undergraduate
SPS Information Science Undergraduate Produces New Science Podcast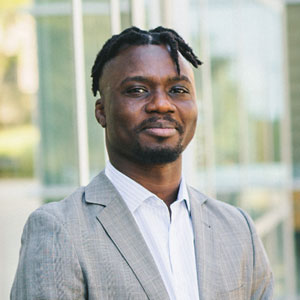 Northwestern University School of Professional Studies (SPS) student Idris Sunmola has always had an interest in science, technology, and how things work. And he's not shy about reaching out to anyone who can help him understand something better.
His natural curiosity and knack for engaging experts are the perfect ingredients for his science podcast, Conversations on Science, which he produces while working toward a part-time programming undergraduate degree in Information Science.
Beginning a part-time programming undergraduate program
Born in Lagos, Nigeria, Sunmola moved to the Chicago area with his family as a child. He also traveled throughout Europe for his mother's business and was exposed to new people, places and ideas. His father nurtured his interest in science and helped him excel in school. When they returned to Nigeria, Sunmola was able to graduate high school early.
Sunmola decided to move back to the U.S. on his own while barely out of his teens. He took some engineering courses and worked in various jobs while also teaching himself to code — that's when he discovered Northwestern SPS and the deep scientific resources available across the Northwestern system.
"I started digging into part-time, flexible undergraduate programs for someone who's interested in programming, and SPS had this incredible range of classes — artificial intelligence, human/computer interactions and even leadership," he says.
Discovering a world of research during his information science undergrad
After starting at Northwestern SPS, Sunmola began exploring on-campus research projects and volunteering his time at various Northwestern centers: he worked with Dr. Pedram Kahlili-Amiri on nanotechnology at the McCormick School of Engineering's PERLab, on machine learning with Dr. Lee Cooper at the Center for Computational Learning and Signal Analytics in Medicine, and on visual processing with Dr. Yongling Zhu at the Feinberg School of Medicine.
"I've always been impressed that students here can approach researchers, get to know their work and even participate," says Sunmola. "I began developing questions, reviewing their papers and then recording the conversations. From there, the podcast just took off."
Showcasing a range of topics and diversity in science podcast
Conversations on Science features researchers from other universities as well, including MIT, Harvard, and Johns Hopkins. Sunmola even reached out to Frances Arnold, a Nobel Laureate in chemistry. And while he doesn't have audience data yet, Sunmola has received positive feedback from his peers and the experts he talks with.
After graduation, he'd like to pursue graduate study in Computer Vision. But he plans to keep the podcast going and reflect more diversity.
"I'm having a lot of fun with it, and I think it's important to inspire others by including women and minority researchers," he says. "Also, these are often publicly-funded projects, and we deserve to understand what they're about and why they matter. In our era of misinformation and 'alternate facts,' I'm thrilled to make complex scientific topics more accessible."
---
Northwestern University School of Professional Studies offers many degree and certificate programs, with evening and online options available. To learn more about how Northwestern University's Bachelor's in Information Systems prepares graduates to advance their careers in evolving technology, fill out the form below and we will be in touch with you soon. 
tags:
September 15, 2020