type: Faculty topic: SPS News program: Undergraduate
Explore Undergrad at SPS — Economist and Professor Karl Muth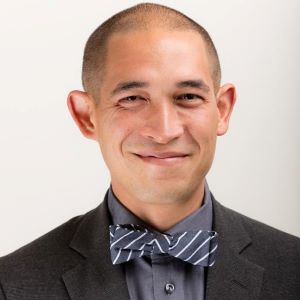 Economist Karl Muth knows a thing or two about making the most of every day to pursue your passions. In addition to numerous daytime positions, Muth teaches evening courses in Northwestern University's School of Professional Studies (SPS) and Pritzker School of Law. He has taught with SPS since 2012, creating and teaching undergraduate courses in economics, organizational behavior, public policy, entrepreneurship and technology, and statistics across SPS's Bachelor's Degree Completion and Post-Baccalaureate Certificate programs. 
Like his students (and many SPS faculty members), Muth juggles multiple responsibilities—part-time educator and full-time CEO of the start-up FRST, a company that constructs high-performance trading desk software for blockchain trading. He is also the founder and director of Haystack, a tech company which develops and fine-tunes search engine technology that helps users find songs and videos on platforms like Spotify, SoundCloud, and Vimeo. On top of all that, Muth advises a number of start-ups and Fortune 500 companies.
"No matter what stage they are in their life, all of our students in the Evening Undegraduate program are pursuing our program because of the flexibility it provides them to be successful in and outside of the classroom."
-Kyle Einck, Admission Adviser 
Muth on why bachelor's degree completion programs & post-baccalaureate certificates for working professionals are important 
Muth believes "it's great to be an expert without being a specialist." And, with four graduate degrees and an extensive professional background, it is clear that Muth is well-versed in pursuing academic interests while having to navigate other responsibilities. Having studied law at the undergraduate level in the Netherlands, Muth earned JD and MBA degrees in the United States, the latter from the University of Chicago, and then earned MPhil and PhD degrees from The London School of Economics. After returning to the United States from London, he was a part of Harvard's Emerging Leaders program at the Kennedy School of Government. 
Muth elaborates, "[I]f you can resist the temptation to specialize, I think you can end up in a position to be more inquisitive and be more adventurous, be more exploratory. In my experience, that has made a lot less of my life feel like work and much more of my life feel like exploring. People say to me 'Wow, you have four graduate degrees. That must have really been a grind.' But, it never really felt that way." 
Muth on "work-life-school" balance for working professionals 
When asked how he maintains a work, life, and school balance, Muth responded honestly: "I'm not good at it." 
But, he still believes that work-life balance is possible. "It [taking part-time coursework at SPS] isn't as radical a change in lifestyle or in how one spends his or her day as one could envision it being from the outside... SPS allows students to take courses at their own pace." 
"Many of our students are juggling full-time jobs, caretaking, family commitments, and personal interests. The evening

undergrad

uate program at SPS is designed to meet a student where they're at in life. Education is not a one size fit all, some students are looking to complete as quickly as possible, others are looking for a more relaxed pace. Students work closely with their academic adviser to find the timeline that works best for them." 
-Margaret Lippert, 
Senior Admission Adviser
To learn more about Northwestern's part-time undergraduate program, visit the Evening Undergraduate Programs page.
tags:
February 12, 2019