type: Faculty topic: SPS News program: Information Systems
Evening Undergraduate Program Graduate Encourages Women of Color in STEM Careers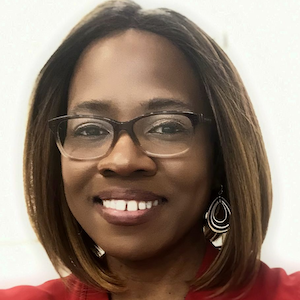 Since graduating from Northwestern University's evening undergraduate program in 2018, Susanne Tedrick has taken the STEM field by storm, becoming the technical specialist for IBM's cloud platform division, a career mentor for third-year students at Pathways in Technology Early College High School (P-TECH) Brooklyn, the Community Service Chair for IBM Black Network of New York, and the author of the forthcoming book Women of Color in Tech.
How Northwestern's evening program prepares for career in STEM
At Northwestern University, Susanne majored in Communication Systems which was where she developed her interest and passion for working in tech. As a career changer, she said, "The Communication Systems program was a mix of both communications (so public speaking, argumentation, and persuasion) and information technology. Roughly, half of my classes were in each of those domains. Because the classes were so diverse, it helped me get an understanding of what sparked my curiosity."
Northwestern's Communications Systems major offers tech & communication resources
And, what drew Susanne to Northwestern University? "The resources that were available. Career Services was like a godsend for me in terms of the opportunities that I received to go on interviews and boot camps and networking experiences. That was huge for me and I knew it was what I needed in terms of building my skillset and meeting a diverse group of people. I knew that Northwestern's network and resources in comparison to some of the other schools in the Chicago area was unparalleled."
Susanne further explained, "I loved being able to dabble in programming, information security, building data bases, human-computer interactions, but also learn how to deliver a speech, negotiate, and communicate with people in person or over email."
Pursuing STEM careers as a woman of color 
As a woman of color, Susanne has experienced and recognizes how hard it is to enter a STEM career as an underrepresented minority. To help young women of color navigate these same spaces, she turned to writing. Susanne shared, "My book Women of Color in Tech hopes to inform women of color of the different types of tech career opportunities that are out there and how they can position themselves to get these careers. It also talks candidly about the things that some women of color may experience academically and professionally and ways to mitigate them so as to stay in tech careers." Women of Color in Tech is slated to be published in April and is available for pre-order. 
In her book, Susanne also emphasizes that there's more to tech than coding and artificial intelligence. With a laugh, Susanne shared "I joke with my mentees, if IBM hired me on my coding ability, we'd be in serious trouble. But I love technology, I love communication, and I love solving business problems. I'm still involved in the latest and greatest of the technological innovations through my career as a technical seller. I want them to understand that it's not just computer science or coding, there's many, many different careers that are possible in tech."
Advice for career changers and other women interested in tech 
Susanne's advice for career changers and other women interested in STEM is simple. "If you have the spark, if you have the interest, if you have the curiosity, please by all means pursue it. Because the last thing you want to do is spend your life in a career where you feel unfulfilled, where you feel unengaged. Will it be hard? Yes. But it's worth it…I never would have thought any of these things were going to happen post-graduation or even when I enrolled at Northwestern. I had no idea how it was all going to turn out. But I'm glad that it did, because this is far better than I could've imagined."
Check out the SPS website to learn more about Northwestern University's evening and online undergraduate programs.
tags:
June 4, 2021