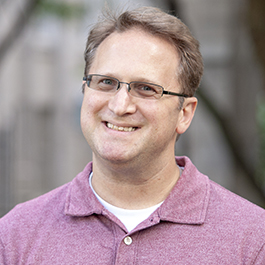 William Guth
Instructional Technologist
312-503-1085
I have been a member of the Distance Learning team since 2013. As an Instructional Technologist my main role is to research, suggest, and implement technologies that aid students and faculty in learning and delivery of course content. I am particularly interested in implementing video strategies that engage students in deep learning and interactivity. In addition, I work with faculty to script and produce multimedia including custom graphics, audio recordings, and video presentations.
In May 2019 I completed a graduate level Professional Certificate in Instructional Design from UW Stout online, and will begin the next chapter of my education at Northwestern University's School of Communications in Fall 2019. I enjoy improving my professional skills through educational workshops and conference attendance. Recent workshops and certifications include Quality Matters (Rubric & Peer Reviewer Courses), Crucial Conversations, and OLC's Online Presentations Tools. I received a Bachelor of Arts in 2004 from Columbia College, Chicago in the area of Audio Arts & Acoustics.
Outside of work, my interests include photography, videography, exploring ethnic foods, hiking, and travel. I'm beginning to share those passions through blogging and podcasting, and I look forward to growing my audience.