type: Student Insights topic: SPS News program: Professional Health
A Q&A with Premedicine Student Sarah Clark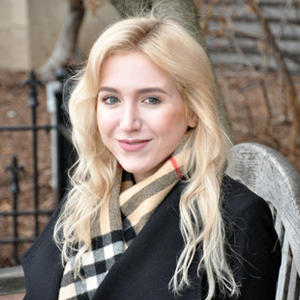 Current student Sarah Clark is in her final year of the part-time premedicine post-baccalaureate program at Northwestern University.  In addition to her coursework, Sarah is an active member of NUPP, the Northwestern University Pre-Health Professionals student group, where she serves on the Executive Board as Secretary and as a Peer Mentor to new students.
Learn more about Sarah Clark and the impact NUPP has made on her premedicine experience below.
1. What are some of the reasons you all ultimately chose Northwestern over other post-bacc programs?
Choosing Northwestern for my Premedicine post-bacc program was a no-brainer for me. I was formerly a day-school student at Northwestern where I received my BA in Economics in 2014, so returning to Northwestern to do my post-bacc felt like coming home.
I knew that level of instruction at Northwestern would be rigorous. You want professors that hold students to a high standard because that is exactly what you need to be a competitive medical school applicant. I also really liked that the class sizes for the post-bacc program were much smaller than a traditional undergraduate lecture course. This provides a great opportunity to get to know your professors and fellow students.
In addition, the evening class schedule allows me to work, volunteer, and participate in research during the daytime, all activities which are key to becoming a well-rounded medical school applicant. On top of that, the Northwestern network is fantastic for students interested in medicine. Northwestern Memorial Hospital and the Feinberg School of Medicine are an easy commute down from Evanston and offer numerous volunteer and research opportunities for students.
2. What role has NUPP played in your post-bacc experience?
The Northwestern University Pre-Health Professionals (NUPP) student group has been such a fun part of my post-bacc experience. I have attended multiple guest lectures where Northwestern professors and guest speakers get to present on their research. The talks are both relevant to anyone interested in a career in medicine and a great way to get to know your professors outside of the classroom. This fall I also had the opportunity to participate in a cadaver lab tour at the Feinberg School of Medicine. It was exciting to be able to apply some of the things I had learned in my Anatomy and Physiology class as we went through the tour.
Perhaps the most significant role played by NUPP is that I landed my first internship as a post-bacc student by following up on a position posted to NUPP's Facebook page. As an intern, I assisted with a study for a grad student's PhD dissertation on Tobacco Use and Cognition in the Department of Preventive Medicine downtown. Once that project was finished, I stayed on with the Department of Preventive Medicine and was offered a paid position where I now work on a new Tobacco Cessation Program with the Lurie Cancer Center at Northwestern.
Additionally, I serve as a mentor for NUPP's mentor/mentee program. Participating in the program has been a great way to get to know other post-bacc students. It's been rewarding to help provide some guidance and encouragement to students who are just beginning their post-bacc journey as I finish up the program.
3. What are some example of NUPP services you've benefited from?*
NUPP Mentor/Mentee Program
Guest speaker lectures
Cadaver lab tour
Connecting students with internship and volunteer opportunities
Med school admissions info sessions
* NUPP service opportunities can vary from year to year.
4. What do you want prospective students to know about NUPP?
NUPP is a great resource for students looking for informal guidance and some resources on how to navigate a rigorous course load on top of working, volunteering, and doing research in the time leading up to applying to a professional health program. We're here because we understand that post-bacc students have different needs and responsibilities than students in the day school.
The decision to enroll in a post-bacc program can be daunting and it's easy for students to get bogged down in the coursework, but this period in your life is also an opportunity to really dive in and engage with the Northwestern pre-health community. Our events offer a fun way to get outside the classroom and network with other students, professors, and healthcare professionals. As an organization designed to help enrich the student experience, I'd like to add that NUPP truly values student input and feedback as we come up with more ways to further improve the pre-health post-bacc experience.




tags:
February 19, 2020