type: Student Insights topic: Science and Technology program: Professional Health
From the Board Room to the ER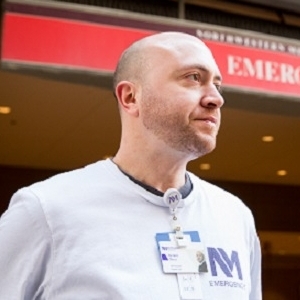 At the beginning of his career, Dennis Shea followed what many would call a stable and practical professional path. He earned a bachelor's degree at DePaul University in finance and accounting then went on to work at a financial services firm, working in mergers and acquisitions for the better part of a decade. However, Shea found himself wondering how his work affected his clients personally. The world of numbers lost its luster without tangible evidence that he was helping others.
After volunteering at Lurie Children's Hospital, Shea realized it was time to change course.  He decided to say goodbye to Wall Street and enrolled in Northwestern's Prephysician Assistant Certificate program. While taking classes, he also began working as an emergency department assistant at Northwestern Memorial Hospital. Now Shea will be moving on to attend the prestigious Yale Physician Associate program to further his education in the fall. Afterward, he plans to use his education to fully transition his career, with the goal of assisting in cardiothoracic surgery or pediatric care.
As for the move to New Haven, Shea is confident he's ready to tackle the Ivy League. "The Northwestern University name is really important from a hospital perspective," Shea said. "Northwestern is a high-end research facility and I'm certain some of the more advanced concepts I learned here are going to help me fit in well at Yale."
Shea is particularly excited that he'll have the opportunity at Yale to study international medicine and embark on clinical rotations in a different country. The Yale Physician Associate program offers rotations abroad in countries including Spain, Peru, Uganda, and Rwanda.
For the time being, Shea couldn't be happier to be working at Northwestern Memorial. Though his scheduling can get hectic, he feels fulfilled knowing he's making a real difference in the ER. Shea notes his day-to-day can include tasks varying from basic wound care and blood draws to splinting broken bones and providing chest compressions during cardiac arrest.
"Working in the ER here is amazing," said Shea. "People come from Northern Indiana and drive an hour and half or two hours just to see our physicians. When you mention to people you work and go to school here, it holds a lot of weight, not just in Chicago, but from a national perspective."
Shea was also appreciative that he could work in the hospital and attend classes at the same time. He found the faculty of the prephysician assistant program were flexible and respectful of his other obligations and was impressed by their professional achievements. He noted, "The professors are doing cutting edge research and it helped me get the most out of my time at Northwestern."
tags:
March 7, 2017