type: Alumni topic: Alumni News program: Sports Administration
All In: JV San Martin's love of sports evolved from fan to athlete to scholar to professional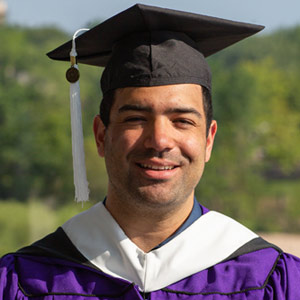 JV San Martin spent his early life in Brazil, where soccer is revered, but he says he suffered from perna de pau, or "wooden leg." "I have no soccer skills," he admits. When he moved to Texas at age 9, he started following local teams like the Spurs, Cowboys, and Longhorns, and gradually started becoming more interested in the players as people. "From the things they have to go through in competition to people saying, 'Shut up: you don't have any problems.' Many of them feel they can't trust anybody. Everybody wants something from them: sometimes even their own parents turn on them." He realized he wanted to help athletes deal with these types of situations and use their platforms to make an impact on the world. "I don't believe that it's right for people listen to athletes on everything, but the fact is that they do." He realized he wanted a career in making the most out of the fan/athlete relationship.
While an undergrad at Ohio State University, San Martin landed his first job in sports in the Columbus Blue Jackets hockey team's ticketing office before moving on to stints at agencies like Octagon, where he worked on sponsorship accounts for BMW, Coca-Cola, and the TBT basketball tournament. "I'm someone who likes to get their hands on whatever," he says. San Martin then decided to pursue a master's degree in sports. After exploring programs nationwide and narrowing his list of possible choices, he decided to visit campuses.
He felt drawn to Northwestern's MA in Sports Administration program after a particularly welcoming tour. "I had never been treated that well in a visit," he says. "I felt like a five-star football recruit." San Martin isn't one to shy away from sports metaphors. Another draw of the program, he said, was "the roster of professors I knew I would meet," like Legal and Ethical Issues in Sports Management professor Cari Grieb, whose career he had followed long before considering pursuing his masters. "She's someone I've looked up to for a long time," he says.
San Martin says one of the most valuable lessons from the program was learning how the different facets of the sports industry intertwine. "From tech to legal to marketing, you need some idea of what's happening in each. The curriculum helped me see the different parts and how they overlap." He now feels comfortable drawing from an interdisciplinary range of sports knowledge in any professional setting.
For his individual study, San Martin interned at SponsorUnited under Jim Andrews, who teaches Sponsorships 2.0: Adding Value to Sports, Brands, Fans, and Communities. "He didn't pull any punches," San Martin says, using another handy sports metaphor. "He made me work for everything."  As a sponsorship scout, he helped create, categorize, and track data for its massive sponsorship database and expanded into athlete marketing, international work, and putting his Portuguese to work by tracking data from Brazil.
He also expanded his role as a student in the program, managing the MSA's social media presence for the MSA Student Leadership Council, growing its Twitter following by 30% in one year and recruiting speakers like NBA agent Alex Saratsis, sports analyst Darren Rovell, and MSA alumnae during women's history month. San Martin is just living the advice he learned from Rovell that he shares with other students in the program: "Go above the curriculum. Don't be afraid to raise your hand." 
San Martin is currently on the job hunt, hoping to find a marketing role in an athletic field that has become much more personal than in generations past. "Sponsorships have become more authentic over the years. Athletes aren't as distant as they were in previous decades. They can share who they are on social media. You get to see more who they are as people. In turn, sponsorship and partnership had to become more authentic. People want to know what the athlete is like, which is more rewarding for the brand and the athlete."
tags:
September 13, 2021