Faculty

Shira Simon
Contact Information
Dr. Shira Simon is the Faculty Director of Northwestern's Master of Science Healthcare Administration degree. She is an Assistant Professor in the Departments of Ophthalmology and Neurology at Northwestern, where she is also the Director of the Neuro-Ophthalmology Service and the Clerkship Director of Ophthalmology. In addition, she serves as the Site Director for Ophthalmology at the Jesse Brown Veterans Affairs Medical Center. Outside clinical and teaching responsibilities, she serves on the Executive Committee on Admissions for Northwestern University Feinberg School of Medicine and is an elected committee member to the Feinberg LCME Quality Improvement Committee. She is passionate about mentoring residents and medical students and ensuring they have a welcoming and nurturing environment in which to learn and develop; in addition to running the clerkship in ophthalmology, she also serves as the Professionalism Mentor for the Department. After graduating from Harvard College, she spent three years at McKinsey & Company, focusing on global health and addressing systemic public health challenges. After obtaining an MD and MBA from Harvard, she completed her internship at the Harvard Cambridge Health Alliance, residency in ophthalmology at Northwestern Memorial Hospital, and fellowship in neuro-ophthalmology at the University of Iowa.
Education
MD / Harvard Medical School
MBA / Harvard Business School
AB / Harvard College
Certified by the American Board of Ophthalmology
Member of the North American Neuro-Ophthalmology Society
Relevant Work
McKinsey & Company Business Analyst and Global Health Fellow
Selected Publications & Products
Achieving target refraction after cataract surgery. Simon SS, Chee YE, Haddadin RI, Veldman PB, Borboli-Gerogiannis S, Brauner SC, Chang KK, Chen SH, Gardiner MF, Greenstein SH, Kloek CE, Chen TC.Ophthalmology. 2014 Feb;121(2):440-4. doi: 10.1016/j.ophtha.2013.09.022. Epub 2013 Nov 26.PMID: 24289919
IMPACT OF RETINOPATHY SCREENINGS FOR PROSPECTIVE HEART TRANSPLANT CANDIDATES. Simon SS, Wilcox JE, Lyon AT, Jampol LM.Retin Cases Brief Rep. 2017 Summer;11(3):195-197. doi: 10.1097/ICB.0000000000000362.PMID: 27398677
Idiopathic bilateral central artery occlusion in a young woman. Kinori M, Simon SS, Kurup SP, Mets-Halgrimson R, Jampol LM, Zeid JL.J AAPOS. 2017 Oct;21(5):418-420.e1. doi: 10.1016/j.jaapos.2017.04.013. Epub 2017 Aug 26.PMID: 28844751
Retinal disease in the neurology clinic. Tauscher RG, Simon SS, Volpe NJ.Curr Opin Neurol. 2021 Feb 1;34(1):122-132. doi: 10.1097/WCO.0000000000000883.PMID: 33278143 Review.
Intracranial Posterior Ischemic Optic Neuropathy and Ophthalmic Artery Occlusion. Tauscher RG, Bison HS, Simon SS, Volpe NJ.J Neuroophthalmol. 2021 Jul 23. doi: 10.1097/WNO.0000000000001313. PMID: 34310459

Rebecca Caires
Contact Information
rebecca.caires@northwestern.edu
Rebecca Caires has over 35 years of executive leadership experience in academic and community healthcare system positions focused on ambulatory operations, oncology administration, and research. Her key strengths are operations, human resources, business planning, finance, communication, and process improvement.

Caires currently serves as Vice President of Operations at Northwestern Medicine in Chicago, Illinois. Her key focus is the Oncology service line supporting the Robert H. Lurie Comprehensive Cancer Center of Northwestern University. In her role she oversees inpatient units and ambulatory clinics, the blood center, cellular therapies programs and respective labs. Caires has been with Northwestern Medicine for 15 years, growing the Lurie Cancer Center's clinical programs and its operations. Caires chairs numerous operational and clinical committees.

After two years of consulting at Northwestern University's School of Professional Studies, Caires was appointed as Faculty Director for the Master of Science in Healthcare Administration (MHA) program. She has co-developed the MHA program and currently leads faculty and student recruitment and marketing initiatives. Caires is passionate about higher education for leaders and emerging executives in healthcare. She has a strong commitment to mentoring and elevating early and mid-career professionals.

Before relocating to Chicago, Caires worked for 13 years at Moffitt Cancer Center in Tampa, Florida, as Administrative Director for multiple clinical departments, including Stem Cell Transplant, Thoracic Oncology, Neuro-Oncology, and GU Oncology. She also worked in the Tampa market as Administrative Director for community oncology programs at Florida Hospital for six years.

Early in her career, Caires worked in the marketing and public relations arena of health care management and received multiple awards for innovative advertising and design campaigns and publications. She has also held volunteer positions with the American Cancer Society and Gilda's Club of Chicago. She is a recipient of the Administrative and Service Excellence Award from the Northwestern Medical Faculty Foundation (Northwestern Medical Group) and the Administrative Excellence Award from the Lurie Cancer Center.

Caires serves on the Executive Committee and the Board of the National Comprehensive Cancer Network (NCCN). The National Comprehensive Cancer Network® (NCCN®) is a not-for-profit alliance of 30 of the world's leading cancer centers devoted to patient care, research, and education; it is dedicated to improving cancer care quality, effectiveness, and efficiency so that patients can live better lives.

Caires holds an MBA from Saint Leo University in Florida and a BA from National-Louis University in Illinois.
 
Christopher Coccitto
Contact Information
christopher.coccitto@northwestern.edu
Christopher Coccitto joined the Masters of Healthcare Administration - School of Professional Studies as an Adjunct Lecturer shortly after its inception in 2022. His focus is on Financial Management. He has over 17 years of experience in finance, focusing on budgeting and analytics, and is currently Program Director, Finance & Strategy – Oncology at Northwestern Medicine. He has a passion for digging into data, measuring the current state of affairs, and using this information to drive improved outcomes. This has led to him develop many complex evaluations and reports to enhance patient care, operational functions, and financial performance. He hopes to impart an understanding of the importance financial management for healthcare organizations, as well as the tools to perform these functions, to his students. Christopher earned his MBA from Loyola University Chicago and BSBA in Business Administration from Xavier University in Cincinnati.
Education
Masters of Business Administration - Loyola University Chicago
Bachelor of Science in Business Administration (Finance) - Xavier University
Relevant Work
Program Director, Finance & Strategy (Oncology) Northwestern Medical Group
Financial Strategy Manager - Northwestern Medical Group
Manager Operations Data - Charles Schwab
Sr. Financial Analyst - TransUnion
Financial Reporting Analyst - Walgreens Corp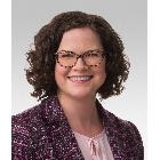 Gayle Kricke, MSW, PhD
Contact Information
Gayle Kricke is Director of Operations, Primary Care Administration at Northwestern Medicine with responsibility over operations, performance, and strategy within a large multispecialty practice. She also holds system responsibility for Primary Care service line strategy. In addition to clinical operations, Gayle has experience in healthcare quality, patient safety, geriatric social work, and healthcare policy. She earned her undergraduate degree in Education and Social Policy at Northwestern University and her Master of Social Work as a McGregor Geriatric Fellow at University of Michigan. She also holds a doctoral degree in Healthcare Quality and Patient Safety from Northwestern University's Feinberg School of Medicine.
Education
Phd, Northwestern University
MSW, University of Michigan
BS, Northwestern University
Relevant Work
Northwestern Medicine, Director of Operations (2019-Present)
Northwestern Medicine, Clinical Quality Leader (2016-2019)
Rush University Medical Center, Program Coordinator (2009-2013)
Selected Publications
Kricke G, Roemer P, Barnard C, Piepert JD, Henschen BL, Bierman JA, Blahnik D, Grant M, & Linder JA. Rapid Implementation of an Outpatient Covid-19 Monitoring Program. NEJM Catalyst. 2020 June. https://catalyst.nejm.org/doi/full/10.1056/cat.20.0214.
Kricke G, Woods D, Arbaje A, Jordan N. Nonsymptomatic Factors More Strongly Associated with High-Quality End-of-Life Care than Symptomatic Factors for Community-Dwelling Older Adults with Multiple Chronic Conditions. J Palliat Med. 2019 May;22(5):522-531. doi: 10.1089/jpm.2018.0389. Epub 2019 Jan 7. PubMed PMID: 30614749; PubMed Central PMCID: PMC6531899.
Kricke GS, Carson MB, Lee YJ, Benacka C, Mutharasan RK, Ahmad FS, Kansal P, Yancy CW, Anderson AS, Soulakis ND. Leveraging electronic health record documentation for Failure Mode and Effects Analysis team identification. J Am Med Inform Assoc. 2017 Mar 1;24(2):288-294. doi: 10.1093/jamia/ocw083. PubMed PMID: 27589944; PubMed Central PMCID: PMC5391722.
Shier G, Ginsburg M, Howell J, Volland P, Golden R. Strong social support services, such as transportation and help for caregivers, can lead to lower health care use and costs. Health Affairs (Millwood). 2013;32(3):544-51. PMID: 23459734.
Recognition
Fellow, Institute of Medicine Chicago
Recent Courses Taught
HQS 502: Advanced Patient Safety (Northwestern University)
HLTH COM 469: Dialogues and Change (Northwestern University)
MSBI 31500: Ethics and Policy Questions: Genomics, Health Care, and Big Data (University of Chicago)
Teaching Approach and Philosophy
I have been teaching Masters-level students for nearly 10 years in multiple healthcare-related programs. I find joy in helping students make sense of the complicated world of health care and assisting them in finding where they can make a contribution. I bring my work experience in social work, healthcare policy, quality, safety, research, and operations to my teaching through real-world examples of successes, mistakes, and how to learn from both. I blend a mix of theory and practical application in my courses, allowing students to understand why organizations behave the way they do, while also making the information accessible and immediately applicable to students' daily work outside the classroom.
David C Ruhland JD
Contact Information
david.ruhland@northwestern.edu
David Ruhland is currently the HR Business Partner responsible for labor relations with Northwestern Memorial HealthCare. Prior to joining Northwestern Medicine Ruhland held similar leadership positions with University of Chicago Medical Center and Chicago Public Schools. His career has supported organizations as they navigate the interface between union and management relations. Beyond the labor relations aspect of his work, supporting and coaching those charged with guiding the work of others to shift from managers to leaders has been at the heart of the work.
Education
Juris Doctor/T.M. Cooley Law School
MS Engineering/Michigan State University
Relevant Work
HR Business Partner, NMH Chicago
Employee and Labor Relations Manager, UCMC
Director Human Resources, Oak Park River Forest HS
Director Employee Engagement, CPS
Asst. Supt. HR/Labor Relations, Farmington PS (MI)
Teaching Approach and Philosophy
I view education as the opportunity to share perspectives and explore how the past can inform our future. My work has been substantially focused on applying the legal and operational barriers to the management of employees from an employer's perspective. However, recognizing that regardless of the setting or the role, every employee represents the human capital that we invest in heavily. With that context my philosophy of teaching leans on understanding the structures that in many ways inform our work, as well as imparting a perspective as to how we navigate within the structures while creating and building upon the culture we desire in the workplace. One informs us what we CAN do, while the other challenges us to ask what we SHOULD do.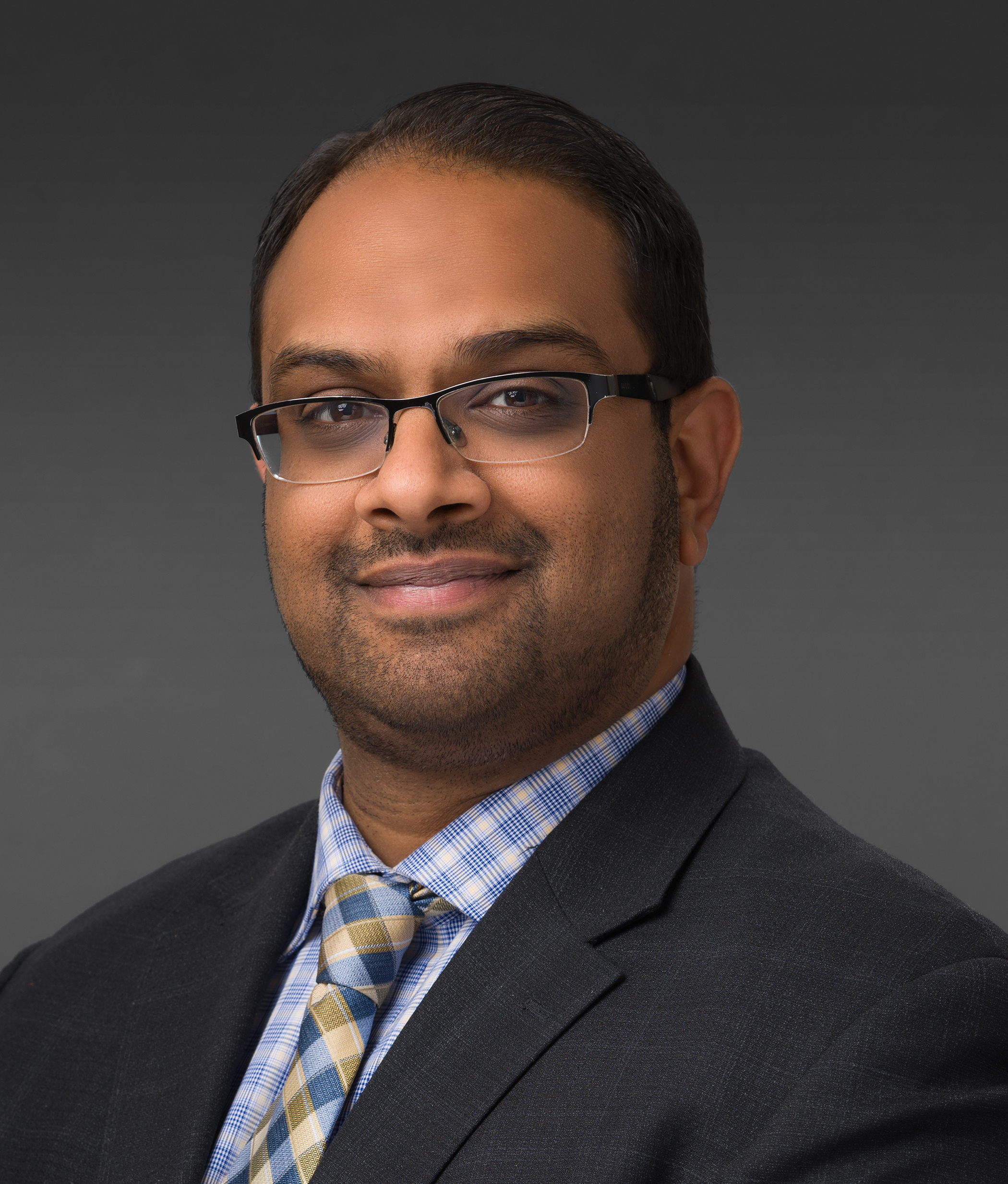 Danny Sama
Contact Information
pradeep.sama1@northwestern.edu
Danny Sama is the Vice President, Information Services & Chief Data Executive for Northwestern Medicine and leads the integrated academic health system's reporting and analytics teams in support of the strategic plan and organizational goals. He has experience in healthcare analytics in a variety of areas, including clinical/market research, hospital quality & safety, and health system strategy & planning. He earned his undergraduate degree in Management Information Systems from the University of Illinois at Urbana-Champaign and his MBA from Northwestern University's Kellogg School of Management.
Education
MBA, Kellogg School of Management (Northwestern)
BS, University of Illinois at Urbana-Champaign
Relevant Work
Northwestern Medicine, VP & Chief Data Executive (2009 - Present)
Vizient, Senior Research Specialist (2005 - 2009)
ICON plc (2002 - 2005)
Teaching Philosophy
I've been teaching in the MSHA program since 2020. This is the first course that I have developed and taught, as my career focus has been within industry. I have worked in healthcare analytics my entire career since 2002, first in the life sciences domain but then in the provider space since 2005. As a current health system executive, I try to bring my industry experience in leading a large analytics team to my courses through discussion posts and synchronous sessions. My goal for the courses I teach is to bring real-world experience with concepts & skills through hand-on programming, much like analysts learn on the job. I enjoy seeing students progress in a course and that inflection point that occurs when the skills start to click for each individual.

Meg Templeton
Contact Information
margaret.templeton@northwestern.edu
Meg Templeton is the Director of Operations and Department Administrator for Northwestern Medicine, Northwestern University. She is a dynamic and detail-oriented professional with a multitude of experiences allowing for diversity of thought when creating solutions. She has experience in healthcare operations, possesses excellent problem-solving skills, and acumen in development and implementation of strategic plans. She earned her Bachelor of Science in Health Planning and Administration from the University of Illinois at Urbana-Champaign, and her MHA from the University of Minnesota.
Education
Master of Healthcare Administration at the University of Minnesota
Bachelor of Science - Health Planning and Administration from the University of Illinois at Urbana-Champaign
Relevant Work
Director of Operations and Department Administrator - Northwestern Medicine
Program Director - Northwestern Medicine
Program Manager - Northwestern Medicine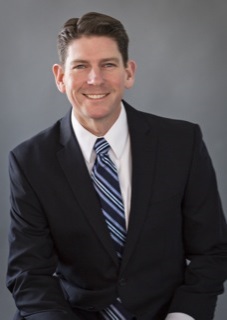 Christian Wallis
Contact Information
christian.wallis@northwestern.edu
Christian Wallis is currently the CEO of Grossmont Healthcare District where he provides operational and administrative oversight of the resources, assets, and programs that support the healthcare needs of approximately 500k people within the District's 750 square miles in San Diego's East County region. Prior to this, he worked for Advocate Aurora Health where his served as Regional Vice President (IL) of HIT Support Services, Vice President of Operations at Advocate Condell Medical Center and Director of Physician Practices (Pediatrics) at Advocate Children's Hospital. Before working in the private sector, Wallis spent 21 years as an officer in the United States Navy where he served in numerous executive positions in the group practice, hospital and insurance settings. He earned his certification as a Fellow in the American College of Healthcare Executives in 2010. In 2012, he was selected as an examiner for the US Department of Commerce, Malcolm Baldrige program which oversees the nation's only Presidential award for performance excellence. He received his MBA from the University of Illinois at Chicago and doctorate in healthcare administration from Central Michigan University.
Current Research Interests
Public Health
Information Management
Organizational Behavior
Leadership
Strategic Planning
Education
Doctorate of Healthcare Administration, Central Michigan University
Masters in Business Administration, University of Illinois at Chicago
Bachelor of Arts (Political Science), University of Arizona
Relevant Work
CEO, May-Present, Grossmont Healthcare District
Regional VP HIT Support Services (IL), Jan-May 2021
Vice President of Operations, Advocate Condell Medical Center, Feb 2018-Dec 2020
Director of Physician Practices (Pediatrics), July 2014-Jan 2018
United States Navy, May 1993-June 2014
Recognition
Fellow, American College of Healthcare Executives
Malcolm Baldrige Examiner, 2012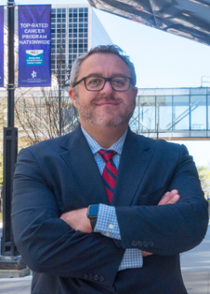 Aleksandar (Alex) Zafirovski
Contact Information
alex.zafirovski@northwestern.edu
Alex Zafirovski joined Northwestern Memorial Hospital in March 2001, as a Staff Radiation Therapist. After several years as a clinician, he was appointed Manager of the Department of Radiation Oncology. Prior to taking the current role of the Chief Administrative Officer for the Robert H. Lurie Cancer Comprehensive Cancer Center of Northwestern University, Alex was the Director of Clinical Operations in Oncology at the Northwestern Memorial Hospital. Alex has served on the Cancer Center Administrators Forum (CCAF), Association of American Cancer Institute's (AACI), and International Oncology Leadership Conference (IOLC) Annual Meeting Planning Committees, is a site visit reviewer of cancer centers for designations by the National Cancer Institute (NCI), serves on several External Advisory Boards of top-ranked cancer centers, and is a Vice Chair of the Vizient's Cancer Service Line Strategic Network. Alex is the inaugural President of the Association of Cancer Administrators (ACCA). In addition, Mr. Zafirovski holds position in the National Comprehensive Cancer Network (NCCN) Affiliate Forum, Vizient Oncology Quality and Accountability Advisory Group, serves on the Boards of Erie Neighborhood House and Mark Staehely Pediatric Cancer Foundation, and has held several positions in the American Society of Radiological Technologists (ASRT). Alex is a proud board-certified Radiation Therapist who graduated from Oakland University and completed his training at William Beaumont Hospital in Royal Oak, Michigan. He earned his Master of Business Administration degree from The University of Notre Dame.
Education
MBA, University of Notre Dame
BS, Oakland University
Certified Radiation Therapist, William Beaumont Hospital
Relevant Work
Chief Adminstrative Officer, Robert H. Lurie Comprehensive Cancer Center of Northwestern University
Director of Oncology, Northwestern Memorial Hospital
Radiation Therapist, Northwestern Memorial Hospital
Selected Publications