Advanced Placement® Summer Institute Online for High School AP® Teachers
Registration for APSI 2024 Online will open on March 15.
Northwestern University is pleased to offer teachers our highly evaluated, 100% remote Advanced Placement® Summer Institute for the fourth year, featuring workshops across 14 subject areas. 
WHY NORTHWESTERN APSI?
• 100% remote format: learn from where you are and network with other educators from around the country and around the world.
• Unique schedule: avoid screen burnout and maximize your learning flexibility with our innovative two-week workshop schedule that balances asynchronous activities with four live weeknight sessions.
• 30 hours of professional development per session.
• Benefit from the unmatched combination of leading AP® educators and the experience development team at Northwestern University School of Professional Studies. 
This course-specific training is designed to support new and experienced AP® teachers in all aspects of AP® course content, organization, and methodology. Institute leaders are recognized members of the AP® teaching community who are dedicated to improving student achievement through effective support of AP® professionals.
Key elements of these AP® training sessions are:
Structuring AP® courses
Responding to student feedback
Utilizing a variety of proven teaching methods
Preparing students for the AP® test while keeping the subject matter engaging
Developing AP® exam-taking strategies
Reviewing released AP® exams
Diagnosing scores: what constitutes a 3, 4, or 5?
Potential graduate credit (extra work required for this credit)
---
Northwestern's 2024 AP® Summer Institute will be offered in a remote format. Each session will be delivered over a two-week period. Each week will consist of approximately 15 hours of learning and activities (six hours synchronous, nine hours asynchronous) for a total of 30 contact hours.
---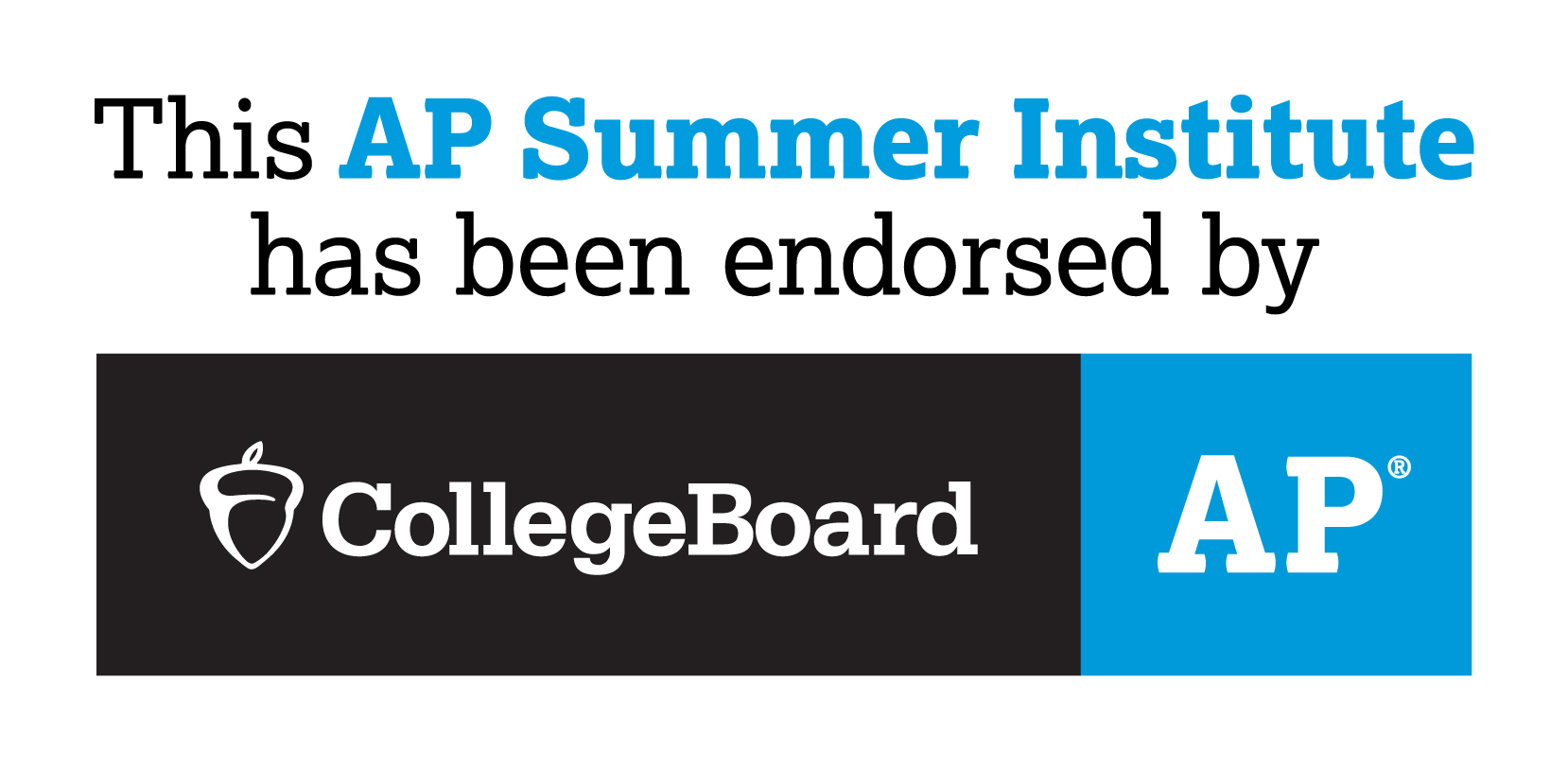 * College Board, AP, Advanced Placement and the acorn logo are registered trademarks of the College Board. Used with permission.
AP® Summer Institute Sample Schedule
Program 1: Sample Schedule
Synchronous Learning (Tuesday and Thursday evenings*):
July 9 & 11 : 6–9pm CT
July 16 & 18: 6–9pm CT
Asynchronous Learning: 1 - 2 hours per day
Total: 30 contact hours (approx. 15 hours/week)
*Some sessions may have adjusted times
Program Sample 1

| WORKSHOP | INSTRUCTOR |
| --- | --- |
| Computer Science Principles | Andy Kuemmel |
| English Language and Composition (New AP® Teachers) |  Alfonso Correa |
| English Language and Composition (Experienced AP® Teachers) | Lloyd Hoshaw |
| English Literature and Composition (New AP® Teachers) | Susan Barber |
| English Literature and Composition (Experienced AP® Teachers) | Nicole Wilson |
| Government and Politics - U.S. | Bryan Ashkettle |
| Human Geography | Greg Sherwin |
| Psychology | Benjamin Walters |
| United States History | Christine Custred |
Program 2: Sample Schedule
Synchronous Learning (Monday and Wednesday evenings*):
July 15 & 17 : 6–9pm CT
July 22 & 24 : 6–9pm CT
Asynchronous Learning: 1 - 2 hours per day
Total: 30 contact hours (approx. 15 hours/week)
*Some sessions may have adjusted times
Program Sample 2

| WORKSHOP | INSTRUCTOR |
| --- | --- |
| Calculus AB | Karen Sleno |
| English Language and Composition (New AP® Teachers) | Myrte Campbell |
| English Literature and Composition (New AP® Teachers) | Celine Gomez |
| European History | Ken LeSage |
| French Language and Culture | Éliane Kurbegov |
| German Language and Culture | Angelika Becker |
| Human Geography | Stephanie Cosgrove |
| Spanish Language and Culture | Jorge España |
| Statistics |  Chris True |
| United States History | Mary Lopez |
| World History: Modern | Branden Schield |
Find out more about Northwestern's AP® Summer Institute