Advanced Placement* Summer Institute for High School AP* Teachers
2020 Registration will open April 13.
Northwestern University is pleased to offer teachers an Advanced Placement* Summer Institute that focuses on fifteen subject areas. This course-specific training is designed to support new and experienced AP* teachers in all aspects of AP* course content, organization, and methodology. Institute leaders are recognized members of the AP* teaching community who are dedicated to improving student achievement through effective support of AP* professionals.
Key elements of these AP* training sessions are:
Structuring AP* courses
Responding to student feedback
Utilizing a variety of proven teaching methods
Preparing students for the AP* test while keeping the subject matter engaging
Developing AP* exam-taking strategies
Reviewing released AP* exams
Diagnosing scores: what constitutes a 3, 4, or 5?
Potential graduate credit (extra work required for this credit)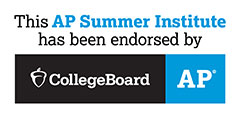 * College Board, AP, Advanced Placement, and the acorn logo are registered trademarks of the College Board. Used with permission.
AP Summer Institute Sample Schedule
Week 1: Sample Schedule
8:00 a.m. to 4:00 p.m., Monday through Thursday
| COURSE | INSTRUCTOR |
| --- | --- |
| Computer Science Principles | Andrew Kuemmel |
| English Language and Composition (New AP* Teachers) | Stephen Heller |
| English Literature and Composition (New AP* Teachers) | Abbie Fishman |
| French Language and Culture | Eliane Kurbegov |
| German Language and Culture |  Linda Zins-Adams |
| Government and Politics - US | Bryan Ashkettle |
| Psychology | Tina Athanasopolous |
| Spanish Language and Culture | Ken Stewart |
| World History: Modern | Ryba Epstein |
Week 2: Sample Schedule
8:00 a.m. to 4:00 p.m., Monday through Thursday
COURSE

INSTRUCTOR

Calculus AB

 

Mike Campbell

English Language and Composition (Experienced AP* Teachers)

Lloyd Hoshaw

English Literature and Composition (Experience AP* Teachers)

Abbie Fishman

European History

Christopher Freiler

Human Geography

 

Greg Sherwin

Statistics

 

Chris True

Government and Politics-US

Bryan Ashkettle

U.S. History

Christine Custurd
Find out more about Northwestern's AP Summer Institute