2020 Registration will open April 13.
Tuition
Through a special arrangement with Northwestern's School of Education and Social Policy, all participants have the option of receiving either 30 Continuing Professional Development Units (CPDUs) from the State of Illinois or 1 unit of graduate credit (equivalent to 4 quarter hours or 2 2/3 semester hours of credit) for completed sessions.
CPDUs will be awarded for classroom hours only. No exceptions are permitted. 
Successful Graduate Credit candidates (those currently employed as a secondary education teacher) will be required to complete extra work during or after the class. Please speak with your consultant about their requirements. Tuition includes books and materials for the course and refreshments throughout the week.
Tuition for 30 Continuing Professional Development Units (CPDUs): $730 for 2020
Tuition for 1 unit of Graduate Credit:  $2,034 for 2020
Registration
APSI Registration 
The regular registration fee applies through 5 PM on June 1, 2020. Registrations received on June 2 through June 8, 2020, 5:00 pm will incur a $75 late fee. No registrations are accepted after 5 PM on June 8, 2020.
All registrations placed after May 18, 2020 must be paid with credit card at the time of registration.
We will not accept registration for graduate credit after May 18, 2020.
No new registrations or changes to existing registrations for CPDUs will be accepted after 5 PM on June 8, 2020. No new registrations or changes to existing registrations for Graduate Credit will be accepted after  May 18, 2020. 
Purchase Orders (POs) are not accepted.
Participants will not be registered for a course until full payment has been received.
Checks must be received with seven days of online registration. No exceptions will be made.  
Waitlist
If your preferred course is full, you have the option of being added to a waitlist in the registration platform (Cvent). Should a spot open up, you will be notified and prompted to complete your registration within 3 days.
Change of Registration
Changes to registration for CPDUs can be made in Cvent up until June 8, 2020. Changes to registration for graduate credit can be made with the staff of the APSI until May 18, 2020.
Course Cancellation Policy
We reserve the right to cancel a course if enrollment is insufficient. Courses with insufficient enrollment will be canceled no later than May 29, 2020. All participants will be notified if a course is canceled. Participants registered in a canceled course will receive a full refund. The reimbursement will be issued to the individual or school who paid the registration fee. We do not reimburse travel, lodging, or any other expenses associated with the institute in the event of a course cancellation.
In the event of an emergency, Northwestern University has the right to cancel an institute at any time.
Refund Policy
Participants may cancel their registration through the Cvent website.
Refunds will be granted on the following schedule:
Can

cellations received prior to June 2, 2020 will receive a full refund.

Cancellations received between June 2 - 8, 2020 will receive a full refund, less the $75 late registration fee. 

Cancellations received after June 8, 2020 at 5:00 pm: No refund will be granted.
IMPORTANT NOTE: Cvent, email and the APSI webpage will be our main methods of communicating with you. Please be sure to include your correct email address (that you will monitor during the summer) and please also include a telephone number where we can reach you during the summer. Please continue to check the APSI website for new or updated information until the start of the AP* sessions.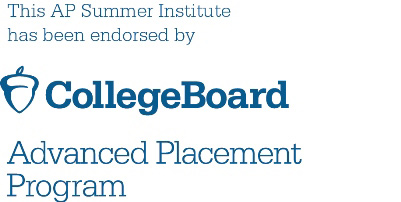 * College Board, AP, Advanced Placement and the acorn logo are registered trademarks of the College Board. Used with Permission.