SPS Graduate Program Events
Events related to SPS master's degree programs are held throughout the year. See the schedule below for upcoming events and the Event Archive section to see a listing of past events arranged by program.
---
Summer Writers' Conference
July 8 - July 9 • Online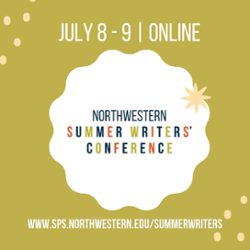 The Northwestern University Summer Writers' Conference is back, and it's online again so you can join us from anywhere in the world.
This year's schedule offers presentations for writers of all genres and backgrounds. Learn the fundamentals of screenwriting, how to write about friends, family, lovers, and characters that readers can really "see." Hear from award-winning authors on how to access originality, capture the poetics of place, the power of acrostics. Get pro tips from professionals in publishing and promotions. You can also schedule an individual manuscript consultation with conference faculty.
The Northwestern University Summer Writers' Conference is a wonderful opportunity to seek a fuller understanding of the craft—and business—of writing.
The conference is hosted by the Northwestern University School of Professional Studies MA in Writing and MFA in Prose and Poetry programs.
Registration is open now throughout the duration of the conference.  Please email summerwriters@northwestern.edu for more information.
---
Event Archive
Click on your program of interest below to expand the list of archived events.
Creative Writing
One Book One Northwestern Climate Change-Themed MFA Reading
June 9, 2022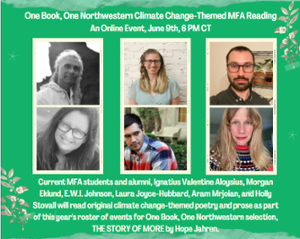 Curent MFA students and alumni, Ignatius Valentine Aloysius, Morgan Eklund, E.W.I. Johnson, Laura Joyce-Hubbard, Aram Mrjoian, and Holly Stovall will read original climate change-themed poetry and prose as part of this year's roster of events for One Book One Northwestern selection, THE STORY OF MORE by Hope Jahren
Data Science
Global Health
Learn more about the MSGH Practicum with Dr. Doobay-Persaud and Dr. Galvin
April 22, 2022
Dr. Doobay-Persaud (MSGH Faculty Director and Summer Practicum Instructor) will discuss principles of partnership in global health education. Dr. Shannon Galvin (MSGH Practicum Instructor) will discuss best practices in global health practicum design and implementation. Daniella Ellecom Royster, MSGH DE&I Coordinator will speak about how the Student Leadership Program strives for diversity, equity and inclusion.
Information Design and Strategy
IDS Graduation Celebration
June 11th, 2022
On Saturday, June 11th, we will be hosting graduates, faculty, and anyone from the IDS community to join us at the downtown campus to network and celebrate. A photographer will be present to take your headshot outside of the beautiful Wieboldt Hall and the digital files will be made available as a keepsake for this momentous occasion! We will also have a brief presentation by the IDS faculty - followed by a happy hour at a local bar (The D4Pub). Drinks and food will be provided.
Information Systems
Liberal Studies
Literature
Public Policy and Administration
2022 Resume Review Panel
June 28th, 2022
Join us for the MPPA Resume Review Panel to get helpful tips on how to make your resume marketable for the industry you are interested in pursuing. Those who are unsure of their next career move may also join to get more general advice. We will start the event with a few minutes of some helpful resources and information for MPPA students' professional advancement. We will then place students in breakout rooms with the panelist who suits their industry-based needs for specified feedback on their resumes.
Northwestern MPPA Networking Brunch
June 11th, 2022
As another school year comes to a close, the Northwestern MPPA Student Leadership Council (SLC) would like to invite you to attend a pre-convocation networking event! This is a great opportunity to meet with fellow MPPA students as well as alumni who continue to stay engaged with the NU community. The event includes a brunch buffet, as well as one drink ticket per individual.
Sports Administration