SPS Graduate Program Events
Events related to SPS master's degree programs are held throughout the year. See the schedule below for upcoming events and the Event Archive section to see a listing of past events arranged by program.
---
MSDS SLC Post-Symposium Reception
October 6 • 6 - 9PM CST
This is a Business Casual/Semi-formal networking reception for MSDS attendees and guests, featuring dinner level services (appetizers, dinner, and desserts) as well as drinks.
---
MSGH Fall Taco Tuesday Virtual Event
October 24 • 6:30 - 7:30PM CST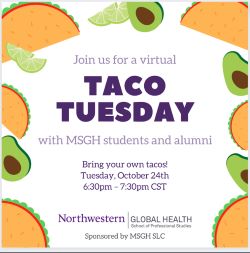 Join us for the MSGH Fall Taco Tuesday Virtual Event to indulge in delicious tacos and meet MSGH students and alumni!
---
Event Archive
Click on your program of interest below to expand the list of archived events.
Creative Writing
Telling the Untold Stories: The Importance of Black Ancestry in American History
May 18, 2023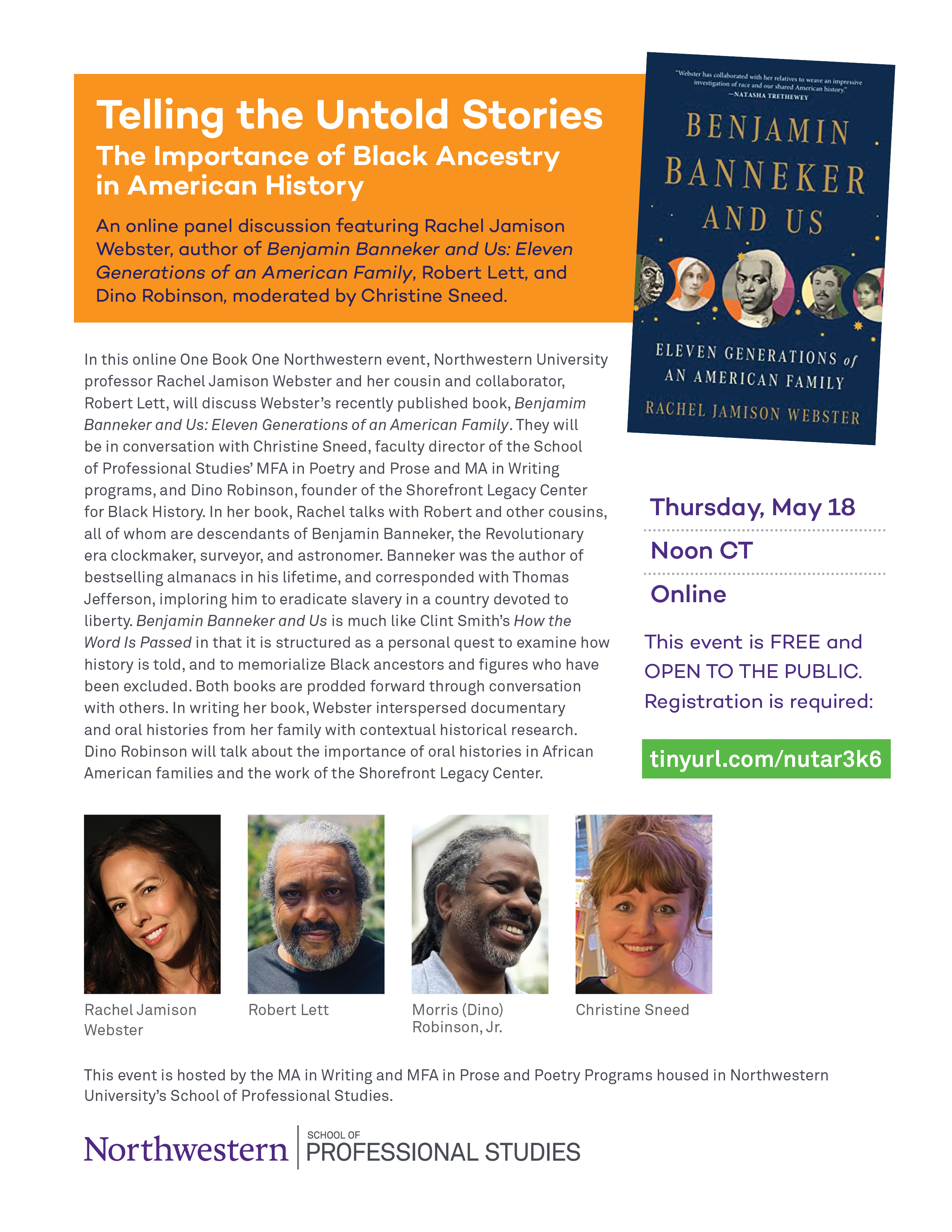 Featuring Rachel Jamison Webster, Robert Lett, and Dino Robinson. Moderated by Christine Sneed
Hosted by the MA in Writing and MFA in Prose and Poetry Programs housed in NU's School of Professional Studies.
In this online One Book, One Northwestern event, Northwestern University professor Rachel Jamison Webster and her cousin and collaborator, Robert Lett, will discuss Webster's recently published book, Benjamim Banneker and Us: Eleven Generations of an American Family. They will be in conversation with Christine Sneed, faculty director of the School of Professional Studies' graduate creative writing program, and Dino Robinson, Founder of the Shorefront Legacy Center for Black History. In her book, Rachel talks with Robert and other cousins, all of whom are descendants of Benjamin Banneker, the Revolutionary era clockmaker, surveyor, and astronomer. Banneker was the author of bestselling almanacs in his lifetime, and corresponded with Thomas Jefferson, imploring him to eradicate slavery in a country devoted to liberty. Benjamin Banneker and Us is much like Clint Smith's How the Word is Passed in that it is structured as a personal quest to examine how history is told, and to memorialize Black ancestors and figures who have been excluded. Both books are prodded forward through conversation with others. In writing her book, Webster interspersed documentary and oral histories from her family with contextual historical research. Dino Robinson will talk about the importance of oral histories in African American families and the work of the Shorefront Legacy Center.
Featured Panelists:
Rachel Jamison Webster is Professor of Creative Writing in the English Department of Northwestern University and teaches in our program. She is the author of Benjamin Banneker and Us: Eleven Generations of an American Family, (Henry Holt, 2023)—a book of creative nonfiction that explores ancestry, race, gender, and justice in American history. She embarked on a collaborative process in the writing of this book, as she and her DNA cousins discussed racial justice, genealogy, and the stories of their ancestors, which include the African American surveyor and astronomer, Benjamin Banneker. Rachel earned her MFA in Poetry from Warren Wilson and has published four books of poetry and cross-genre writing, including, Mary is a River which was a finalist for the 2014 National Poetry Series; September: Poems; The Endless Unbegun; and The Sea Came Up & Drowned, which combines erasure poems and Rachel's collage artwork to meditate on our extractive economy and fractured relationship to the earth. Rachel's poems and essays often appear in anthologies and journals, including Poetry, Tin House, and The Yale Review.
Robert Lett is a cousin of Rachel's and a collaborator on the book, Benjamin Banneker and Us: Eleven Generations of an American Family. Robert has preserved the family's oral histories and has also compiled documentary histories from the Banneker-Lett line. Robert grew up in rural Boone County, Kentucky, where his mother's ancestors had been enslaved until his great great grandmother purchased herself and her husband from enslavement. He was raised by his educator parents to know about the bravery of his ancestors and to apply himself to his dreams. The family moved from Kentucky to Pasadena California, where Robert attended John Muir High School and left during his senior year to travel the world with the musical touring company "Up With People." Robert worked for the State Bar of California as an Investigations Clerk and an American Red Cross Administrator before spending 24 years as an educator. He most recently worked at Southwestern Academy, an International Boarding and Day School, where he served as a guidance counselor and coach for Girls' Track & Field and Boys' Basketball.
Morris (Dino) Robinson, Jr. is the Production Manager at Northwestern University Press. Previously, he served in creative positions in advertising, and later operated Robinson Design. He holds a BA degree in Communication Design and a minor in African American Studies. Dino is the founder of Shorefront, an organization he pioneered in 1995. Within Shorefront, he has authored books, facilitated subject specific speaking engagements and exhibits, and consults on community based archiving, organizing, and programming. Throughout the last 20 years, Dino built a growing collection currently measuring over 500 linear feet, representing the local Black communities on Chicago's suburban North Shore. The Shorefront Legacy Center houses it collections and library and serves as a space for research initiatives, programming activities and community engagement.
Moderator:
Christine Sneed is the author of three novels, most recently Please Be Advised: A Novel in Memos and Paris, He Said, and three short story collections, Portraits of a Few of the People I've Made Cry, The Virginity of Famous Men, and Direct Sunlight, which will be published in June 2023. She is the editor of the short fiction anthology Love in the Time of Time's Up, and has received the Grace Paley Prize for Short Fiction, the Chicago Public Library Foundation's 21st Century Award, the Chicago Writers Association Book of the Year Award, twice, the Society of Midland Authors Award, Ploughshares' Zacharis Award, an O. Henry Prize, among other honors. She has been a finalist for the Los Angeles Times Book Prize and was long-listed for the Frank O'Connor International Short Story Award. Her novel Little Known Facts was a New York Times Book Review Editors' Choice selection, and her stories and essays have appeared in The Best American Short Stories, O. Henry Prize Stories, New England Review, The Southern Review, Boulevard, Hong Kong Review, Story, New York Times, Chicago Tribune, San Francisco Chronicle, O Magazine, Electric Literature, and various other publications. www.christinesneed.com is her author website.
---
Summer Writers' Conference
July 8 - July 9, 2022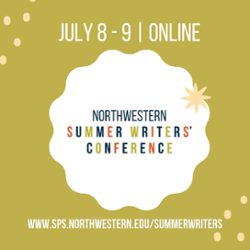 The Northwestern University Summer Writers' Conference is back, and online again so you can join us from anywhere in the world. This year's schedule offers presentations for writers of all genres and backgrounds. Learn the fundamentals of screenwriting, how to write about friends, family, lovers, and characters that readers can really "see." Hear from award-winning authors on how to access originality, capture the poetics of place, the power of acrostics. Get pro tips from professionals in publishing an dpromotions. You can also schedule an individual manuscript consultation with conference faculty.
The Northwestern University Summer Writers' Conference is a wonderful opportunity to seek a fuller understanding of the craft - and business - of writing.
The conference is hosted by the Northwestern University School of Professional Studies MA in Writing and MFA in Prose and Poetry programs.
Registration is open through the duration of the conference. Please email summerwriters@northwestern.edu for more information.
One Book One Northwestern Climate Change-Themed MFA Reading
June 9, 2022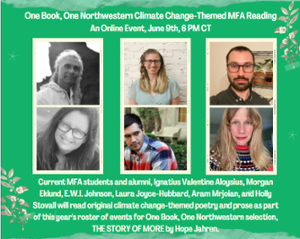 Curent MFA students and alumni, Ignatius Valentine Aloysius, Morgan Eklund, E.W.I. Johnson, Laura Joyce-Hubbard, Aram Mrjoian, and Holly Stovall will read original climate change-themed poetry and prose as part of this year's roster of events for One Book One Northwestern selection, THE STORY OF MORE by Hope Jahren
The Path from Journalist to Professor/Novelist with One Book One Chicago Author Eric Charles May
May 10, 2022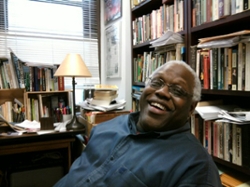 One Book, One Chicago author Eric Charles May will discuss his One Book One Northwestern novel Bedrock Faith and his trajectory from Washington Post journalist to novelist and fiction-writing professor at Columbia College Chicago with SPS MW/MFA faculty director and fiction writer Christine Sneed. Q and A with attendees to follow Eric and Christine's conversation.
Data Science
MSDS Alumni Panel Summer 2023
July 25, 2023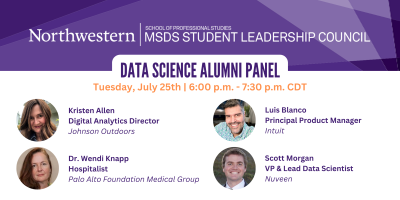 We are thrilled to announce the upcoming MSDS Alumni Panel Event! During this event, we will have the privilege of listening to our esteemed program graduates as they share their remarkable journeys of utilizing their degrees to propel their careers.
This event will be hybrid, in person and online.
Panelists will include: 
Kristen Allen, Digital Analytics Director at Johnson Outdoors
Luis Blanco, Principal Product Manager at Intuit
Dr. Wendi Knapp, Hospitalist at Palo Alto Foundation Medical Group
Scott Morgan, VP & Lead Data Scientist at Nuveen
Following the event we will also be hosting our Summer Quarter Networking Event at Prairie Moon in Evanston. All of our students and alumni are invited to attend!
---
Ace the Data Science Interview with Nick Singh
March 2, 2023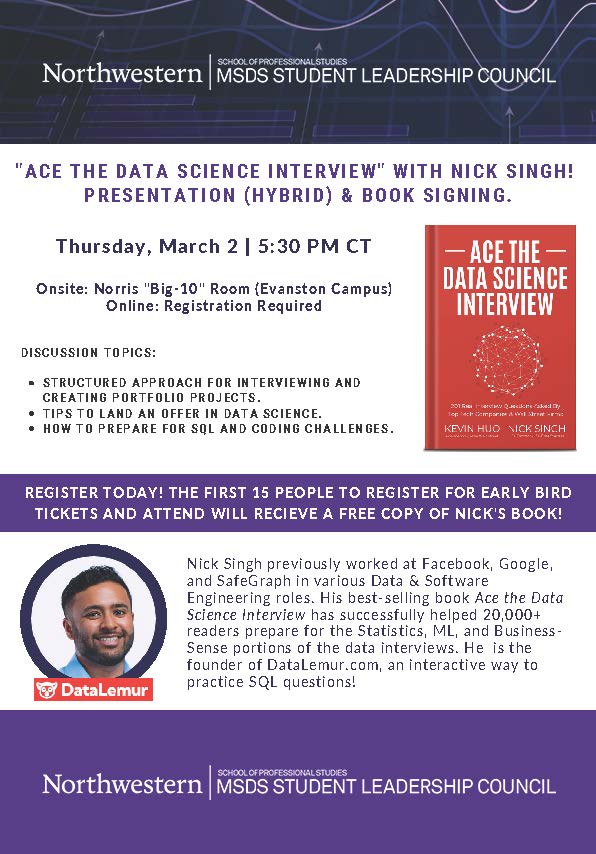 The Master's in Data Science SLC is hosting an exciting event with Nick Singh, Author of Ace the Data Science Interview and Founder of DataLemur.
Discussion topics include:
Structured approach for interviewing and creating portfolio projects.
Tips to land an offer in data science.
How to prepare for SQL and coding challenges.
Nick Singh previously worked at Facebook, Google, and SafeGraph in various Data & Software Engineering roles. His best-selling book, Ace the Data Science Interview, has successfully helped 20,000+ readers prepare for the Statistics, ML, and Business-Sense portions of the data interviews. He also created DataLemur.com, an interactive way to practice SQL questions!
---
Data Science Go Bootcamp
December 10, 2022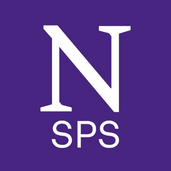 Participants will have the opportunity to learn from David Lobue, Dr. Thomas Miller, Abid Ali, and Mariah Peterson during this one-day Data Science event. Our speakers will cover an introduction to Go and Data Engineering with Go, basic data types and control flow, database integrations, concurrencies, and real world examples and applications.
---
Machine Learning Operations (MLOps) from the perspective of Data Science
November 17, 2022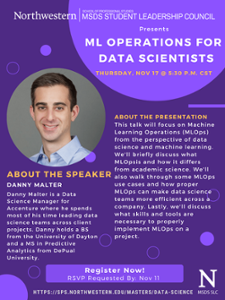 Accenture's Data Science Manager, Danny Malter, will present on Machine Learning Operations (MLOps) from the perspective of data science and machine learning. We will learn what MLOps is and how it differs from academic data science. We will discuss what skills and tools are necessary to properly implement MLOps and walk through some use cases and how proper MLOps can make data science teams more efficient across a company.
---
Symposium - Career Panel Roundtable & Networking
October 7, 2022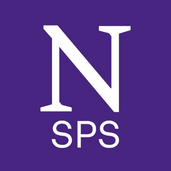 The MSDS Career Panel Roundtable & Networking event was a hybrid event that was held during the Symposium. Several companies were represented on a Live-Streamed panel round table followed by an in-person networking session. 
---
MSDS Student Research Expo
October 7, 2022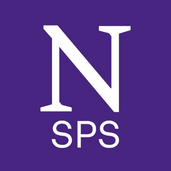 MSDS students presented their thesis and capstone projects. The even was open to all MSDS students, alumni, and faculty.
---
MSDS SLC Happy Hour
October 7, 2022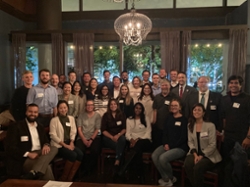 The MSDS SLC met at D4 Irish Pub and Cafe for drinks and appetizers after SPS Symposium. The event was open to all MSDS students and alumni, whether you were able to attend Symposium or not.
---
MSDS SLC Case Study: A.I. in Healthcare
September 22, 2022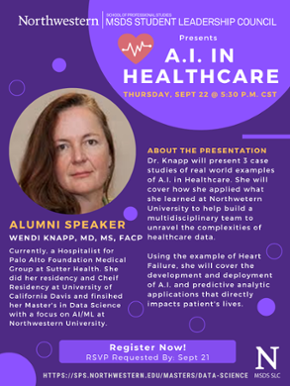 Dr. Wendi Knapp will be presenting three real-world case studies of examples of A.I. Healthcare. Dr. Knapp will also be speaking on how she utilized her Masters in Data Science from Northwestern University to help create a special algorithm to make a patient's ejection fraction number, a universal metric used to measure how well someone's heart pumps blood with each heartbeat, more distinct among clinical information.
---
MSDS SLC Graduation Luncheon
June 11, 2022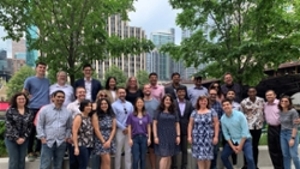 The MSDS Student Leadership Council held a graduation luncheon on Saturday, June 11th from 12 pm-2 pm at The Northman (233 East Riverwalk, Chicago, IL 60601). This event was to celebrate this momentous occasion with our graduates, alumni, faculty, and staff.
---
Featured Faculty Series:  Data Science that Looks Like You with Dr. Candice Bradley
May 19, 2022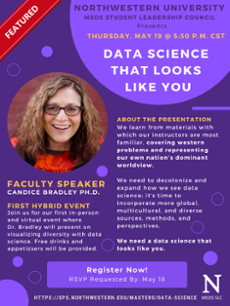 The MSDS SLC held our first in-person and virtual event where MSDS Instructor, Dr. Bradley, presented on visualizing diversity with data science. Afterwards, attendees met and mingled for drinks and appetizers at Prairie Moon (1635 Chicago Ave, Evanston, IL 60201).
---
Data Science in Action:  A Case Study with Boston Consulting Group
February 10, 2022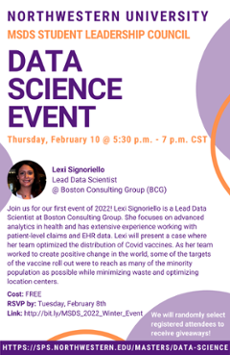 Lexi Signoriello, Lead Data Scientist at Boston Consulting Group (BCG) Gamma, shared how their data science team optimized the distribution of Covid vaccines.
---
Data Science in Action:  Data Science for Good with Dataiku and One Acre Fund
October 13, 2021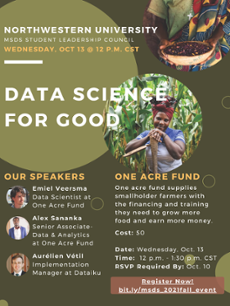 Leaders from Dataiku and One Acre Fund presented on how they have used analytics and data science to help smallholder farmers grow more food and earn more money. This was a wonderful opportunity to hear about a non-profit using data science in the real world to have a positive and lasting impact!
Global Health
Enhancing Global Health Through Collaboration and Coordination
September 13, 2023
The event will discuss the areas of program assessment/development and implementation, monitoring and evaluation, collaboration, and coordination.
Anja Minnick, MSc is a distinguished leader in Monitoring and Evaluation, with over two decades of experience driving impactful public health and development initiatives. Anja's expertise has been honed through roles at prestigious institutions like the CDC, USAID, and the University of Washington where she excelled in global health monitoring, evaluation, and program management. Anja serves as the Lead for Evaluation and Learning in the Division of Global Health Protection at the CDC's Center for Global Health, Anja is committed to shaping effective monitoring practices for sustainable global health initiatives.
Liz O'Mara, Ph.D., MS, MPH joined the CDC in 2000 and has held both domestic and international positions focusing on program development and scientific direction for many of the CDC's infectious threat programs, emergency preparedness and response activities, and global maternal and child health initiatives. Currently, Liz serves as a Senior Epidemiologist and Lead Evaluation Scientist in CDC's Global Health Center where she focuses on multidisciplinary initiatives to promote evaluation standards and practice in CDC's global scientific and programmatic activities.
---
MSGH SLC Virtual Ice Cream Social
May 20, 2023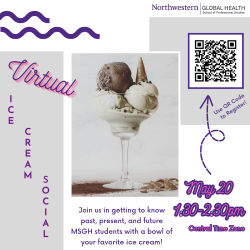 Join the MSGH SLC as we gather together to network in a virtual format! We will have some ice breakers and break into groups so you can meet and discuss global health topics in an informal manner. Bring your favorite ice cream and have fun getting to know your colleagues!
---
Building Health Equity: Why it Matters, and How to Take Action
February 24, 2023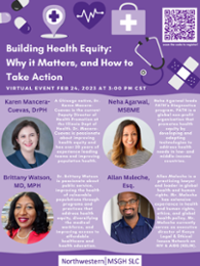 Join the MS in Global Health SLC's "Building Health Equity: Why it Matters, and How to Take Action" panel. Expand on your knowledge of global health equity with our panel of experts who will discuss their experiences and the current challenges and solutions!

Panel members include:

Karen Mancera-Cuevas, DrPH, a Chicago native, serves as the Senior Director of Equity at the National Health Council. She is also the Chair-Elect for the American Public Health Association (APHA) - Public Health Education Health Promotion Section. She is committed to improving health equity and has over 20 years of experience leading teams and improving population health. Previously, Dr. Macera-Cuevas served as the Deputy Director of Health Promotion at the Illinois Department of Health. Prior to her work at the Illinois Department of Health, Dr. Macera-Cuevas worked at Northwestern University for over 16 years as an Associate Director and Lead Research Project Coordinator within various divisions.

Neha Agarwal, MSBME leads PATH's Diagnostics program. PATH is a global non-profit organization that promotes health equity by developing and adapting technologies to address health needs in low- and middle-income countries. At PATH, Neha is responsible for ensuring equitable access of diagnostic products across many disease areas such as, malaria, pneumonia, and maternal and child health. Prior to her work in global health, Neha worked as an engineer in the medtech industry. Neha has several publications and holds 4 patents. She received her Master of Science in Biomedical Engineering from Columbia University and her Bachelor of Science in Bioengineering from University of California, Berkeley.

Brittany Watson, MD., MPH is passionate about public service, improving the health of vulnerable populations through programs and practices that address health equity, diversifying the medical workforce, and improving access to affordable healthcare and health education. In 2021, she was appointed American Academy of Family Physicians Leading Physician Well-being Scholar. Dr. Watson received her MPH from Harvard University TH Chan school of Public Health and her medical degree from the Medical University of South Carolina.

Allan Maleche, Esq. is a practicing lawyer and leader in global health and human rights. He has extensive experience in health and human rights, ethics, and global health policy. He currently serves as executive director of Kenya Legal & Ethical Issues Network on HIV & AIDS (KELIN). He also co-chairs the UNAIDS Human Rights Reference group and is a member of the International Advisory Board for the Global Health Centre. One of Mr. Maleche's career highlights is spearheading litigation in Kenya, Africa over the involuntary imprisonment of individuals with TB as a measure to protect public health. This groundbreaking case ultimately led to major changes in TB policies in other countries.
Global Health Accountability in South Africa with Dr. Arda Gucler
November 10, 2022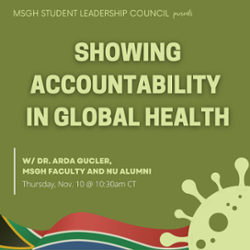 Dr. Gucler will discuss global health accountability and South Africa's decision to be very transparent with its information during the pandemic and being punished by teh world community for its transparency.
MSGH Panel on Roe v. Wade and its Global Health Implications
September 14, 2022
Panel speakers including Dr. Seema Handu PhD, Dr. Purnima Mane, and Dr. Alastair Santhouse MA, FRCP, FRCPsych. Women's reproductive health rights in light of the recent SCOTUS Roe v. Wade ruling and its implication on global health.
Learn more about the MSGH Practicum with Dr. Doobay-Persaud and Dr. Galvin
April 22, 2022
Dr. Doobay-Persaud (MSGH Faculty Director and Summer Practicum Instructor) will discuss principles of partnership in global health education. Dr. Shannon Galvin (MSGH Practicum Instructor) will discuss best practices in global health practicum design and implementation. Daniella Ellecom Royster, MSGH DE&I Coordinator will speak about how the Student Leadership Program strives for diversity, equity and inclusion.
Information Design and Strategy
Information Design Orientation Panel
September 12, 2023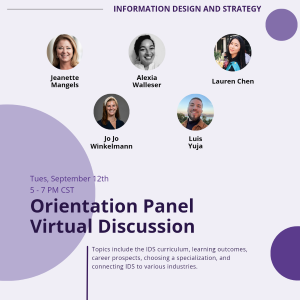 During this two-hour panel discussion, current IDS students and alums will share their experiences and knowledge about the program.
Topics include the IDS curriculum, learning outcomes, career prospects, choosing a specialization, and connecting IDS to various industries. Our esteemed panelists include experts with extensive experience in digital design, learning design, and data analytics. They will provide unique insights and perspectives to enrich your understanding of the program. There will be time for Q&A, so please bring your questions so we can learn from each other.
---
Campfolio 2023
August 2-4, 2023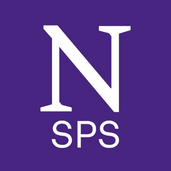 Campfolio 2023 is here!
IDS Student Leadership Council is excited to announce the IDS Summer Campfolio on August 2nd and 3rd!
In this asynchronous, hybrid event led by Dr. David Noffs, students will learn how to build their ePortfolios and publish their NU Site to promote their IDS work to students, faculty, peers, and employers.
We will have two identical sessions on August 2 and August 3, running in Wieboldt Hall Room 517 and available to Zoom attendees so students can choose their ideal date and participation mode or attend both sessions for additional practice.
After signing up for Campfolio, students will be added to a Canvas site with tutorials and instructions for collecting artifacts and how to add coursework to an ePortfolio. Announcements will be sent out from Canvas, and students can collaborate on the discussion boards throughout their ePortfolio development work.
---
Orientation to NCA and Design Portfolios
June 27, 2023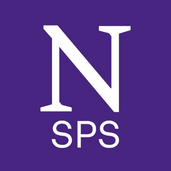 Learn how Northwestern Career Advancement (NCA) can support you with your job search through advising services and resources. Furthermore, as you engage employers and networking contacts, a portfolio is an excellent way to display your projects and skills. This online session will also present key elements and steps involved in building an effective portfolio.
---
Extending and Externalizing Research
May 11, 2023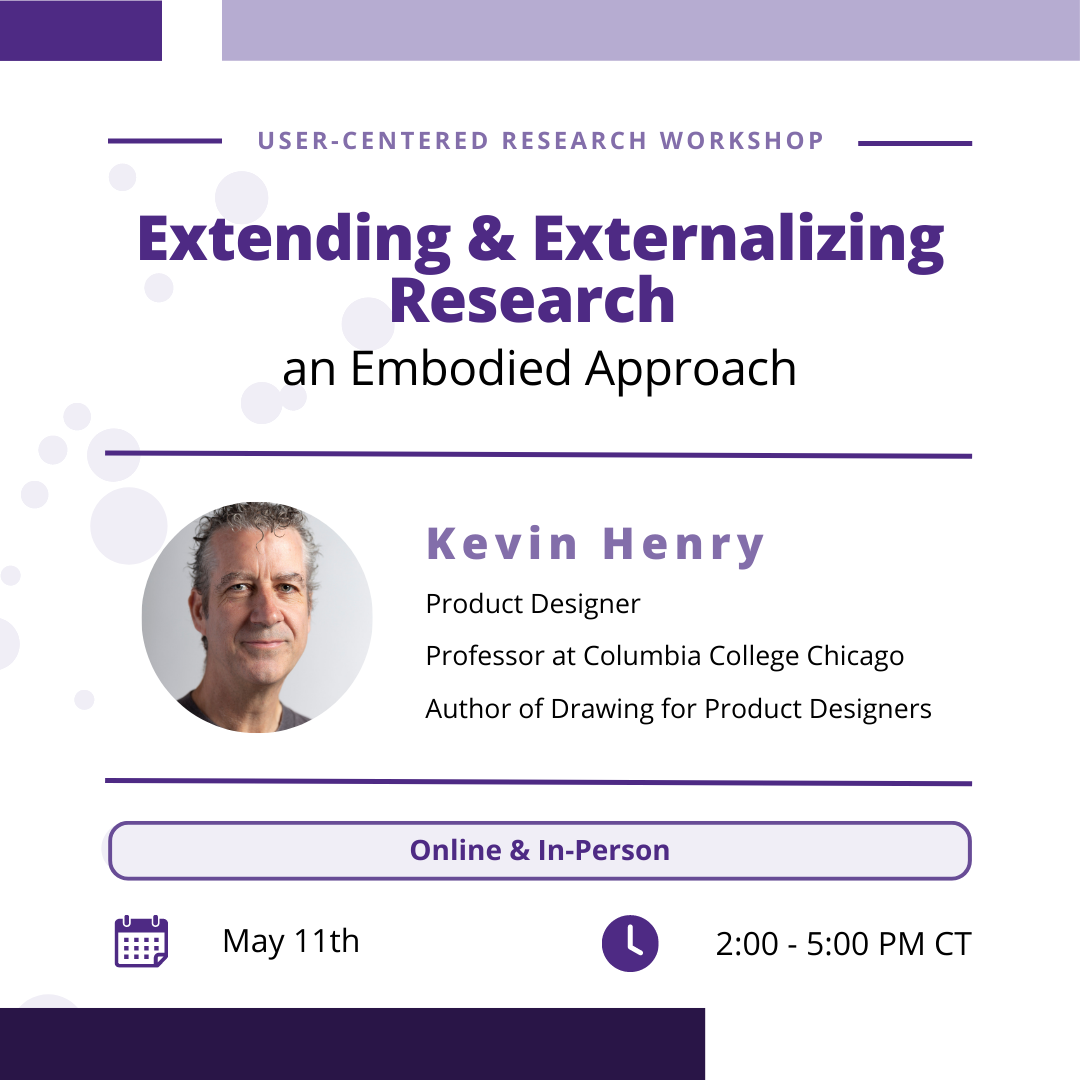 Join the Master's in Information Design and Strategy SLC in welcoming Kevin Henry.  Kevin is the founding faculty member for the product design program at Columbia College Chicago, where he teaches in the product development track and is a visiting professor in fashion studies. In addition to his practice as a product designer, his book "Drawing for Product Designers" and his LinkedIn Learning course "Sketching for Product Design" are leading resources for students and professionals. Kevin is also the recipient of numerous design awards, including an IDEA from the Industrial Design Society of America and a Good Design Award. He is a strong believer in the power of collaboration across disciplines and will be discussing the importance of externalizing research.
---
Suprising Uses for User Research
April 6, 2023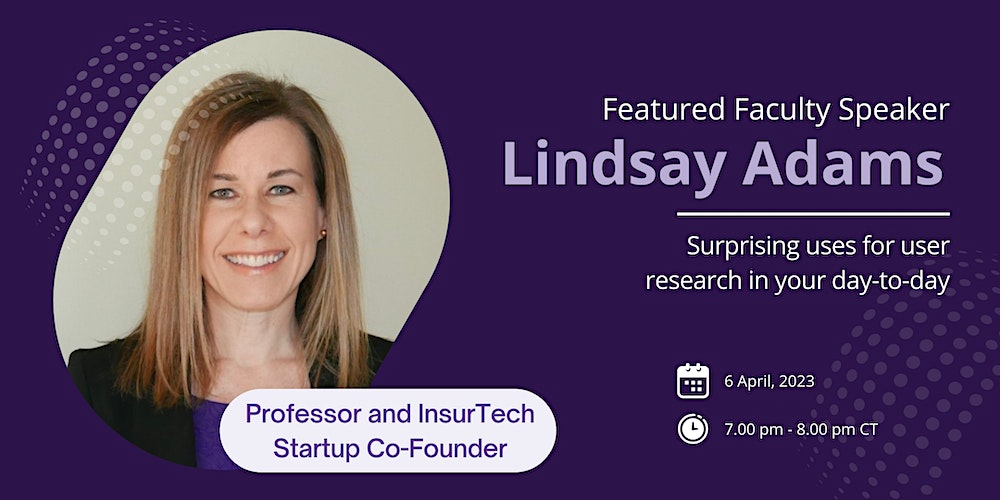 The Master's in Information Design and Strategy SLC is pleased to announce our next featured faculty event with Lindsay Adams. Lindsay is an IDS alum and current User Research instructor as well as the cofounder of the InsurTech startup.
Lindsay will go over a few surprising ways to leverage user research in your everyday work, including:
Streamlining hiring and onboarding
Boosting employee engagement
Managing enterprise content, including real-time group card sorting exercise
---
Job Searching and Refresh on NCA Services
February 23, 2023
Job searching involves more than checking job boards for opportunities. This Information Design & Strategy SLC workshop will present key elements of an effective job search plan. It will also feature strategy on how to network with contacts and effectively leverage NU-specific resources.
---
Orientation to NCA and Design Portfolios
February 9, 2023
Join this Information Design and Strategy SLC event to learn how Northwestern Career Advancement can support you with your job search through advising services and resources. Furthermore, as you engage employers and networking contacts, a portfolio is an excellent way to display your projects and skills. This session will also present key elements and steps involved in building an effective portfolio.
---
Northwestern Discussion with Heather Brown
February 7, 2023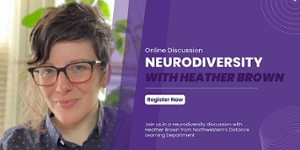 Please join the Information Design and Strategy SLC on February 7th at 7pm CT for an evening with Heather Brown from Northwestern's Distance Learning Department. Heather's presentation, "Designing for Neurodiversity" will introduce IDS students to the concepts of neurodiversity, why it matters, and how it intersects with Universal Design for Learning.
Heather has been a Learning Designer since 2013, primarilly serving graduate and professional studies programs in not-for-profit higher education institutions.
Of particular concern to her is the importance of designing for all learners, which has led her to research and apply insights from studying the needs of neurodiverse learners.
---
IDS Guest Speaker - Ashley Kennedy
January 24, 2023
The Information Design and Strategy Student Leadership Council is pleased to be able to invite you to an exciting live presentation by Guest Speaker, Ashley Kennedy from LinkedIn Learning Tuesday, January 24 at 7 PM CT.

Ashley is Managing Staff Instructor at LinkedIn Learning where she leads a talented team of in-house instructors in the Creative and Business libraries. She also creates LinkedIn courses on the subjects of video editing, filmmaking, storytelling, and various education and business topics. In addition to more than 12 years creating online courses for lynda.com/LinkedIn Learning, Ashley has deep experience leading face-to-face classes and large-scale training—as a freelance instructor, conference presenter, and previously at Columbia College Chicago and Avid Technologies. She has also written two textbooks on video editing. Ashley holds a BS in broadcast journalism from the University of Illinois, and an MFA in film from Boston University.

Ashley will be speaking to students enrolled in David Noffs' and Reggie Jackson's, Learning Environment Design course. Specifically, she will be describing how LinkedIn Authors design and develop their high-impact teaching content and materials. Ashley Kennedy, Dr. Noffs and Dr. Jackson have all agreed to open up this opportunity to all interested students in the IDS program.
---
Town Hall with Jessica Ashley
November 11, 2022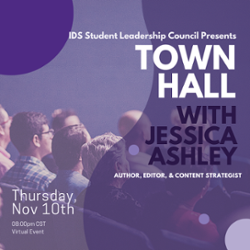 Bring your questions to our next Town Hall on Thursday, November 10th with Jessica Ashley, IDS 403 Effective Communication Instructor.
Jessica is a content strategist , award-winning author, and certified coach.  She is the founder and voice of Single Mom Nation online community and its sister podcast and the author of three independent divorce & self-care guides. 
---
IDS SLC | Post-Symposium Happy Hour
October 7, 2022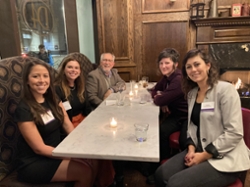 The IDS Student Leadership Council met at D4 Irish Pub & Cafe on Friday, October 7th for an after-symposium happy hour. The event was hosted for SPS Symposium attendees to network with fellow students, alum, and faculty. Food and drinks were provided.
---
IDS Graduation Celebration
June 11th, 2022
On Saturday, June 11th, we will be hosting graduates, faculty, and anyone from the IDS community to join us at the downtown campus to network and celebrate. A photographer will be present to take your headshot outside of the beautiful Wieboldt Hall and the digital files will be made available as a keepsake for this momentous occasion! We will also have a brief presentation by the IDS faculty - followed by a happy hour at a local bar (The D4Pub). Drinks and food will be provided.
Information Systems
Who Moved My Cheese? Adapting and Excelling Through Change
May 31, 2023
Join the MSIS SLC in "Who Moved My Cheese? Adapting and Excelling through Change" based on Dr. Spencer Johnson's best-selling book, "Who Moved My Cheese?" with over 45 million copies sold worldwide, it has individuals worldwide adapt and succeed in changing times.
---
Building a Successful Career: Gaining Wisdom and Experience from Industry Experts
February 28, 2023
Join the Master's in Information Systems SLC at "Building a Successful Career: Gaining Wisdom and Experience from Industry Experts" with a guest speaker panel of tech leaders in eclectic industries. Learn about their personal career adventures and become inspired for your next steps!
The Tech Leader Panel:
George Rozo is a Senior Program Manager with Microsoft. With a background in data platforms, project management, and operations, he drives growth for clients within diverse domains. Mr. Rozo's educational experience includes NU's Kellogg and Texas A&M.
Sara Riaz provides healthcare informatics and management as a Clinical Support Specialist for CommonSpirit Health. An Artificial Intelligence enthusiast, she formulates management through the interpretation and compilation of big data. Ms. Riaz earned her Master's in Healthcare Informatics from Arizona State University
Mariano Gurfinkel is the Director of Integrated Performance at Marathon Oil. He specializes in the technical support of operations through the identification and implementation of new technological assets. Mr. Gurfinkel holds a Ph.D. in Mechanical Engineering from MIT.
Adelyn Fears is a Security Engineer for Amazon. Her areas of expertise includes information systems security, Amazon Web Services (AWS), and cloud technology. Ms. Fears graduated with a BS in Business Administration from California Polytechnic State University, San Luis Abispo.
MS in Information Systems Quiz bowl
November 15, 2022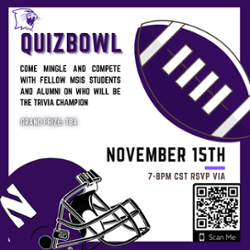 Come mingle and compete with fellow MS in Information Systems students and alums on who will be the trivia champion.
Liberal Studies
Literature
Public Policy and Administration
MPPA SLC Summer Networking Happy Hour
August 16, 2023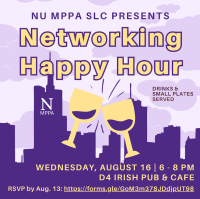 Alumni, current students, and incoming students! Join the MPPA SLC for a Networking Night on August 16 from 6:00 to 8:00 p.m. at D4 in Chicago. We will have drinks and snacks to celebrate finishing up the quarter. Build your connections through Alumni, Professors, and current classmates by sharing tricks of the job search, learning what others are doing, and making new connections on LinkedIn!
---
DE&I Pop Up: Understanding Arab-Americans with Itedal Shalabi
July 10, 2023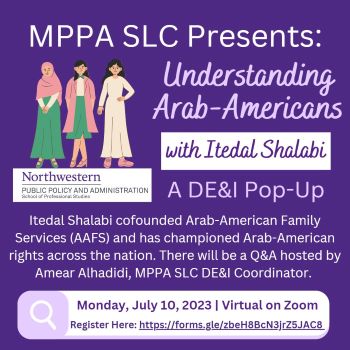 Join the SLC for a DE&I Pop-Up on July 10th at 7 pm on Zoom. Itedal Shalabi is the cofounder of Arab-American Family Services (AAFS) and has championed Arab-American rights across the nation. With exhaustive experiences of leading, hosting, and advocating for DE&I events over the years we will be looking at the process of advocating for your communities, exploring what are Arab-Americans and how they are being portrayed and framed by the media and society. There will be a Q&A hosted by Amear Alhadidi, MPPA SLC DE&I Coordinator.
---
MPPA SLC Alumni Panel
May 17, 2023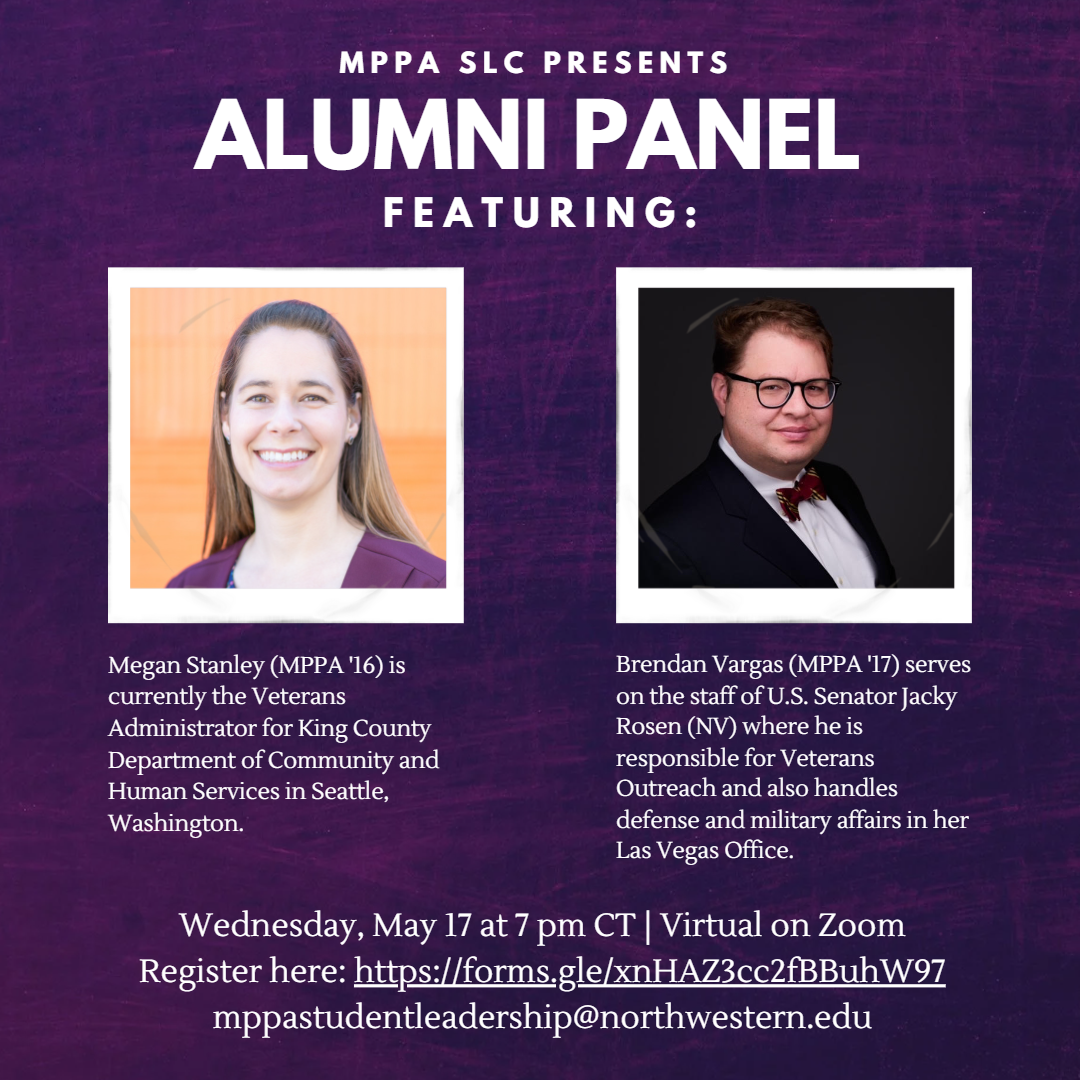 Please join the MPPA SLC for our Alumni Panel featuring Megan Stanley ('16), a veterans administrator for King County, Washington, and Brendan Vargas ('17) Veterans Outreach for U.S. Senator Jacky Rosen (NV), on May 17th at 7PM.  This will be a fully virtual event.
---
MPPA Mini-Career Panel
May 8, 2023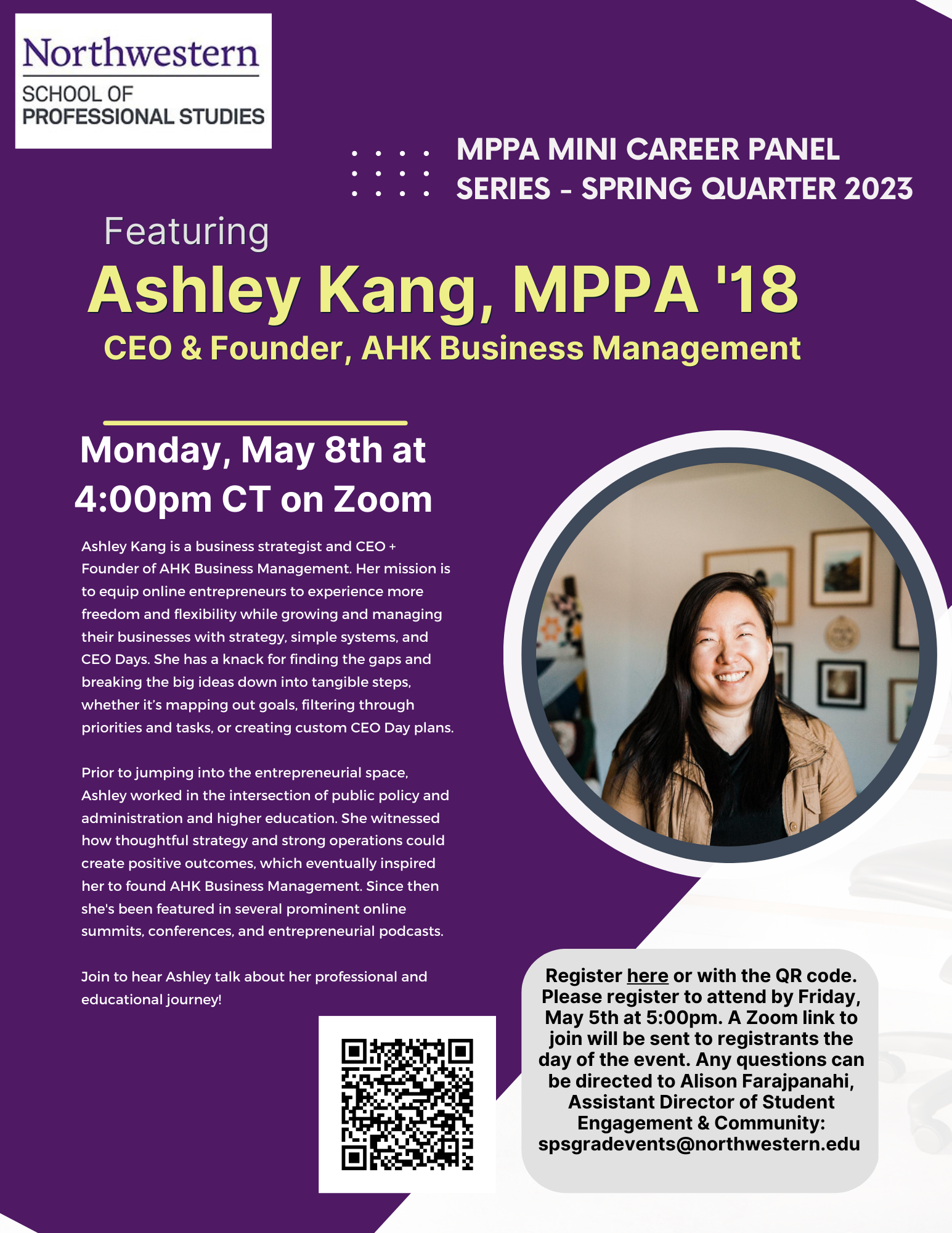 Ashley Kang is a business strategist and CEO + Founder of AHK Business Management. Her mission is to equip online entrepreneurs to experience more freedom and flexibility while growing and managing their businesses with strategy, simple systems, and CEO Days. She has a knack for finding the gaps and breaking the big ideas down into tangible steps, whether it's mapping out goals, filtering through priorities and tasks, or creating custom CEO Day plans.
Prior to jumping into the entrepreneurial space, Ashley worked in the intersection of public policy and administration and higher education. She witnessed how thoughtful strategy and strong operations could create positive outcomes, which eventually inspired her to found AHK Business Management. Since then she's been featured in several prominent online summits, conferences, and entrepreneurial podcasts.
She describes herself as a mix of Hermione Granger, Monica Geller, and Captain America - the quintessential problem solver and strategy-minded planner. Originally a Boston native, Ashley now lives in the Chicago suburbs where she's always on the hunt for the best fish tacos.
---
Post-Municipal Election Luncheon Panel (with ASPA)
April 11, 2023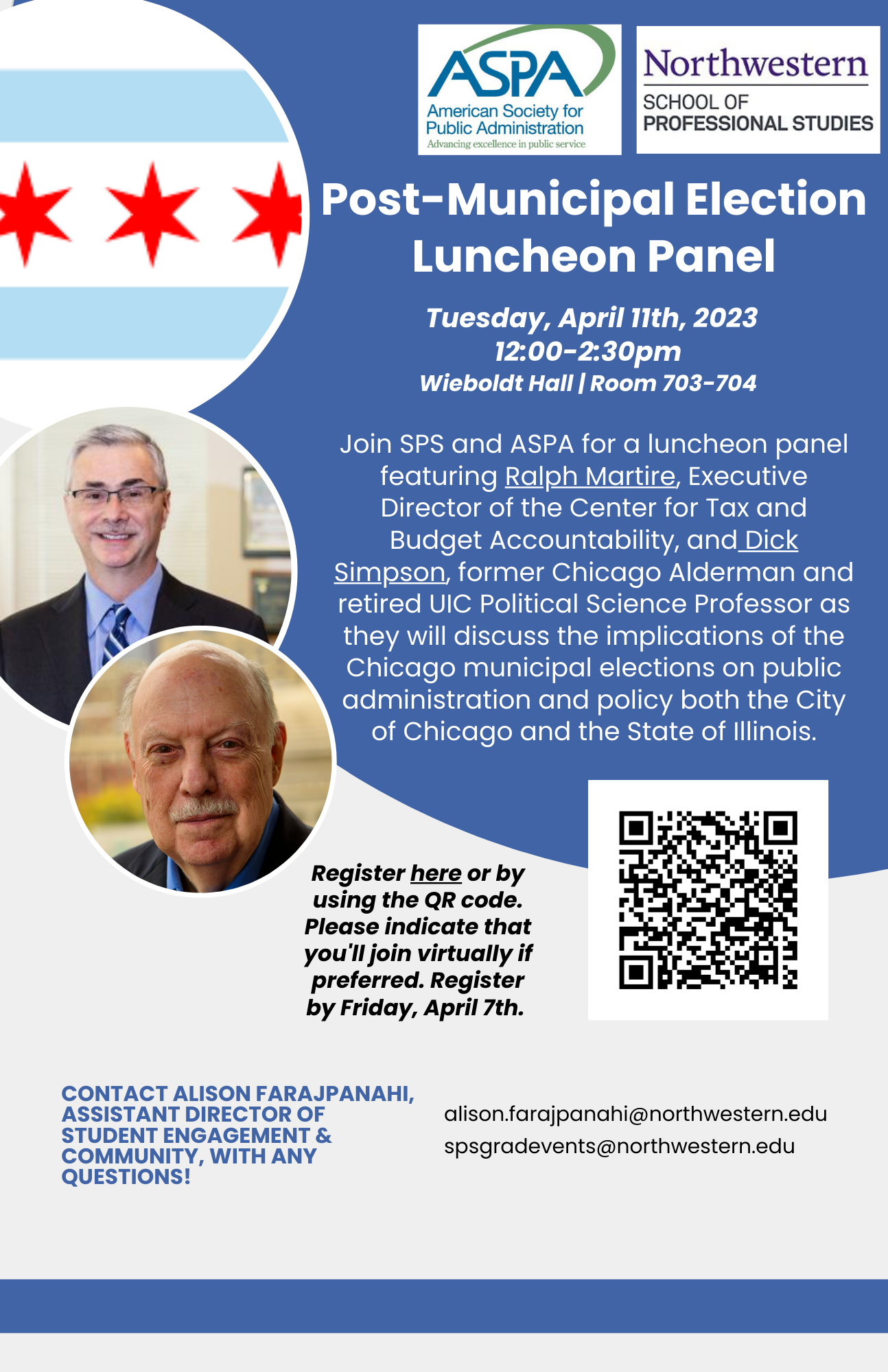 Join SPS and ASPA for a luncheon panel featuring Ralph Martire, Executive Director of the Center for Tax and Budget Accountability, and Dick Simpson, former Chicago Alderman and retired UIC Political Science Professor as they will discuss the implications of the Chicago municipal elections on public administration and policy both the City of Chicago and the State of Illinois.
---
Coffee and Tea with Professor Mollie Foust
February 23, 2023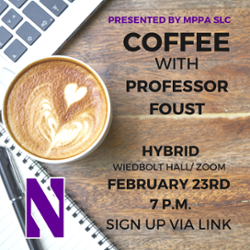 Join the Master's in Public Policy & Administration SLC for coffee, tea, and appetizers with professor Mollie Foust on 2/23/2023 at 7 pm at Wieboldt Hall or from the comfort of your own home. We will be discussing working within government and her experiences with policy, with time for Q&A afterward. 
---
Winter Quarter MPPA Midterm Meet Up
February 2, 2022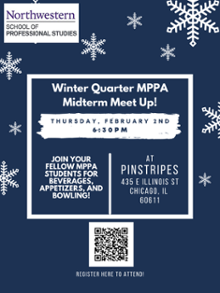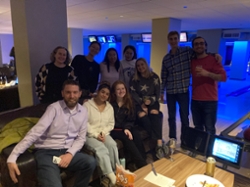 Blow off some midterm steam with some beverages, appetizers, and bowling with your fellow MPPA students! Beverage tickets will be distributed to attendees and appetizers will be served. All free of charge an dopen to MPPA students!
---
SPS & IAMMA Luncheon Panel
January 17, 2022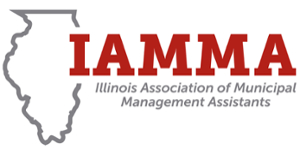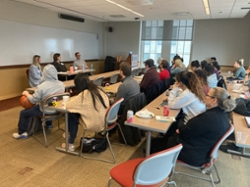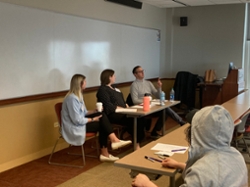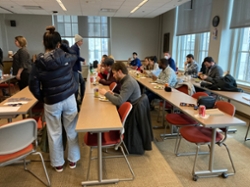 Join to hear from a panel of Municipal Management Professionals associated with the Illinois Association of Municipal Management Assistants. Lunch will be served promptly at 1:00pm and we will hear from the below panelists regarding their career paths and how they obtained their roles, as well as day to day duties and aspects of their current positions. There will also be an opportunity to ask them any questions.

Scott Niehaus, Village Manager, Lombard
Maggie Jablonski, NU MPPA alum and Deputy Village Manager, Elk Grove Village
Hannah Lipman, NU MPPA alum and Assistant Village Manager, Tinley Park
---
Navigating USA Jobs
January 17, 2022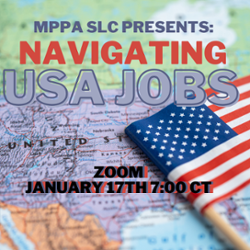 The Master's of Public Policy and Administration SLC is hosting a workshop in conjunction with Northwestern's Career Advancement to help students find and understand the USAJOBS website and application processes.
---
MPPA Mini Career Series Panel - Jamie Muth, MPPA '20
November 17, 2022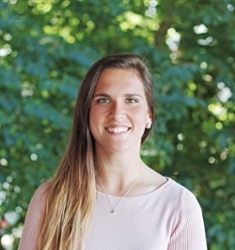 Jamie Muth (MPPA '20) works as a Program and Process Analyst on the Housing Choice Voucher Policy and Accountability Team at the Chicago Housing Authority. During her time at CHA, she has worked on numerous initiatives that range from expanding housing options for vulnerable populations to providing internet access that addresses the significant digital divide. Jamie believes in a holistic approach to reducing barriers to obtaining and maintaining housing that is addressed through work in multiple policy areas.
Prior to enrolling at Northwestern, Jamie served as an AmeriCorps Outreach Coordinator for Elizabeth's Village, a small non-profit in her home state of Kentucky. The skills she learned providing housing and supportive services to women and children at risk of experiencing homelessness guide her in her work at CHA. In her free time, Jamie enjoys exploring the many neighborhoods of Chicago with her partner and Australian Shepherd, Rose.
---
MPPA SLC | Fall 2022 Trivia Night!
October 21, 2022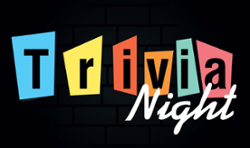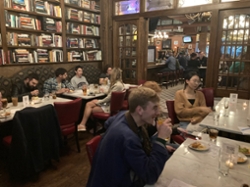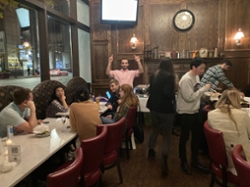 Join your fellow MPPA students and alumni for drinks, food, and policy-related trivia at 4 Irish Pub & Cafe! Attendees can start arriving at 6:00pm and will be given two drink tickets for a limited selection of alcoholic or soft drinks. A buffet-style dinner will also be served. Trivia will start promptly at 7:00pm. Trivia will consist of policy-related questions and attendees will be broken up into teams to play the game.
---
Cannabis, Casino Gambling, and Cash:  Budgetary Implications and Beyond
October 14, 2022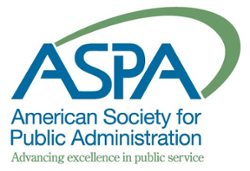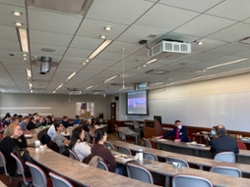 Join for a networking lunch and guest speaker panel with ASPA, the American Society for Public Administration
PANEL | CANNABIS, CASINO GAMBLING, AND CASH:  BUDGETARY IMPLICATIONS AND BEYOND
This panel discussed the implications of state and city policies on cannabis and casino gambling. How do these policies affect city and state budgets? How do the policies impact residents beyond the budget? Three experts joined the ASPA Chicago Capter to discuss this important topic.
---
Chat with Alumni: What's Next?
July 12, 2022
The Student Leadership Council invites you to join our "Chatting with Alumni: What's Next"
event on Tuesday, July 12th at 6 pm CT. The purpose of this event is to provide a space for
Northwestern MPPA alumni to discuss with current MPPA students about their experience in the private, public, and non-profit sectors. Students in the accelerated MPPA program, part-time program, and recent graduates are welcome and encouraged to join.
---
2022 Resume Review Panel
June 28th, 2022
Join us for the MPPA Resume Review Panel to get helpful tips on how to make your resume marketable for the industry you are interested in pursuing. Those who are unsure of their next career move may also join to get more general advice. We will start the event with a few minutes of some helpful resources and information for MPPA students' professional advancement. We will then place students in breakout rooms with the panelist who suits their industry-based needs for specified feedback on their resumes.
---
Northwestern MPPA Networking Brunch
June 11th, 2022
As another school year comes to a close, the Northwestern MPPA Student Leadership Council (SLC) would like to invite you to attend a pre-convocation networking event! This is a great opportunity to meet with fellow MPPA students as well as alumni who continue to stay engaged with the NU community. The event includes a brunch buffet, as well as one drink ticket per individual.
Sports Administration
MSA Chicago Sky Game Night
August 24, 2023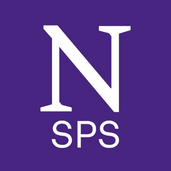 Join the MSA SLC for a night of networking at the Chicago Sky v. Las Vegas Aces WNBA game (Wintrust Arena). Tickets are available on a first-come, first-serve basis.
This in-person event will be held at Wintrust Arena, 200 E. Cermak Rd, Chicago, and is open to SLC Members, MSA Students, and MSA Alumni.
Special "Team Night Out" experience: arrive at the arena at 5:30 pm to watch players warm up courtside. Around 5:55 pm, a picture will be taken with the group and a player.
---
MSA SLC Chicago Sky Webinar
August 23, 2023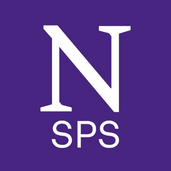 Join us for a panel discussion with members of the Chicago Sky front office. A link to the webinar will be shared once registration begins (coming soon). More details will be shared in the coming weeks so be sure to follow our MSA social media pages (Instagram, LinkedIn, etc.).
This online event is open to SLC members, MSA Students, and MSA Alumni.
---
Master's in Sports Administration Symposium
April 21-22, 2023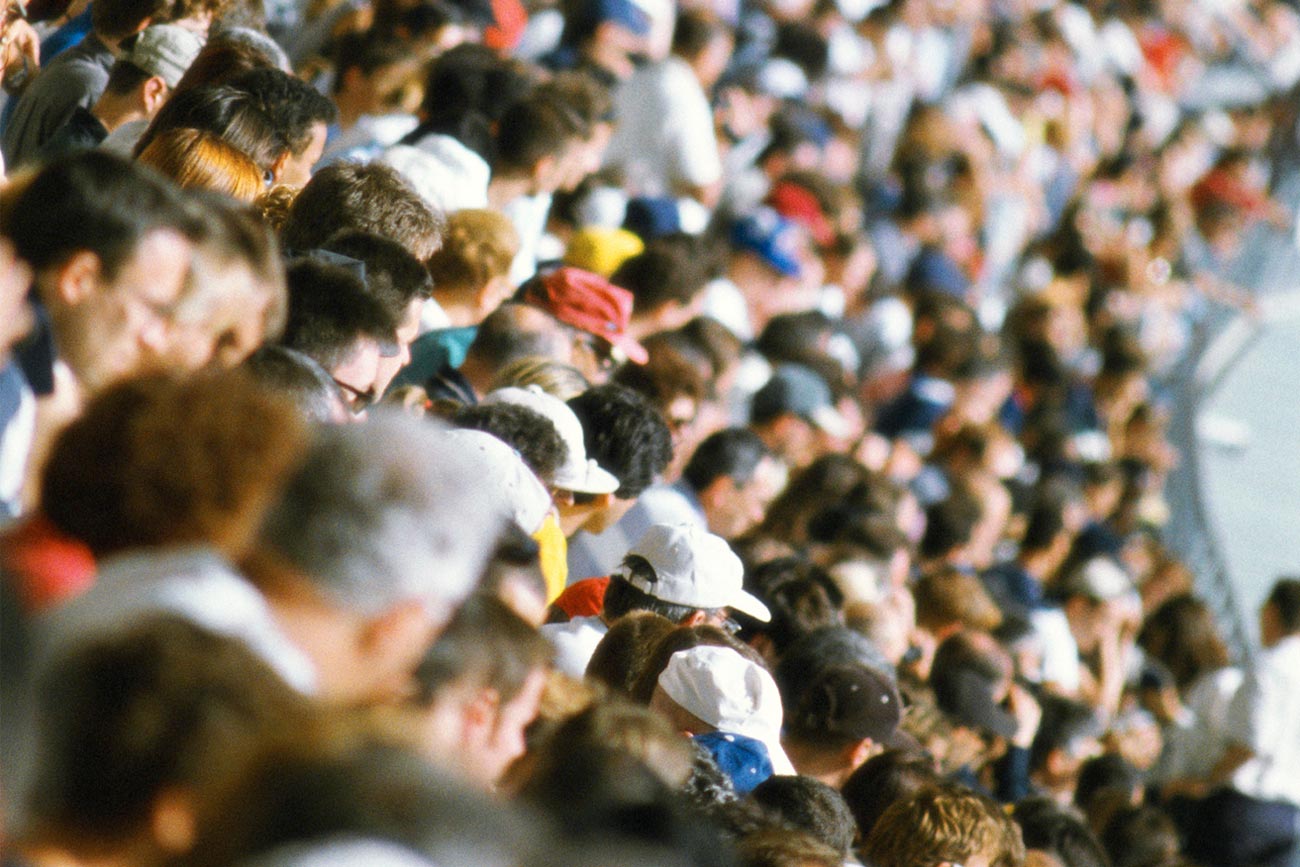 The Master's in Sports Administration SLC is proud to present the 2023 MSA Symposium to students and alumni of the program.
DEI in Sports Webinar
April 5, 2023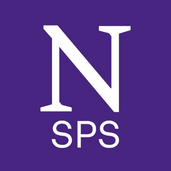 Join the Master's in Sports Administration SLC for a riveting conversation about diversity, equity, and inclusion in sports with LaKeisha Marsh, partner at Akerman, LLP and adjunct professor at Northwestern SPS, and Maria Sanchez, Senior Associate Athletics Director/Chief Diversity & Inclusion Office at Northwestern University.
MSA SLC Alumni-Student Networking at the Bulls
March 3, 2023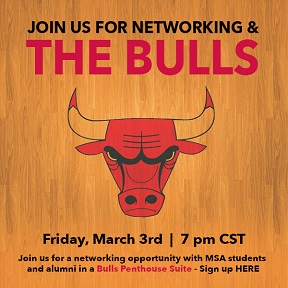 Join the Master's in Sports Administration SLC for networking and the Bulls on Friday, March 3 at 7:00 pm. There are 20 first-come, first-serve tickets available to students and alumni to meet while enjoying the game in a Bulls Penthouse Suite at the United Center. The Student Leadership Council looks forward to a fun night with you all.
Who's Who?  MSA Student Event
December 13, 2022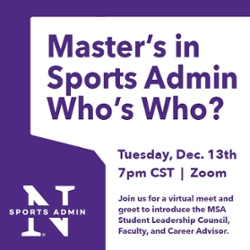 The Master's of Sports Administration Student Leadership Council will hold an online meet and greet event to introduce SLC Members, Faculty, the Academic Advisor, the Career Advisor, the MSA Director, and the Academic Events Coordinator. This is an opportunity for current MSA students to informally get to know leaders in the program.