Samantha Hahn
What better place could there be to spend a summer?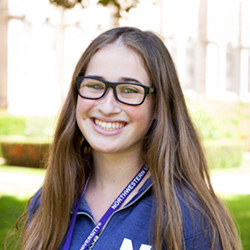 Q: Where are you from? 
A: Fort Lauderdale, Florida
Q: Why did you decide to attend CPP? What were you hoping to gain from a summer spent learning at Northwestern? 
A: I was eager to attend the college prep program for the experience of taking a college level course and getting a sense of campus life.  Northwestern University is known nationally for its academics and for its beautiful campus on Lake Michigan. What better place could there be to spend a summer?
Q: What course (our courses) are you taking here at CPP?
A: I am taking Legal Interpretation and Communication.
Q: Do you already know what you'd like to study in college? If so, what?
A: I am interested in majoring in political science and journalism, and would perhaps like to pursue a career in law.
Q: How would you describe the classroom experience at CPP? Who are your teachers and your fellow students? How are your classes similar or different from your high school classes? 
A: The classroom experience is personal and engaging. We were taught by an actual law professor in the law school and the students are typical but motivated high school students from all over the country.
Q: What was the most interesting/surprising thing you learned about yourself or in your course?
A: College students often talk about visiting college campuses before applying to them because chances are you will find one that makes you feel right at home. I honestly never took that seriously, until I experienced Northwestern first hand. I made an immediate connection and now I can see myself easily spending four years of my life here.
Q: What sort of extracurricular activities or field trips did you do during your time at CPP? Any favorite Chicago events or landmarks that you've experienced so far?
A: We visited a Chicago courthouse and watching a live trial; watched World Cup soccer with crazy fans at Soldier Field; ate at some of Chicago's landmark restaurants and attended a Chicago Cubs game at famous Wrigley Field — which was my favorite. I'm actually not a huge baseball fan but it gave me a feel for the spirited fans living in Chicago.