Registering for a NUCPS course is as easy as 1 - 2 - 3
Select your desired course from the upcoming courses in Law Enforcement Management & Leadership or Traffic Crash Investigation & Safety Engineering. You will be directed to a detailed page to confirm your course, schedule, and location. Click "Log-in / Create an Account" at the bottom of the page.  If you are a first-time student, you will need to create an account in order to register.  Your account securely saves your course history and billing information to the system. 
After logging in, you will be returned to the course confirmation where you should now click "Add to Cart." You will then be redirected to your cart, where you can begin the check-out process. Follow the on-screen instructions to complete the online payment process with a credit card. If you are paying with a purchase order, please be sure to click the purchase order box in your shopping cart.
You will receive a detailed course confirmation from NUCPS once you have completed your online registration.
How do I register multiple students?
Agencies can add members to their accounts, allowing a single contact to register multiple students at a time. Log into your account at registration.nucps.northwestern.edu and click on MyAccount from the top right navigation bar. Then click on Manage Members. Now you can add to your account all the members for whom you wish to register.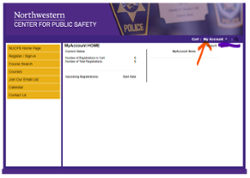 Please be sure to add individual email accounts, birth dates, and addresses for all students for whom you are registering. We never share or sell our student information, but we do need individual contact information for communicating with individual students. 
Back to top