type: Student Insights topic: Arts and Humanities program: Creative Writing
Multiple Emmy Winner and MFA Candidate Lisa Weiss is Reimagining How We Tell Stories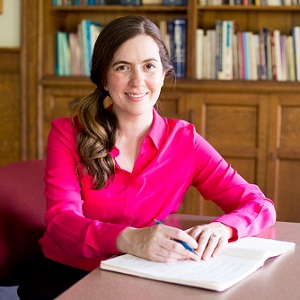 For most people, an invitation to the White House would be a once in a lifetime opportunity, but for MFA in Creative Writing student Lisa Weiss, it was simply part of her job as an acclaimed television producer. During her time at CBS News, Weiss produced a network-wide interview with then President Barack Obama.
Another highlight while at CBS was producing a series with Katie Couric, which garnered Weiss a duPont Award. She went on to be co-executive producer at Oprah's Harpo Studios, where she was one of the founders of Oprah's Super Soul Sunday and received two of her three Emmy Awards.
Now, Weiss has launched her own media company, teaches classes on television at DePaul University, and is taking creative writing classes at Northwestern. She's also developing a multimedia storytelling platform, OwlKat, which is designed to help adults recapture the joy of childhood.
"I'm trying to tell stories in the manner in which they're best told," Weiss explained. "Some stories are better told in print. Others are better told with audio or video. I think there's a choice that can be made and I want to decide which way I tell stories. I don't want to put constraints on myself."
Weiss, who has enjoyed writing since a young age, didn't build such a prestigious career in television overnight. After earning a BA in English from Washington University in St. Louis, Weiss took a job as a production assistant for the Jenny Jones Show, where she answered phones, cleaned the kitchen, and ran errands for the staff. She worked her way up the ladder on set at various documentary series and newsrooms. While rising the ranks was rewarding, she found it more exciting to bring the stories of other people to the screen. She noted:
"When you're a producer of nonfiction you get welcomed into real people's homes a lot to tell their stories. That's my sweet spot. One of the greatest joys of my career is the daily gift of helping people tell their stories."
However, in time Weiss desired to create more of her own content and returned to writing more short stories, along with a middle grade novel, in the process. She enrolled in a fiction writing course in the UCLA Extension Writers' program to get back into a literary community, but when she decided to return to school for her master's degree—and being an Evanston native—she knew she wanted to go to Northwestern.
Weiss met with legendary fiction writer and faculty member Stuart Dybek to discuss the program. Since receiving admission, she's been impressed by the different skills she's picked up from various writers at the University.
"I love all the faculty," Weiss said. "My first class was with Naeem Murr and the way he broke down short stories and explained the craft—I had never experienced anything like that. It inspired me and helped me think about short fiction in new ways."
Weiss's ability to cross genres doesn't only apply to different mediums. In workshop, she also experiments with everything from young adult literature to literary adult fiction. Class "often becomes the highlight" of her week and offers opportunities to explore less traditional ideas. Her interest in writing for children and the timing of her MFA, too, pays tribute to her two youngsters at home.
"I wanted my kids to see me doing something I always wanted to do," Weiss added. "I didn't want to feel like I had something unfinished in my story."
tags:
May 31, 2018