type: Student Insights topic: Society and Public Policy program: Professional Development
Leveraging Leadership at Year Up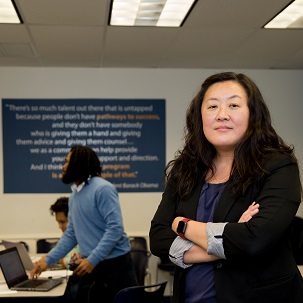 Combining her passion for administrative and clinical social work, Associate Director of Program at Year Up Chicago, Ellie McGaw, manages the three departments – Program Management, Internship Services, and Employment Placement – that oversee and support the journey of a young adult throughout the program. She's worked within the organization for more than four years, rising through the ranks after beginning her career serving several other nonprofits. As her team grew, McGaw sought out professional development opportunities to further build her managerial skills. After speaking to several Northwestern alumni, she decided on the Leadership Certificate program at the University's School of Professional Studies.
Taken over a year-and-half period so that McGaw could align classes with her professional schedule, the three-course program offered immediate insights she could apply on the job. McGaw noted, "The courses built upon each other and were timed perfectly for where I was going in my own career and how I was developing my team." She also enjoyed the hands-on structure of the weekend classes, adding, "In all three courses there was a lot of learning, but there was also a lot of applying."
As a new manager, the first course McGaw enrolled in was Developing People and Teams, which was ideal for bringing her team together. In the later courses, she found the subject matter built on one another and helped her think about where she could improve big-picture processes. On the other side of things, the coursework also helped McGaw become more cognizant of the individual needs of everyone on her team, as well as the students with whom they work.
At Year Up, young adults participate in a rigorous five-month training program and are then matched with competitive internships with Fortune 500 companies where they continue their professional development. Located in major metropolitan areas across the country, Year Up has to date served more than 10,000 students. McGaw manages Chicago's downtown campus program.
"I have a passion for clinical social work and love the support we offer our students," said McGaw. "We get to see how much they change in this yearlong process. It's great to empower students to reach their potential, and to see that in such a short time is really exciting."
Now, having completed the certificate, McGaw has recommended Northwestern's program to other program managers at Year Up.
"I think these courses really apply no matter what level you're at or where you are in your career. They're good skills to have for moving forward."
tags:
February 1, 2018