type: Alumni topic: Student News program: Professional Development
Preparing for the SHRM Certification Exam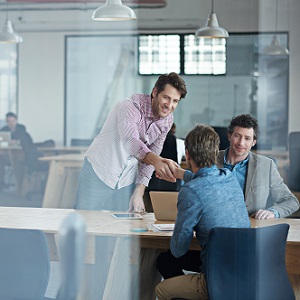 Since being hired as employee No. 20 at a fast-growing tech startup in July 2016, HR and Office Manager Sara Simmons has watched the young company grow to a workforce of 75 employees in the U.S. and another 60 abroad. They plan to double in size within the next year. Of course, that type of rapid expansion comes with its own set of challenges.
"You have to worry about maintaining the culture," Simmons said. "Going from 20 close-knit employees to a larger organization, it's challenging to keep everyone involved in processes. When you have the opportunity to help decide what a company will look like it automatically builds a strong sense of culture. So I want to make sure we maintain that as we grow."
The startup, a real-time supply chain visibility platform founded by a Northwestern University Kellogg School of Management graduate, also was in need of someone with human resources expertise. Simmons, eager to expand her role in the organization, pitched the idea of earning her certification from the Society for Human Resource Management (SHRM). She received support from her executive team, but also knew the SHRM certification exam was notoriously difficult. To prepare, she enrolled in the SHRM-CP/SHRM-SCP HR Certification Preparation course at Northwestern University School of Professional Studies.
Simmons chose the Northwestern program for its flexibility, affordability, and reputation. Given the academic rigor of Northwestern and SHRM certification, she knew it would be a good fit. A visual learner, Simmons was also determined to take an on-campus preparation class that would give her the opportunity to network and learn with peers in similar professional roles.
"The course was great because the class was made up of students from different industries and backgrounds and different levels of experience," Simmons said. "It was a unique opportunity to see the various ways people approached real-world human resources issues. Having that interaction in class was extremely helpful."
Simmons attended eight weeks of Saturday classes on Northwestern's Chicago campus. The coursework was immediately applicable to her job. She explained, "As I was going through this process, what I was learning was relatable to what was going on at my job. A lot of the coursework paralleled things I was experiencing at work."
After finishing the course, Simmons further studied independently for the exam and passed, which resulted in about a 50 percent salary increase. She credits her study at Northwestern as an integral part of her test preparation.
"It was extremely helpful to be present and attend classes at Northwestern prior to the test. It was a great experience."
tags:
February 14, 2018