type: Alumni topic: SPS News program: Undergraduate
Bringing Law to Cybersecurity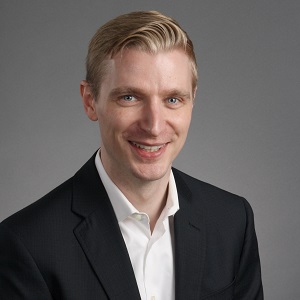 Simultaneously pursuing his JD and MBA at Northwestern, Theodore Bruckbauer is a busy full-time student in a competitive cohort of a couple dozen students. Given the rigors of his academic load, one would imagine Bruckbauer has always been an avid student, but the truth is he took a long time to come around to the value of a college degree.
Bruckbauer began his career at Discover Financial Services where he worked for several years on the production services support team before transitioning to information security. In that role, he led a team of technologists in a 24-7 operation to prevent and recover from systems outages. Over time, Bruckbauer started thinking more about his future professional growth. That's when he decided to earn his bachelor's degree in communication systems at Northwestern University School of Professional Studies.
While finishing up his undergraduate degree, he moved from Discover to CME Group where he started as a senior security engineer and, as demand increased, built out and managed a cyber-threat response team. In his final year at CME before returning to Northwestern as a full-time student, he was promoted to director.
"SPS made a huge difference in my outlook on the skills I could acquire through education," Bruckbauer said. "My mindset changed from simply thinking I need a piece of paper to advocating that a degree is worth it."
Throughout the University, Bruckbauer has been impressed by both the students and faculty. He explained, "What I've found at SPS, Kellogg, and Pritzker is that the collaborative environment is second to none. You feel challenged, but there's never a time where people try to step on top of you to get ahead, which is unique in a competitive environment. People go out of their way to make the University inclusive and lift each other up. I want to work in companies like that. Northwestern really strives to make that a part of the culture."
In his former role at CME Group, Bruckbauer and the intelligence analysts on his team were tasked with preparing for potential cyberattacks, which allowed him to anticipate many of the current security risks facing companies and consumers that are making headlines. Seeing an opportunity to make a difference, Bruckbauer returned to Northwestern to gain the law and business knowledge to practice national security and cybersecurity law in Washington D.C., which he is slated to do after graduating next year.
He's looking forward to finishing up the three-year, dual-degree program at Northwestern Pritzker School of Law and Kellogg School of Management and returning to the workforce. However, earning his master's and doctoral degrees has reinforced his belief that there's much to be gained in the classroom.
"I don't want to do the easiest thing," Bruckbauer added. "I want to do the thing that will provide the most value in the long term."
tags:
April 30, 2018